Serving for Success - what makes a tennis great
Last updated on .From the section Tennis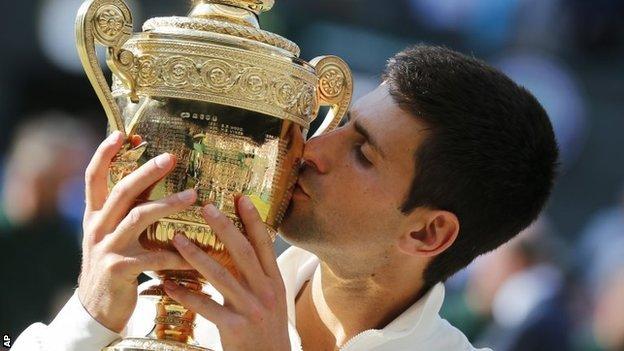 Serving for Success is a series that will explore what it takes to be a tennis star.
Featuring interviews with top players, former champions and top coaches, the Serving for Success videos and articles will examine the contribution that the power of the body and mind play in sporting success.
Focusing on four key themes: adaptation, training, psychology and motivation, the first feature, Anyone for Tennis? will look at the combination of skills as well as physical and mental attributes a modern top player requires.
Serving for Success - the series so far
Anyone for tennis?
The phrase "Anyone for tennis?" may have entered popular parlance 100 years ago but today the sport is played by super-fit athletes.
The modern professional is a hard-hitting powerhouse - strong, quick and agile.
Reaching the top of the tennis tree in the 21st century relies on intense physical training with the appliance of science and technology.
The Mind Game
Winning the mind game in a tennis match is as important as scoring points when it comes to the cauldron of competition on court.
Success in tennis is not only about physical strength; it is about mental mettle too.
"Mental toughness is what separates the ones at the top," Judy Murray, mother and former coach of 2013 Wimbledon champion Andy Murray, tells the BBC.
"There are a lot of good players out there, but it's only the tough that survive."
The Perfect Tournament
Tennis tournaments do not have an easy time keeping everyone happy.
There are 256 players involved in the main draw of the singles events at Grand Slams, not to mention those competing in the doubles.
The task is no less complicated at smaller tour events away from the tennis majors.
But some have aced it, including the men's Shanghai Masters, which has been named Masters 1000 tournament of the year five years in a row.
The October event has been running since 2009 and is the showstopper on the three-week Asian leg of the Association of Tennis Professionals (ATP) men's tour.
The Long game
Behind every great tennis player is a great reason, a grand goal.
Its protagonists put themselves through a physical and mental mangle for a multitude of motivations.
The reasons for retiring are just as complex and in today's hard-hitting game racquet technology can be a double-edged sword when it comes to playing the long game.
But each journey starts with a purpose - so what is driving the 21st Century tennis stars?