Andy Murray: 'Exceptional' year for Briton, says Richard Krajicek
Last updated on .From the section Tennis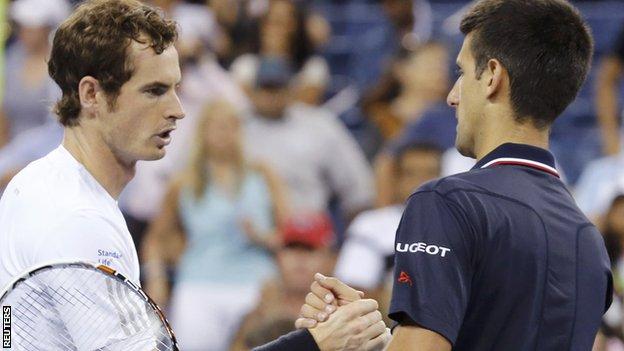 Former Wimbledon champion Richard Krajicek believes Andy Murray could be ranked in the top five by the end of 2014 and challenging for Grand Slams again in 2015.
The Briton's world ranking has fallen from three to nine since back surgery.
Murray, 27, lost in four sets to Novak Djokovic in the US Open quarter-finals.
"If he finished top 10 this year, and I think he can finish top five, it's an exceptional achievement," Dutchman Krajicek told BBC Sport.
"It's a really bad surgery and it's unbelievable that he's in the top 10."
Murray is still without a title since winning Wimbledon last year and has not progressed beyond the last four of any tournament since then.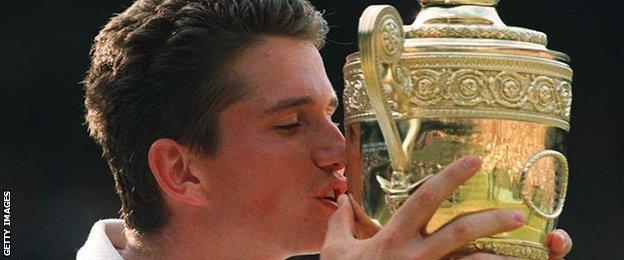 In that time, he had not beaten a top 10 player until overcoming Jo-Wilfried Tsonga in round four in New York.
The champion at SW19 in 1996, Krajicek is expecting Murray to qualify for the World Tour Finals and potentially even win the title at London's 02 Arena.
"I think he can make the season a very nice one if he wins the World Tour Finals," he said.
BBC tennis correspondent Russell Fuller
"Murray has provided the most compelling evidence of the year here in New York that 2015 should have much to offer, but Djokovic remains out of reach for now. Murray matched the world number one throughout the first two sets, but Djokovic was the stronger physically, and both Murray's serve and his speed around the court dropped noticeably as the match moved into a fourth set. Qualifying for the end-of-season World Tour Finals didn't seem to be an immediate priority, but Murray does have three more tournaments to clinch one of the eight qualifying spots."
"It will be a great achievement and make him ready for the new year, give him all the confidence.
"He will only be looking up. If he can finish top five, he can look back on a great year and then for next year he's going to be looking at trying to win Grand Slams again."
Krajicek, who was the only man to beat Pete Sampras at Wimbledon between 1993 and 2000, believes Murray will be back to his best next year as long as he is in good physical shape.
He even believes the Scot can challenge for the world number one ranking.
"He has the game and he has the hunger. He still wants to prove something and I think he wants to go for number one," he said.
Krajicek says Murray's recovery from back surgery has been slow because of his physical style of play.
"Andy's game is grinding from the back, putting pressure on, long rallies, grinding the opponent down," he explained. "It takes longer for him to recover after a big injury like that."
Krajicek, the tournament director of the ABN Amro World Tennis Tournament in Rotterdam, says the rest of the season will be vital for Murray, who has no points to defend until January, so he can build fitness and momentum for 2015.
Murray is due to play the Shanghai Masters and Paris Masters in October. If he is among the top eight players in the world after the Paris tournament, he will qualify for the World Tour Finals, which begin on 9 November.
"The next two months are important for him because that's going to determine how he starts next year," he said.
"If Andy feels well and he wins a title, which I believe he will, that will do a lot for him and then he's going to start winning matches easier."
Krajicek is also expecting the long-standing top four of Murray, Djokovic, Rafael Nadal and Roger Federer to dominate the sport again in 2015.