Roger Federer still has belief in Grand Slam title chances
By Piers Newbery
BBC Sport at Flushing Meadows
Last updated on .From the section Tennis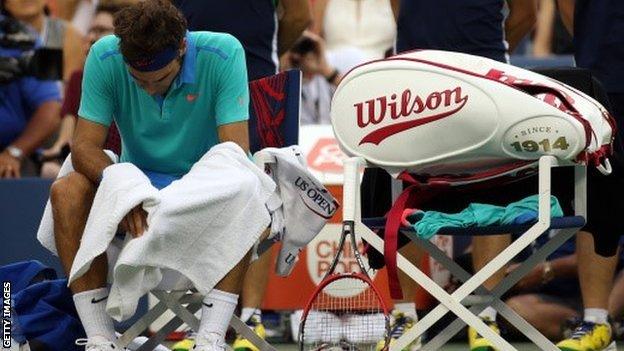 Roger Federer said his shock defeat by Marin Cilic at the US Open does not affect his hopes of winning more Grand Slam titles.
Cilic, seeded 14th, won 6-3 6-4 6-4 to reach the final, denying Federer an opportunity to add to his 17 majors.
Asked whether the defeat would impact on his chances of winning another Grand Slam, Federer said: "Not in a big way.
"I'm just really disappointed after how well I have played this season, especially here at this tournament."
Federer followed Novak Djokovic out of the tournament after the top seed lost to Japan's Kei Nishikori, but the 33-year-old Swiss was not about to confirm a changing of the guard.
Stan Wawrinka became a Grand Slam champion when he won the Australian Open in January, but Djokovic then lost to Rafael Nadal at the French Open in June, before beating Federer at Wimbledon in July.
BBC Sport tennis correspondent Russell Fuller
"For the first time since the Safin and Hewitt show in Australia 2005, we have a Grand Slam final without either Federer, Nadal or Djokovic. We have to celebrate the fact we have a final without the big four for the first time since 2005, but I think they will be back next year."
"You create your stories," said Federer.
"You said the same in Australia, everybody; and then we know what happened at the French Open final and Wimbledon final.
"But this is another chance for you guys, so you should write what you want. I don't think so."
Federer paid tribute to Cilic, who needed just one hour and 45 minutes to seal victory in a clinical display.
"I'm happy for Marin, I told him so at the net," said Federer. "I'm happy for these guys, but it comes at the cost of me losing, and it's not so much fun.
"I'm an athlete. I want to win. So unfortunately it wasn't my day today."
Tennis expert Jeff Tarango on 5 live sports extra
"Is this the beginning of the end of the big four? I don't think so. I think this will refuel them to come back with vengeance. Champions like that tend to come back with a little venom. Has Roger got a Grand Slam win left in him? I think he will win next year's Wimbledon. I think he thought it was on his racquet. If you ask the locker room will he win it in the next three years I think they would all say yes."
Federer will quickly turn his thoughts to Switzerland's Davis Cup semi-final against Italy, which begins on Friday in Geneva.
The historic team event is one of the few tournaments he has yet to win.
"In tennis there are so many highlights thankfully, so I have something to do next Friday already again.
"I'll be very preoccupied with that, starting right now."
Djokovic had been the favourite to win the US Open since the beginning of the tournament, and his quarter-final win over Andy Murray only emphasised that status.
However, he could not contain the shot-making of Nishikori, who became the first Japanese player to reach a Grand Slam single final.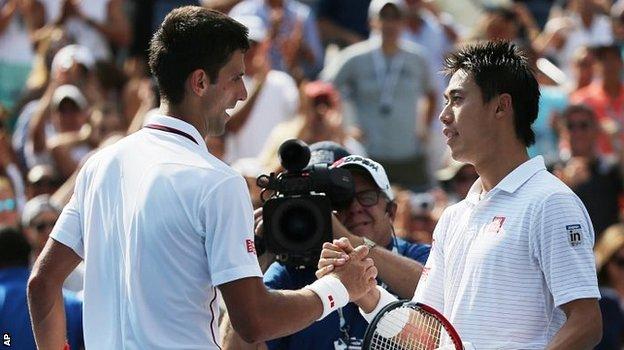 "I felt like I could have gone at least a step further here, but it was disappointing today," said the Serb.
"It is what it is. It's sport. I have to congratulate the better opponent and move on."
And the seven-time Grand Slam champion denied that the imminent birth of his first child had disrupted his preparation, with his wife, Jelena, at their home in Monaco.
"No, of course I'm in touch with my wife," said Djokovic.
"Of course I am being part of her pregnancy. It's normal. But it's no different for me in terms of preparing for the match and for the tournament.
"I had all my dedication, everything directed to this US Open. I tried to give my best and I did. Now my best today was not where I wanted it to be."