US Open: Kei Nishikori and Marin Cilic vie for maiden Grand Slam
By Piers Newbery
BBC Sport at Flushing Meadows
Last updated on .From the section Tennis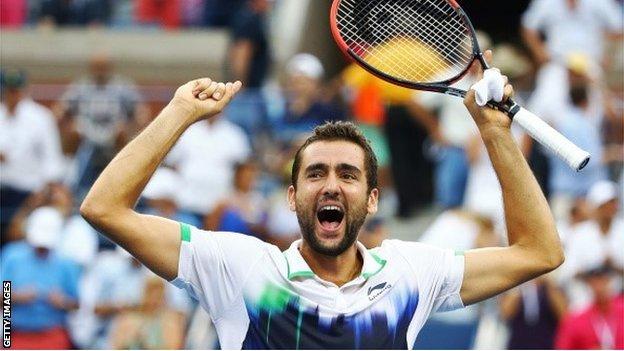 US Open Men's Final, Flushing Meadows
Date:
Monday, 8 September
Time:
22:00 BST
Coverage:
Live commentary on BBC Radio 5 live, online, tablets, mobiles and the BBC Sport app, plus live text commentary
Kei Nishikori and Marin Cilic will provide tennis with the kind of Grand Slam final last seen almost 10 years ago when they clash for the US Open title on Monday.
When the final gets under way in New York at 22:00 BST, it will be the first at a Grand Slam without Djokovic, Federer or Rafael Nadal since January 2005.
Nishikori might be a new face to many but the 24-year-old is a huge star in his home country, and is the 10th-highest earner in men's tennis.
Nishikori v Cilic head-to-head
2008: Indian Wells (Hard) R128
Cilic
won 6-2 6-4
2010: US Open (Hard) R64
Nishikori
won 5-7 7-6 (8-6) 3-6 7-6 (7-3) 6-1
2011: Chennai (Hard) R32
Nishikori
won 4-6 7-6 (7-0) 6-2
2012: US Open (Hard) R32
Cilic
won 6-3 6-4 6-7 (3-7) 6-3
2013: Memphis (Hard) QF
Nishikori
won 6-4 6-2
2014: Brisbane (Hard) QF
Nishikori
won 6-4 5-7 6-2
2014: Barcelona (Clay) QF
Nishikori
won 6-1 6-3
Total: Nishikori 5-2 Cilic
Japan's first Grand Slam singles finalist has long had lucrative sponsorship deals in place - they variously include sports equipment and fashion companies, a watch manufacturer and a brand of noodles.
He has also followed the trend of appointing high-profile coaches.
Former French Open champion Michael Chang took an interest in him when the pair played in an exhibition for earthquake relief in Tokyo three years ago, and last December took up coaching duties alongside Argentine Dante Bottini.
"It's been really helpful," said 10th seed Nishikori of Chang. "He's been helping me a lot from the end of last year, also helping mentally.
"I feel my tennis is changing, a little more aggressive, and I'm playing with more confidence. He's tough, but I sometimes needed something. Some people can push me well."
Nishikori has been highly rated within the game since his early years, when he turned up at Nick Bollettieri's academy in Florida aged 14, unable to speak English but with the financial backing of Sony's chief executive.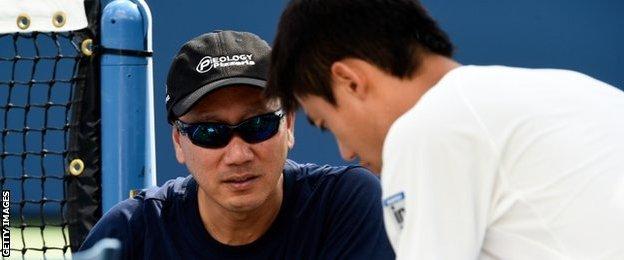 He was famously nicknamed 'Project 45' in reference to compatriot Shuzo Matsuoka, the 1995 Wimbledon quarter-finalist whose career-best ranking of 46 provided a target for Japan's newest talent.
Roger Federer was among those who spotted the young Nishikori's ability.
"With Kei, I always thought he had unbelievable talent way back when I played with him for the first time when he was 17," said the Swiss.
"I just wasn't quite sure that in a best-of-five-set tournament he could get all the way to the back end of the tournament."
At just 5ft 10in and less than 11 stone, Nishikori bucks the trend of modern players, and a succession of injuries had suggested a physical fragility.
Andy Murray's former coach and eight-time men's singles Grand Slam champion Ivan Lendl
"I think Michael Chang gives Kei that knowledge of how to do it. Michael and Kei's games are very similar, with their size. If you are of small stature then you have to play differently from if you are 6ft 6in, and Michael understands that. Anyone who says Kei came out of nowhere is mistaken.
"Kei played a very, very good match in Australia with Rafael Nadal, he played a really good clay-court season until he got hurt in Madrid, and then he had some health issues. But he was already showing in Australia how well he's playing and what progress they're making, those two."
He has missed time with elbow, abdominal, groin and knee injuries, and almost did not play at Flushing Meadows this year after surgery to remove a cyst on his foot two weeks before the tournament.
Earlier this year he reached his first Masters final in Madrid, when in the words of Federer he was "destroying" Nadal before having to retire with a back injury, and after Wimbledon he withdrew from Toronto and Cincinnati with a toe injury.
"The good thing is that he's had so much time off. He's fresh, he's hungry, he's eager," said Chang.
Nishikori's landmark win over Djokovic was sealed at 4am in Japan, with only the hardiest of tennis fans up to watch, but a sizeable breakfast-time audience is assured when the final gets under way at 6am local time on Tuesday.
It is a far cry from 12 months ago, when Nishikori was dumped out in the first round by British qualifier Dan Evans, but Monday's opponent Marin Cilic was in even worse shape this time last year.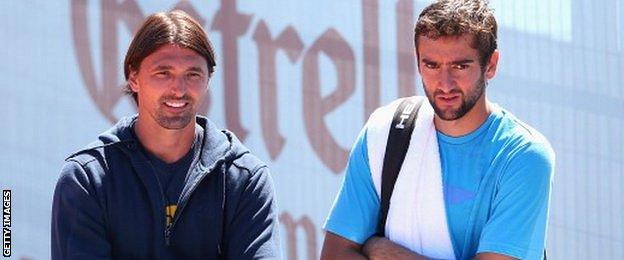 The 25-year-old was serving a ban after testing positive for nikethamide in April, with the original nine-month sanction reduced to four months on appeal.
"I was back in Croatia and I was training," said Cilic. "It was a difficult period. I didn't know when I was going to start back.
"But it was also a good period for me. I matured a bit more and I was working day after day. I wasn't relaxing and doing nothing. So I think that helped me to improve physically.
"Also, it helped me to have enough time to put some new parts in my game, which are helping me to play this well now."
Cilic claimed he had inadvertently taken the banned substance in an over-the-counter glucose tablet bought in a pharmacy, an explanation accepted by Federer when the Swiss was asked after Saturday's semi-final.
"I'm fine with it," said Federer. "I truly believed he didn't do anything wrong in the sense that he did it on purpose."
Cilic played magnificently to beat Federer in straight sets, off the back of a similarly impressive dismantling of sixth seed Tomas Berdych, and he too has a famous name from the past in his corner.
Nishikori v Cilic Statistics
Cilic has hit 81 aces and 29 double faults in his six matches
Nishikori has hit 30 aces and 25 double faults
Cilic has dropped serve 10 times and broken serve 23 times
Nishikori has dropped serve 12 times and broken serve 28 times
Cilic averages 120mph on his first serve and 92mph on second
Nishikori averages 108mph on his first serve and 88mph on second
Cilic has won 78 points at the net and 328 from the baseline
Nishikori has won 78 points at the net and 418 from the baseline
Cilic has spent 14 hours and 49 minutes on court
Nishikori has spent 16 hours and 26 minutes on court
Goran Ivanisevic first met Cilic as a nine-year-old, but the 2001 Wimbledon champion did not become his coach until last summer, during the period when he was going through the turmoil of having tested positive.
"You can see there is a justice," said Ivanisevic. "There is somebody upstairs watching. He was accused for nothing, and this is justice. He stayed mentally focused, he was tough and this is it paying off."
Monday provides an unexpected opportunity for Nishikori or Cilic to capture a Grand Slam title, the preserve of an illustrious few for the last decade.
"It's going to be the first final for both of the guys," added Ivanisevic.
"They're going to be nervous but whoever wins is going to be on top of the world - Mount Everest!"
Marin Cilic's route to the final
First round: beat Marcos Baghdatis (Cyp) 6-3 3-1 (retired)
Second round: beat Illya Marchenko (Ukr) 7-6 (7-2) 6-2 6-4
Third round: beat Kevin Anderson (SA) 6-3 3-6 6-3 6-4
Fourth round: Gilles Simon (Fra) 5-7 7-6 (7-3) 6-4 3-6 6-3
Quarter-finals: beat Tomas Berdych (Cze) 6-2 6-4 7-6 (7-4)
Semi-finals: beat Roger Federer (Swi) 6-3 6-4 6-4
Kei Nishikori's route to the final
First round: beat Wayne Odesnik (US) 6-2 6-4 6-2
Second round: beat Pablo Andujar (Spa) 6-4 6-1 (retired)
Third round: beat Leonard Mayer (Arg) 6-4 6-2 6-3
Fourth round: beat Milos Raonic (Can) 4-6 7-6 (7-4) 6-7 (6-8) 7-5, 6-4
Quarter-finals: beat Stan Wawrinka (Swi) 3-6 7-5 7-6 (9-7) 6-7 (5-7) 6-4
Semi-finals: beat Novak Djokovic (Srb) 6-4 1-6 7-6 (7-4) 6-3