US Open: Marin Cilic and Kei Nishikori carrying flag for new era

By Russell Fuller
BBC tennis correspondent
Last updated on .From the section Tennis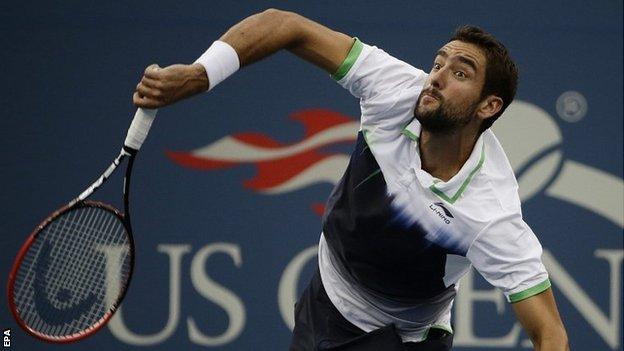 A hungry, and very talented, group of players have finally stormed the barricades - and injected a wonderfully unpredictable element into men's tennis.
Milos Raonic and Grigor Dimitrov looked most likely to lead the rebels into this new era, but instead it's Kei Nishikori and Marin Cilic who are carrying the flag.
Stan Wawrinka set the ball rolling in Melbourne when he proved (for the first time in over four years) that you don't have to be called Roger, Rafa, Novak or Andy to win a Grand Slam. Ernests Gulbis then reached the last four at Roland Garros before Raonic and Dimitrov made their run to the Wimbledon semi-finals.
Cilic, who won his first ATP tour title six years ago, is grateful for the fine example set.
"There is a change-up in the Grand Slams this year," he told me.
"It's another wind from a second line of players. The guys are believing much more now that they can win against these big guys at the big events."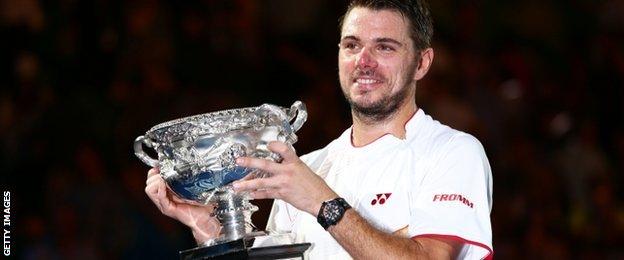 But why did Cilic - with a reputation for rather one-dimensional tennis - and Nishikori - with a reputation for physical frailty - manage to go one step further than their peers? Could it be because they have followed the lead of Andy Murray, Roger Federer and Novak Djokovic in hiring a Grand Slam champion as coach?
"I don't think it's a coincidence, I really don't," Murray's former coach Ivan Lendl revealed in a fascinating interview with BBC Sport.
"I always felt that one of the great attributes of (1966 French Open champion) Tony Roche coaching me for 10 years was that he was giving me the knowledge of what it feels like to be on that centre court on Sunday afternoon.
"I don't care how good of a coach you are - it's very difficult to help without having done it yourself. It's so different walking there on Sunday, or Monday in this case, for the finals if you have someone you can talk to about your feelings."
Cilic admits that his coach Goran Ivanisevic has made a huge change to his "way of thinking on the court". If a Wimbledon champion, who also happens to be a fellow Croat and who's known you and believed in you from the age of 14, tells you repeatedly that you can't afford to play so passively, the message carries a lot weight.
Nishikori v Cilic head-to-head
2008: Indian Wells (Hard) R128
Cilic
6-2 6-4
2010: US Open (Hard) R64
Nishikori
5-7 7-6 (8-6) 3-6 7-6 (7/3) 6-1
2011: Chennai (Hard) R32
Nishikori
4-6 7-6 (7/0) 6-2
2012: US Open (Hard) R32
Cilic
6-3 6-4 6-7 (3/7) 6-3
2013: Memphis (Hard) QF
Nishikori
6-4 6-2
2014: Brisbane (Hard) QF
Nishikori
6-4 5-7 6-2
2014: Barcelona (Clay) QF
Nishikori
6-1 6-3
2014: US Open (Hard) Final
Cilic
6-3 6-3 6-3
Total:
Nishikori 5-2 Cilic
Nishikori also credits his coach, the 1989 French Open champion Michael Chang, with a huge change in his mindset. When Chang speaks of their first meeting at an exhibition in Japan a few years ago, he paints a picture of a player who was a little in awe of the serial Grand Slam winners.
The 'Big Four' have assisted the evolution of the game by leaving the door ajar. Federer can't be expected to play as he did in his twenties at the age of 33, while Nadal and Murray have been hindered by injury and surgery respectively.
But, collectively, I still think they are likely to win more Grand Slam titles than the rest of the world put together over the next three or four years.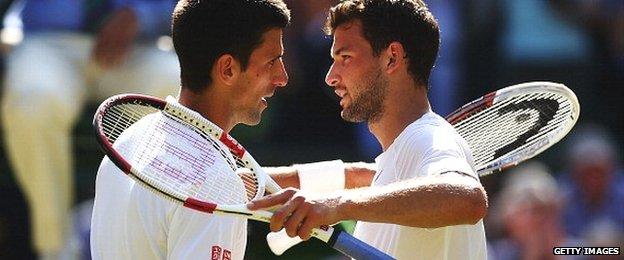 One more Federer win at Wimbledon cannot be discounted, and even in a year undermined by back and wrist problems, Nadal has still managed to win Roland Garros and finish runner-up in Australia.
Murray needs to prove he can return to his very best, but the building blocks now appear to be in place, and I would be surprised if Djokovic, with seven Grand Slam titles to his name by the age of 27, doesn't end up in double figures.
London's season-ending ATP World Tour Finals will offer a taste of what's to come over the next few years. Djokovic, Nadal and Federer have already qualified. Wawrinka will almost certainly join them, and Murray could still make it with a strong late run. But Cilic, Nishikori, Raonic and Dimitrov are also in with a great chance of making their debut.
An era of unprecedented domination by four players may be at an end, but they will still start January's Australian Open as the men to beat.