US Open: Serena Williams joy at matching Navratilova and Evert
By Piers Newbery
BBC Sport at Flushing Meadows
Last updated on .From the section Tennis
Serena Williams said she had felt the pressure of chasing an 18th Grand Slam title until Sunday's US Open victory.
The American beat Caroline Wozniacki 6-3 6-3 to go fourth on the all-time list of major winners alongside Martina Navratilova and Chris Evert.
Williams, 32, admitted it had been on her mind all year, and was the first thing she thought of upon victory.
"I've been trying to reach it for so long," she said. "I didn't really think I would get there. I felt so good."
Serena Williams at the 2014 US Open
Williams spent under eight hours on court in her seven matches
She won all 14 sets without dropping more than three games in any of them
Williams finished with a tournament leading 35 aces
She also collected the largest prize money payout in the history of tennis, male or female - US$4m*
Williams ties Evert's Open era record for most US Open titles with six
She is the second-oldest player to win a Grand Slam title in the Open era after Navratilova (Wimbledon 1990, age 33)
*($3m for winning the title and a $1m bonus for topping the US Open series, based on results in the build-up events)
Navratilova and Evert joined Williams for the trophy ceremony and presented her with a bracelet carrying the number '18' to make her achievement.
"It means a lot to me," said the world number one.
"I just could never have imagined that I would be mentioned with Chris Evert or with Martina Navratilova, because I was just a kid with a dream and a racquet.
"Living in Compton, this never happened before."
It was Williams's sixth US Open and 18th Grand Slam title, but her first in a year that, before New York, had seen her fail to get past the fourth round at any of the other majors.
"I definitely did not think I was going to win a Slam this year," she added. "And I even said, 'I'm ready to start next year already. Let's put this behind me.'
"I'm grateful to win a Grand Slam this year. It feels really good."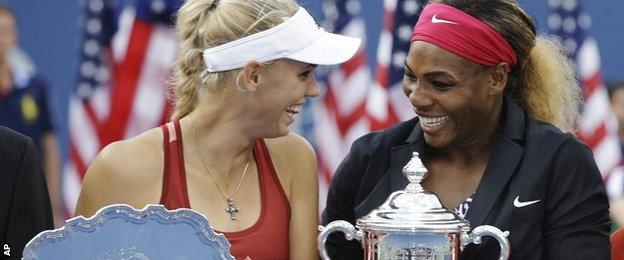 Williams has now won six US Open, five Wimbledon, five Australian Open and two French Open titles over the course of 15 years - a record span of years between winning Grand Slams.
Both Navratilova and Evert won their 18 titles over the course of 12 years, and Williams's longevity is something that John McEnroe, a four-time US Open winner, believes makes her the best ever.
"She won her first US Open at 17, she's about to turn 33 - that's a pretty good run she's got going there," said the American on CBS TV coverage.
"It's pretty hard to argue with the fact that if she's playing the way she's capable of playing, she's the greatest female player of all time.
"How intimidating she is, with the power, she's got everything."
Top women's Grand Slam singles titles winners
24- Margaret Court (Aus)
22- Steffi Graf (Ger)
19- Helen Wills Moody (US)
18- Martina Navratilova (US), Chris Evert (US), Serena Williams (US)
12- Billie Jean King (US)
Wozniacki could certainly vouch for the power after suffering her ninth defeat in 10 meetings with Williams, a close friend away from the court.
"I think when Serena's on her game, there's not much we can do," said the Dane. "She works hard every day, just like us, but when she needs to she can pull out that big serve.
"She has the power. She can push us back on the court and take the initiative."
Williams planned to meet up with Wozniacki after the final, saying "we're gonna hang out later tonight, I definitely will buy the drinks," but she is already focused on winning a 19th Grand Slam title.
Overtaking Steffi Graf's Open era record of 22 singles titles is not in her plans yet, however.
"I am thinking about 19, which I'm kind of disappointed about," she said.
"It hasn't even been three hours and I have already mentioned 19. But not 22. I'm taking it one at a time."