Andy Murray stance on Scottish referendum stirs feelings

By Russell Fuller
BBC tennis correspondent
Last updated on .From the section Tennis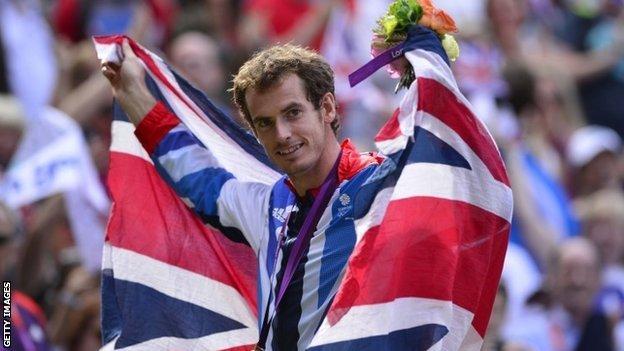 Andy Murray's offerings on social media are rarely bland, often thought-provoking, and quite likely to increase the blood pressure of those employed to guide his career.
The tweet he sent in support of Scottish independence at one o'clock on the morning of the referendum was not written under the influence of alcohol. It represented the view formed by a man who had followed the arguments very closely, and even watched one of the leaders' debates while at the US Open in New York.
Murray knew what he was doing when he hit the 'tweet' box. And, although I suspect he underestimated the strength of feeling his intervention would stir, it was the action of a man who is much more comfortable with his public persona since becoming a Grand Slam champion.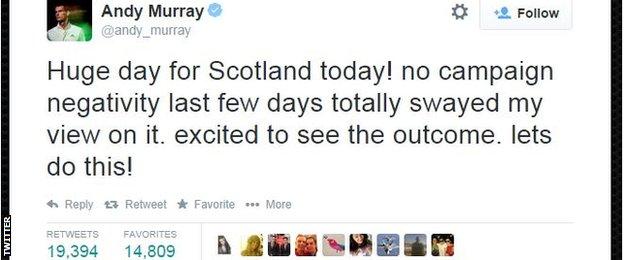 If he believes something, he tends to say it.
And even if he does enjoy the ripples caused by his occasional swipe at 'the establishment', it is very refreshing to hear one of the world's leading athletes tell you what he really thinks. When Marin Cilic and Viktor Troicki fell foul of the doping regulations last year, to the background of a fair amount of sympathy from other leading players, Murray was the only one to label them "unprofessional".
Nearly 20,000 people retweeted Murray's pro-independence message. His decision to go public took those close to him by surprise, as the 27-year-old had made clear in recent months that there was little to be gained from coming out publicly in favour of either side.
Andy Murray's Grand Slam finals record

2008 US Open

Lost v Roger Federer

2010 Australian Open

Lost v Roger Federer

2011 Australian Open

Lost v Novak Djokovic

2012 Wimbledon

Lost v Roger Federer

2012 US Open

Won v Novak Djokovic

2013 Australian Open

Lost v Novak Djokovic

2013 Wimbledon

Won v Novak Djokovic
His support in Scotland may well be enhanced, but there's no doubt that will come at the expense of his popularity among some living south of the border.
Murray still receives a dispiritingly high amount of ill-educated abuse eight years on from his jokey aside that he would be supporting ''anyone but England" at the 2006 World Cup, and Police Scotland has already been moved to comment about "vile, disgusting and distasteful comments" posted within hours of Murray's tweet.
Middle England took a long time to warm to Murray, but his achievement in winning the Olympics, US Open and Wimbledon within the space of 12 months gradually won them over, as he became the first athlete to win the BBC Sports Personality of the Year award with more than 50% of the public's vote.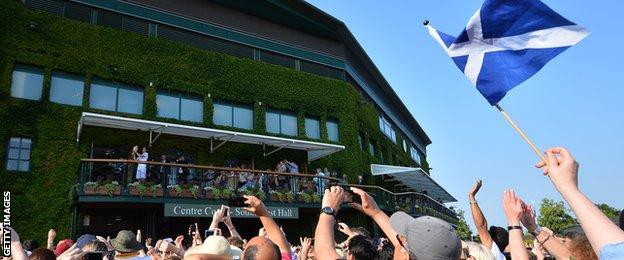 Some will accuse him of hypocrisy for living in Surrey while advocating a break-up of the Union. Others may feel less inclined to support him in a British vest now he's intimated he would prefer to be competing for an independent Scotland.
Murray never struck me as an obvious Yes voter, and has taken great pride in representing Great Britain in both the Olympics and Davis Cup. I don't think that pride will be diminished in any way now the votes have been counted, but he will inevitably face many questions should he ever decide to opt out of a GB Davis Cup tie.
The Lawn Tennis Association has already begun the search for an indoor venue capable of hosting next March's Davis Cup tie with the United States. London's O2 Arena and Birmingham's National Indoor Arena are already committed to hosting other events that week, and the LTA may decide it would be a smart move to try to stage the tie at one of Glasgow's Commonwealth Games venues.
Murray is very entitled to express a view on an issue which drew nearly 85% of registered voters to the ballot box. I admire him for doing that, but suspect he may privately come to admit that silence would have been a better option.
The 25 words he tapped out in the early hours of Thursday morning will make his life more complicated, and follow him around for the remainder of his career.