Roger Federer replaces Rafael Nadal in Indian Aces IPTL team
Last updated on .From the section Tennis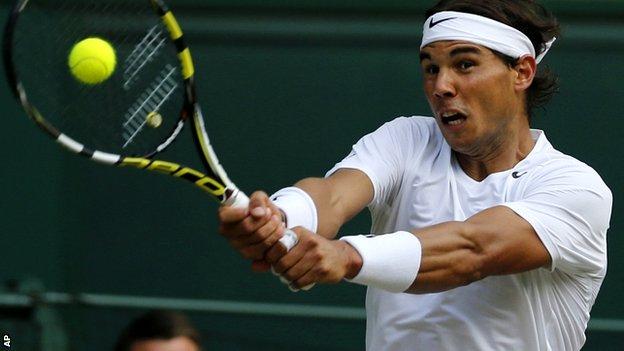 Roger Federer has replaced Rafael Nadal in the inaugural International Premier Tennis League line-up.
Nadal has withdrawn as he plans to use the off-season to prepare for 2015 after a year interrupted by injuries.
Federer was cautious when the event was first announced, but has been confirmed in the Delhi-based Indian Aces team.
The event begins on 28 November and involves current and former players including Andy Murray, Serena Williams, Pete Sampras and Andre Agassi.
Nadal has been out of action since Wimbledon with a wrist injury and plans to return in Beijing next week before playing in Shanghai, Basel, Paris and the ATP World Tour Finals in London.
IPTL latest teams
Indian Aces (Delhi):
Federer, Sampras, Monfils, Ivanovic, Mirza, Bopanna, Santoro
Manila Mavericks:
Murray, Tsonga, Flipkens, Nestor, Moya, Sharapova, Huey
Singapore Slammers:
Serena Williams, Agassi, Berdych, Hewitt, Kyrgios, Hantuchova, Soares, Rafter
UAE Royals (Dubai):
Djokovic, Wozniacki, Bouchard, Gasquet, Ivanisevic, Zimonjic, Jaziri
The Spaniard, 28, struggled with a back injury at the start of the year and, after winning his 14th Grand Slam title at the French Open in June, in the quarter-finals at Wimbledon.
Federer, 33, chose not to commit when asked about the International Premier Tennis League (IPTL) in March, saying: "I think it's interesting, but nothing changes as a player has to decide how often he wants to play, how many matches he wants to play."
However, the Swiss 17-time Grand Slam winner has now been named in the Indian Aces team that also includes Ana Ivanovic, Sania Mirza, Gael Monfils and seven-time Wimbledon champion Sampras.
"I'm really looking forward to making my first trip to Delhi," said Federer. "My team tells me that there's a lot of tennis fans and supporters of mine in the area."
The IPTL will be played across 16 days in four cities - Manila, Singapore, Delhi and Dubai - with the final played on 13 December.
"We regret to announce that due to health reasons, Rafael Nadal will not be playing in the IPTL," the tournament confirmed on Twitter.