Andy Murray is 'unquestionably loyal' to Great Britain - LTA
Last updated on .From the section Tennis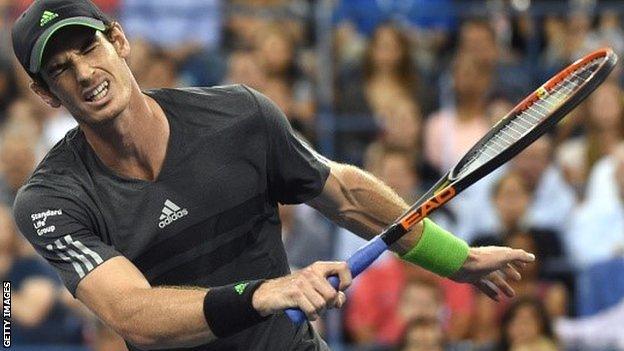 Andy Murray is "unquestionably loyal" to Great Britain, says the Lawn Tennis Association after he was criticised for supporting Scottish independence.
Michael Downey, chief executive of governing body LTA, said he welcomed the 27-year-old Scot actively engaging in the democratic process.
"He's entitled to a view on the future of his country," Downey told BBC Sport.
The LTA took the unusual step of coming out in support of the world number 11 because it felt unable to remain silent while Britain's best player was enduring what was "no doubt a tough week".
Just hours before the polls opened for the Scottish referendum last Thursday, Murray tweeted: "Huge day for Scotland today! No campaign negativity last few days totally swayed my view on it. Excited to see the outcome. Let's do this!"
The British number one has since said he was disappointed with the way he tweeted his support for independence, although he does not regret giving an opinion.
In a statement issued to BBC Sport, Downey - a Canadian who was appointed as LTA chief executive in September 2013 - said: "Andy Murray has been unquestionably loyal to British tennis.
"His on-court brilliance demonstrates time and again that he'll push himself to the limit to win for Britain, whether that's for British Olympic gold or in the GB Davis Cup team."
Murray plays world number 141 Somdev Devvarman, of India, in the second round of the Shenzen Open in China on Thursday at 12:30 BST.
He has three tournaments remaining to boost his ATP ranking and clinch a top-eight qualifying place for the Barclays ATP World Tour Finals at the O2 in London from 9-16 November.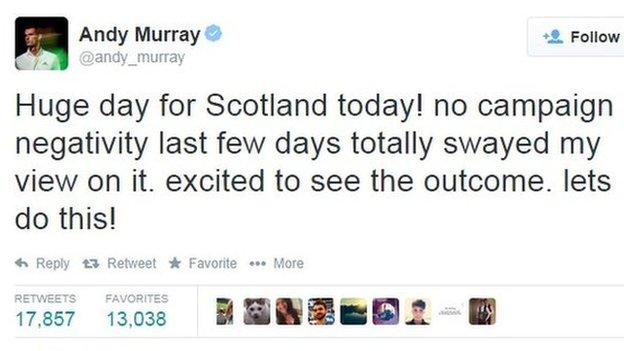 Downey continued: "Our sports stars are role models to young people. Part of that is being a responsible citizen - including demonstrating active engagement in the issues of the day and in the democratic process. That's something that I for one welcome.
"Along with millions of other Scots, he is entitled to have a view on the future of the country where he was born.
"We also look forward to him continuing to make Britain proud of his on-court achievements. We are darn lucky to have him wear our colours as I know other tennis nations would trade for him in a heartbeat."
Some online users sent Murray, who in 2013 became the first British man to win Wimbledon in 77 years, hate messages, with one referring to the Dunblane massacre in 1996.
Murray was a pupil at Dunblane Primary School when gunman Thomas Hamilton shot dead 16 children and their teacher.