Why are men still suspicious of female coaches in sport?
Last updated on .From the section Tennis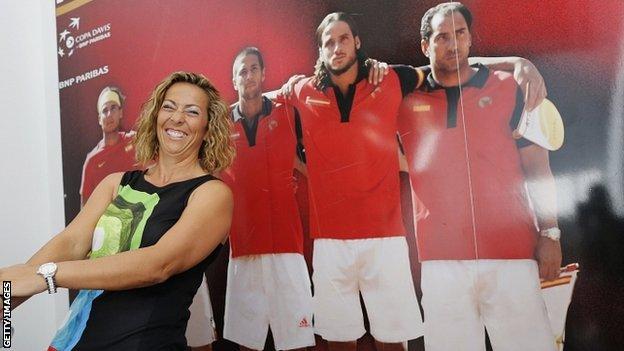 If Toni Nadal never captains Spain's Davis Cup team, at least we know what his team talks might have looked like: David Ferrer, naked but for a small towel, reclining on a bench; Feliciano Lopez wearing nothing but briefs; Toni's nephew, Rafa, wearing no clothes at all, one foot on a sink, bold as brass.
Uncle Toni, who has coached 14-time major winner Rafa since he was a small boy, had some legitimate objections. For example, why had a role usually filled by a former top male player been handed to a woman with a career-high singles ranking of 27 and whose previous charges have all been female?
And why had Leon Garcia not contacted any of Spain's top male players since being appointed director of the Spanish Tennis Federation in June? "I have spoken to Rafa, Feliciano Lopez and David Ferrer and they don't know you," said Uncle Toni.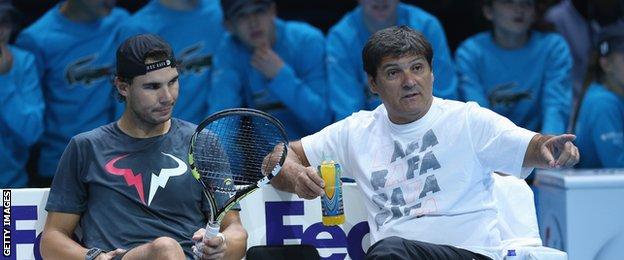 But his argument was weakened by references to possible problems "at dressing room level" - "there are other rooms," noted doubles specialist Marc Lopez - and the suggestion that Leon Garcia does not know the men's game well enough, which ignored the fact that men have always coached women.
Leaving aside the fact that Davis Cup captains do not really do much coaching and their tactics largely consist of deciding who will pair up for the doubles, Uncle Toni's comments highlight one of the principal problems faced by women who aspire to coach male athletes: a fear of difference.
Giselle Mather is the only woman with a Level 4 Rugby Football Union coaching certificate and junior academy manager of Premiership side London Irish. But Mather, a former England captain and World Cup winner, remains indebted to former Exiles boss Toby Booth, to whom difference did not matter.
"Toby is an innovator and doesn't care what people think," says Mather, a former coach of England, Wasps Ladies and Teddington's senior men's team.
"If Toby thinks something is right he gets on with it, which is why he hired me. We need people like that, with shoulders broad enough to take the negative comments and opinions, to open doors for female coaches, in any sport."
Two students of golf coach Susie Meyers landed maiden wins on the PGA Tour within two months of each other in 2013. Derek Ernst was ranked 1,207th in the world and had only been with Meyers for three weeks when he won the Wells Fargo Championship. Remarkably, Ernst sacked Meyers after only three more tournaments. Even more remarkably, nobody has asked for Meyers's help since.
"I've had no hostility but I also haven't had any more professionals ask me to coach them," says Meyers, whose long-term project Michael Thompson, whom she has coached since he was 14, won last year's Honda Classic.
"After his win, Derek went into the media room and said: 'I don't think I could have won that tournament without Susie Meyers.' Then, having made four out of five cuts and won a tournament, he fired me. I can only think that somebody in his camp wasn't happy with the influence I was having on him."
Since splitting with Meyers, Ernst has missed the cut in 24 of the 38 tournaments he has played and not had a top-25 finish, which makes you wonder what that somebody thinks about the influence of Ernst's new coach.
Meyers says that she is not a self-promoter and that players must come to her if they want their game fixed. That so few have bothered suggests scepticism still exists, despite her successes. This is a situation Margot Wells, who has provided tailored sprint coaching for a host of top rugby players, can empathise with.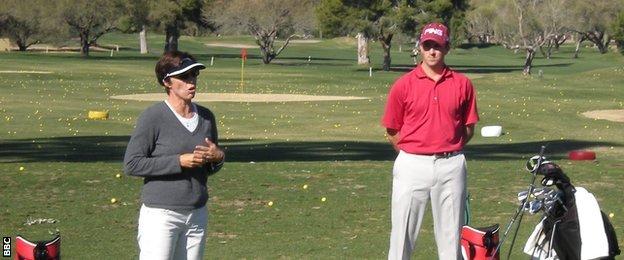 "A lot of people still think I know nothing about rugby," says Wells, the wife and ex-coach of former Olympic 100m champion Allan Wells. "This, despite the fact I've coached an international in every position except hooker.
"People who watch sport, especially men, think they know a lot about it when they don't. Sometimes when I tell a man that one of my jobs is to make people run faster, they'll start waxing lyrical about how it should be done. I'll say to them: 'What do you do for a living?' They might say: 'I'm an accountant.' So I say: 'Would you expect me to tell you how to do your tax returns?'"
Mather, too, has experienced suspicion along the way. When she was studying PE at university, her tutors tried to make her teach dance instead of rugby. While Mather resisted and eventually got her way, others not as strong as her would have caved in.
"I've had a lot of hostility," says Mather, who juggles her day job with bringing up three children. "When I first rocked up at Teddington they'd never been coached by a female before. There was one particular individual who might as well have had 'what the hell do you know?' stamped on his forehead.
"He challenged me, so I upped the physicality a little bit. He challenged me a few more times and each time I upped it a little bit more. At the end he shook my hand and said: 'That was the best session I've had in a long time.'
"Even now, when I first coach a male group they look at me and weigh me up. Ten minutes into the session they don't see me as a female, they just see me as a coach. Once they're happy with the standards of the coaching and understand the information they're being given, it's a case of 'let's get on with it.'"
Tom Fowlie graduated from Mather's Advance Apprenticeship in Sporting Excellence Programme to London Irish's senior team. He says having a female rugby coach was strange at first but something he soon got used to.
"Growing up, whatever sport I'd played, all my coaches had been male," says 19-year-old centre Fowlie. "I didn't really know what to expect but she came across well on the first day and by the end of the week we'd stopped noticing."
Suggest that female coaches are naturally more nurturing, empathetic and sympathetic than male coaches and you are straying into dangerous territory. Some female coaches play down the stereotypes, lest they suggest female coaches are too soft by design. After all, Sir Alex Ferguson won nothing by being soft.
But when Andy Murray hired Amelie Mauresmo as his principal coach in June, he spoke of wanting a female influence and a good listener, despite the no-nonsense Ivan Lendl having guided him to two Grand Slam titles.
In addition, a recent study contended that something called "empathetic accuracy" - how accurately a coach can understand a male athlete on an emotional level - is higher among females.
"I've been told I'm like a second mother," says Wells, who has worked with England's Mike Brown and Danny Cipriani, among many others. "There are men who are good listeners but women tend to be more sympathetic.
"Rugby players don't want to be seen as weak in that macho environment so often they'll keep schtum about their problems. But I can tell when there's something wrong with a guy so I can press a button and it normally comes rolling out. They feel comfortable telling me things.
"I've heard every one of Danny Cipriani's problems down the years. I don't always agree with him and a player might get a kick up the backside and be told to get on with it. But part of my job is to get to know the people I coach."
"Obviously Giselle has got all the necessary technical skills," says Fowlie. "But a lot of the boys agree with me that the bond with Giselle was mother-like. I don't think we could have had that same bond with a male coach.
"Some people think athletes are robots, that we don't have feelings. But you've got to be happy off the pitch to perform well on the pitch. So I still go to Giselle now with any problems or issues, she just makes me feel a lot better.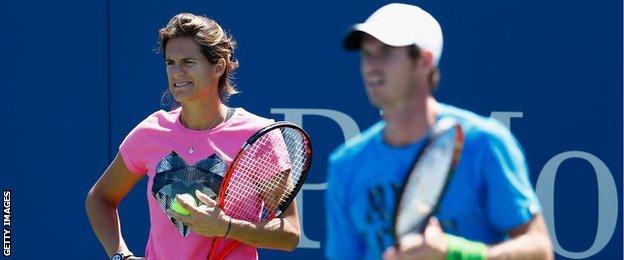 "When I was in my first year, training with the first team at the age of 16, it was quite daunting. But she made things seem as though they were never as bad as I thought they might be. And you really believed that she meant it."
Meyers and Mather both talk of a "holistic approach" to coaching. Meyers, who believes golf used to be a simpler, purer game and better for it, prizes emotional intuition and making people feel good over technical jargon. Mather says "a diversity of athletes should be matched by a diversity of coaches".
Who knows what Toni Nadal would make of all this. Whatever his thoughts, the future of male sport will no doubt look more feminine than it does now.
What will matter is whether a woman is up to the job and what she might be able to do differently, rather than what she should not be able to do. And, as Leon Garcia has drily noted, there will be a lot more knocking on the doors of locker rooms.