Marin Cilic wins in first tour match since US Open victory
Last updated on .From the section Tennis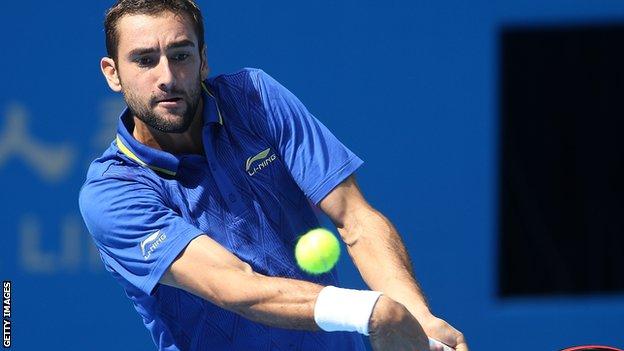 Marin Cilic picked up a straight sets win in the opening round of the China Open in Beijing in his first tour match since becoming US Open champion.
The 26-year-old Croat admitted to still being "rusty" after beating Chinese wildcard Yan Bai 6-3 6-4.
Cilic, the fourth seed in Beijing, said putting extra pressure on himself as a Grand Slam winner would be "dangerous".
"Most important is not to put too many expectations on my own shoulders," said the world number nine.
ATP Race To London (top eight qualify)
Qualified:
1st: Novak Djokovic (8,150 points); 2nd: Roger Federer (7,020); 3rd: Rafael Nadal (6,645)
Still to qualify:
4th: Stan Wawrinka (4,795), 5th: Marin Cilic (3,935), 6th: Kei Nishikori (3,675), 7th: David Ferrer (3,535), 8th: Tomas Berdych (3,510), 9th: Milos Raonic (3,440), 10th: Andy Murray (3,405) 11. Grigor Dimitrov (3,355)
Murray's schedule:
Beijing - 500 points to the winner; Shanghai - 1,000; Paris - 1,000.
Cilic is currently fifth in the race for the end of season ATP World Tour Finals in London.
He must finish in the top eight to qualify for the tournament in November.
The world's top three players - Novak Djokovic, Rafael Nadal and Roger Federer - have already confirmed their places.
And a good run for Cilic in Beijing - where he is seeded fourth - will greatly enhance his chances of qualifying.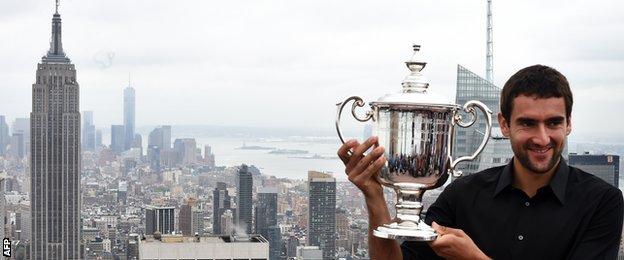 "It's going to be a process for me, for sure, on all the tournaments to keep my level at the high point where I want it to be," Cilic added.
"I know it's always difficult to start tournaments. You know, players are always looking at you much more. I think it's important for me to keep focusing on improvement of my game and try to, of course, recreate the game I was playing in the US Open."
Elsewhere in the first round, Bulgarian fifth seed Grigor Dimitrov needed three sets to defeat Spain's Fernando Verdasco 6-1 3-6 6-3.
In the women's draw, Serena Williams beat Silvia Soler-Espinosa of Spain 7-5 6-2 while Ana Ivanovic made light work of Switzerland's Belinda Bencic, winning 6-2 6-1.
France's Alize Cornet upset 10th seed Jelena Jankovic 7-5 3-6 6-4, building on the momentum of reaching the quarter-final of last week's Wuhan Open.