Novak Djokovic beats Tomas Berdych to win fifth China Open
Last updated on .From the section Tennis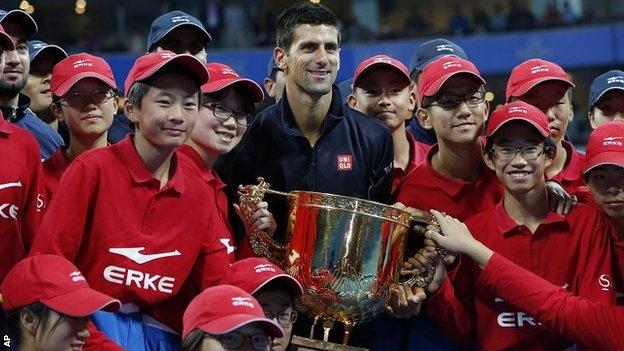 World number one Novak Djokovic claimed his fifth China Open title with a 6-0 6-2 demolition of Czech Tomas Berdych.
The 27-year-old, who has never lost in Beijing, won in just 66 minutes for a 24th consecutive China Open match win.
"It was probably my best performance in all the finals in my career. It was incredible, incredible," the Serb said.
"It was 6-0 5-0 in under an hour. Everything I tried worked. To be proud of the performance is the least I can say of how I played."
World number six Berdych had been broken only once in this year's event but lost his first service game and Djokovic took the set in 29 minutes.
With the Wimbledon champion serving for the match at 5-0, Berdych broke serve but Djokovic soon won in 66 minutes.
Recent China Open finals
2013:
N Djokovic beat R Nadal 6-3 6-4
2012:
N Djokovic beat J-W Tsonga 7-6 (7-4) 6-2
2011:
T Berdych beat M Cilic 3-6 6-4 6-1
2010:
N Djokovic beat D Ferrer 6-2 6-4
2009:
N Djokovic beat M Cilic 6-2 7-6 (7-4)
Berdych admitted he was no match for Djokovic, who claimed his first China Open in 2009 and has held the trophy since with the exception of 2011, when he withdrew through injury and Berdych won the title.
"I met somebody in the final who I've never seen before. Really the way that he performed today was really outstanding," said the Czech.
"There is really not much I can add to that because I was just swept out from the court.
"I have probably played maybe over 600 matches in my career, and met guys like Andre Agassi, Roger Federer, all those probably in their best times, but I have never, ever experienced anything like that."
"It's definitely flattering to hear something like that coming from a player who has been around for so many years, an established Top 10 player," said Djokovic after lifting the 46th title of is career.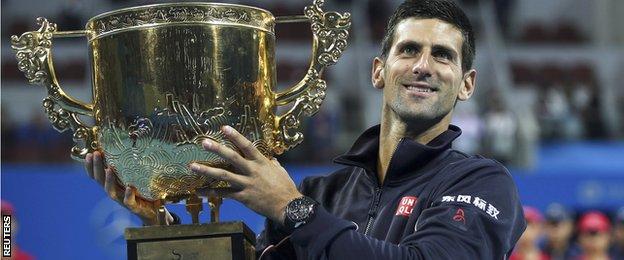 Having lost the opening set so emphatically, Berdych surrendered the first game of the second to love with a double fault.
When he rose from his seat at the changeover with the score at 0-5 in the second he offered his racquet to a ballboy.
The 29-year-old survived a match point and won consecutive games to avoid the ignominy of becoming the first man to lose 6-0 6-0 in an ATP final, but Djokovic duly sealed his fifth title of 2014, the 46th of his career.
Meanwhile in Tokyo, Kei Nishikori won his second Japan Open title by beating Milos Raonic, the man he defeated in the final two years ago.
The 24-year-old's 7-6 (7-5) 4-6 6-4 win under a closed roof at the Ariake Colosseum in two hours and 13 minutes puts him fifth in the Race to London for the ATP World Tour Finals, the top eight qualifying for the 02 Arena next month.
It also gave the US Open finalist back-to-back titles for the first time in his career following his Malaysian Open victory in Kuala Lumpur last week.