Shanghai Masters: Rafael Nadal to have surgery for appendicitis
Last updated on .From the section Tennis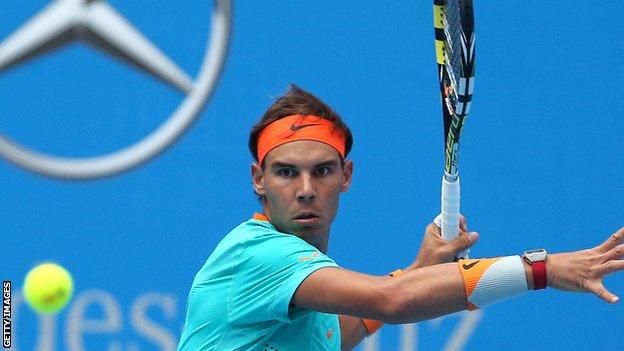 World number two Rafael Nadal has conceded he will have to undergo surgery at the "end of the year" after being diagnosed with appendicitis.
After taking antibiotics, he was beaten 6-3 7-6 (8-6) by fellow Spaniard Feliciano Lopez in Wednesday's Shanghai Masters second-round match.
The 28-year-old had initially complained of stomach pains on Sunday.
"When you lose a match, it is not the moment to talk about obvious things. Feli played better than me," he said.
"It's the same way that I felt before. A little bit more dizzy now. But that's it. Nothing that I have to worry about.
"That's it. I talked about that yesterday, so I don't need to talk again about my health.
"Now there remains three more tournaments for me. My thoughts is to continue with Basel, Paris and London."

Nadal has struggled with injuries since the summer and missed the US Open with a wrist problem.
Before Shanghai, he had competed just once since he was beaten by Australian teenager Nick Kyrgios in the fourth round at Wimbledon, at the China Open last week.
"I didn't have the best of luck since Wimbledon," he added.
"I was playing a good year, a very positive year. After that I was unlucky with the wrist, what's going on now. Obviously the last couple of months have been a little bit hard for me."
Although he plans to hang on until the end of 2014, should Nadal choose to have the surgery earlier, then it would benefit Andy Murray's chances of playing at the World Tour Finals next month.
Race to make ATP Finals
Andy Murray is currently ninth in the race to reach the November ATP Finals - the top eight qualify for the season-ending event.
However, Murray might need to rise to seventh with the eighth spot going to a 2014 Grand Slam champion ranked between eighth and 20th. Croat Marin Cilic, who won the US Open, is currently ranked sixth.