Serving for Success: The Long Game
Last updated on .From the section Tennis
Behind every great tennis player is a great reason, a grand goal. They put themselves through a physical and mental mangle for a multitude of motivations.
But each journey starts with a purpose - so what is driving the elite tennis players of the current generation?
"Every player is motivated by the grand slams," Japan's Kei Nishikori, who reached his first major final at the US Open in 2014, tells the BBC.
"When I was a kid I didn't think anything, I was just playing tennis. But now my goal is to get to world No.1 and win grand slams of course."
Australia's former US Open and Wimbledon champion Lleyton Hewitt agrees: "For me, the grand slams are so important.
"Playing at places like Wimbledon is what you dream of as a kid. It will be one of the biggest things that I miss when I eventually do retire."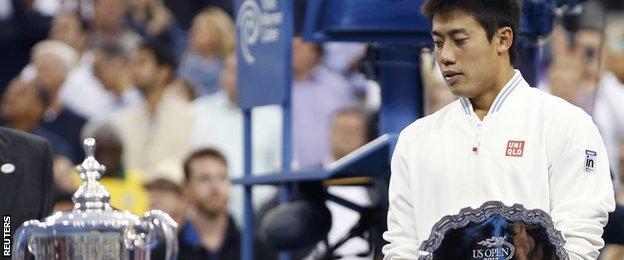 Success at the four majors - the Australian Open, French Open, Wimbledon and the US Open - brings other motivating factors: fame and fortune.
An injury-hit 2013 season did not stop Roger Federer, a winner of 17 grand slams, finishing the year as the game's highest earner.
The Swiss banked $172m, with the top female earner, Russian Maria Sharapova, collecting $29m.
The bulk of their income came from sponsorship deals, a product of their fame rather than their infallibility on court.
"For some players, the financial rewards come into it but probably not as many as people think," says Rachel Newnham, who works with British players as the performance lifestyle advisor for the Lawn Tennis Association.
"In the lower professional ranks, the prize money is terrible, so winning more money will eventually motivate those players. But it's definitely the driven, competitive side of players that motivates them most."
For others, there are more personal, esoteric reasons behind why they pick up a racquet.
"All I think of is my grandparents on my father's side," explains French grand slam semi-finalist Jo-Wilfried Tsonga.
Numbers game
$8.014m:
2014 prize money earned by top male earner Novak Djokovic as of 22 September 2014
$6.697m:
2014 prize money earned by top female earner Serena Williams as of 22 September 2014
1.1m:
estimated number of people playing tennis globally
344:
record number of total career titles won by Czech Martina Navratilova
49:
age of the oldest grand slam champion, Navratilova, when she won US Open mixed doubles crown
22:
the record number of singles grand slams won in female game by German Steffi Graf
17:
the record number of singles grand slams won in male game by Swiss Roger Federer
16:
age of Swiss Martina Hingis when she became the youngest singles grand slam winner with victory in the Australian Open
*all records in the Open Era from 1968
"The way they lived was tough for them and today I am here, hitting well, pretty healthy. I have everything to be the happiest guy in the world."
Dutchman Robin Haase adds: "Tennis is such a competitive sport, it's almost impossible to win. Even Federer and Rafael Nadal lose.
"And I didn't start tennis because of the money. I made my job out of my hobby, for me that's enough motivation."
Carlos Rodriguez, coach to China's two-time grand slam champion Li Na and Belgian seven-time major winner Justin Henin, believes channelling this inner spark is crucial to long-term success.
The Argentine now runs the Potters Wheel International Academy in Beijing, where he is also teaching his philosophy to the next generation.
"I ask players many times 'give me the reason you play tennis?' Rodriguez tells the BBC.
"Many players don't discover the real reason they play, why they sacrifice, travelling all over the world, running behind a grand slam title. I have to show them they can be motivated by themselves.
"It's a state of mind. Tennis helps them to discover their maximum potential as a human being. You are good because you have something inside you."
If sticking with the game requires an internal starter motor, then the decision to retire is even more of a personal choice.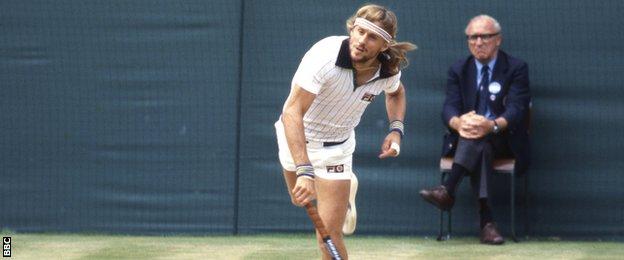 Bjorn Borg famously made a shock decision to hang up his wooden racquet at the age of just 26. The Swedish legend was in his prime, on a roll with 11 grand slam titles, but had become tired of the game.
"When you retire, you retire, not because of other people," says 2001 Wimbledon champion Goran Ivanisevic, who had considered quitting before his triumph on the grass.
"Sometimes you don't want to admit it yourself. 'Maybe one more year, one more year…' In your head you have to be ready and happy."
For others, injuries force them to return permanently to the locker room.
Belgian battler Henin retired in 2008 after becoming burned out. She made a comeback, only to retire three years later at the age of 28 because of an elbow injury.
"I had hoped for another kind of comeback and dreamed of another end," she said at the time.
Modern racquet technology may have changed the game for good but there is evidence that the light, deft racquets are responsible for a rising number of injuries.
The likes of Juan Martin Del Potro and Novak Djokovic have had their 2014 seasons interrupted by injuries to their wrists, which feel the force of today's big hitters.
"The new racquets are lighter and streamlined so they can be twisted and turned at multiple angles," explains Robert Hill, a physiotherapist working with British tennis players at the National Tennis Centre.
"The speed of the hand is now a lot quicker and that puts more stress on the body.
"We did an analysis of our injuries over the last three years. In the upper limbs, we had mainly wrist injuries to do with the technique of hitting the ball and hitting it with more spin.
"The most common injuries overall were to the thighs which take pressure on serving, landing and change of direction."
There is a danger that the physical demands of the modern game can pluck a tennis player off court and into early retirement.
Identifying and preventing injuries is crucial for the physiotherapists and expert fitness teams working with the elite players.
"Players are looking after themselves much better and access to sports science facilities can help them prolong their careers," adds Hill.
"In the professional game, the average age of players is increasing. In the men's top-100, it's 27-28 and in the female game the average age is 24-25."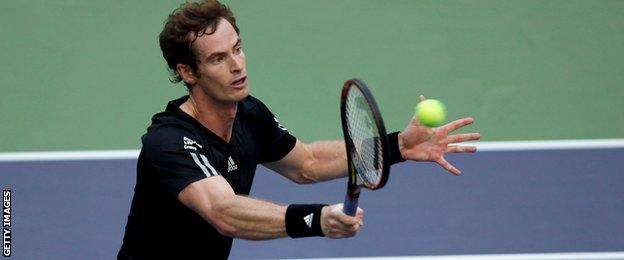 Honing racquet technology to take some of the effort out of the power shots also aims to ease some of the game's physical demands.
"In the 1980s and 1990s, players hit the ball in the middle of the racquet," explains Ralph Schwenger, director of research and development for racquet manufacturer Head. "Now, through analysis, we see the player hits the ball further up.
"By optimising the mass distribution of the racquet, we can move the sweet spot up by taking weight away from the middle and moving it to the handle and tip of the racquet."
Taking the weight out of the emotional demands of the game is also important to career longevity.
"Tennis players spend a lot of time on their own, and often have a lot of down time because of the nature of the tournaments," adds Newnham.
"It's for players to know they have people around them, like coaches, loved ones and sports psychologists.
"Being able to talk through fears or worries gives them peace of mind. But to be able to be in your own company in far-flung places is important."
When it comes to winning the long game, tennis is an individual sport and it all comes down to one body and one mind.
"That's why tennis players are mostly very big egoists," explains flamboyant Latvian Ernests Gulbis. "We are mostly alone. We do not have team spirit.
"What does success mean to me? I've been understanding that for the last few years.
"I'm depending on success to just be in comfort with myself. I stopped running behind the illusion of some other enjoyment and started to find it on court - that means a lot to me."
Reporting by Sarah Holt