Serena Williams criticises Shamil Tarpischev's 'sexist' comments
Last updated on .From the section Tennis
World number one Serena Williams has criticised Russian Tennis Federation president Shamil Tarpischev for making "sexist, racist and bullying" comments about her and sister Venus.
Tarpischev referred to the Americans as "the Williams brothers" on a chat show.
He was fined £15,500 and given a one-year ban from the women's tour for comments he described as a "joke".
"I thought they were very insensitive and extremely sexist as well as racist at the same time," said Williams.
"I thought they were, in a way, bullying. I just wasn't very happy with his comments. I think a lot of people weren't happy as well."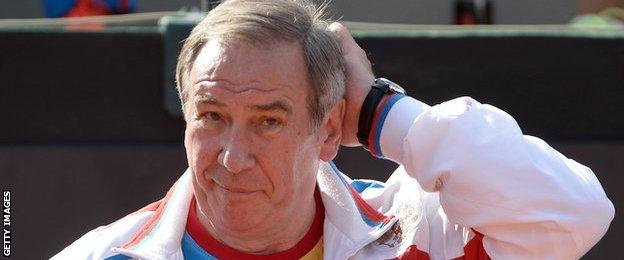 Tarpischev's comments were condemned by the Women's Tennis Association (WTA) and United States Tennis Association (USTA).
WTA chief executive Stacy Allaster said they were "insulting, demeaning and have absolutely no place in our sport".
Tarpischev, who is also an International Olympic Committee member, said in a statement: "I didn't want to offend any athlete with my words. I regret that this joke has garnered so much attention. I don't think this incident deserves so much fuss."
Tarpischev added the Williams sisters are "outstanding athletes" who "personify strength and perseverance".
Serena, 33, has won 18 Grand Slam singles titles, while 34-year-old Venus has won seven.