Dom Inglot: British doubles player moves on from Treat Huey split

By Russell Fuller
BBC tennis correspondent
Last updated on .From the section Tennis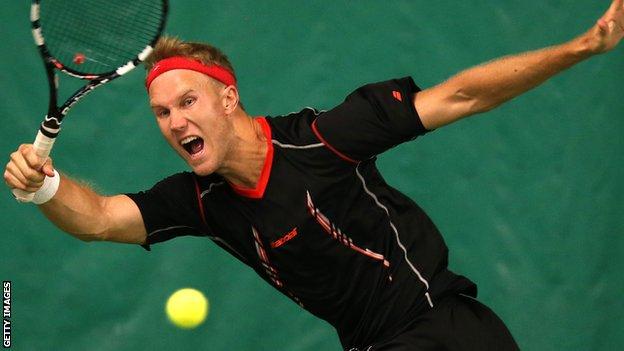 Britain's number one doubles player Dom Inglot first met his long-term playing partner Treat Huey at the University of Virginia. Dom studied finance, and Treat foreign affairs.
They made their first appearance together on the professional circuit at a Challenger event in California in the week after Wimbledon 2010. They won three tournaments and reached two Grand Slam quarter-finals as a pair, but this week only one of them will be defending the title they won in Basel exactly 12 months ago.
The relationship had run its course. There weren't any tea cups flying around the room, yet both sensed things weren't quite as they should be, and Inglot suggested a clean break.

"Actually, it was his birthday," he told me, as he laughed at the irony of the timing.
"It happened after the US Open. We played on the Tuesday. We lost, and then on Thursday I went to speak to Treat.
"It was sad. There are some partnerships that are just straight up business - you move on, bang - whereas for us it was a bit more than that because of what we've been through, because of the friendship that we have. We always used to have a laugh.
Dom Inglot

Date of birth:

6 March, 1986 (28 years old)

Height:

6ft 5in (196cm)

Weight:

209lbs (95kg)

Doubles ranking:

41

Doubles career titles:

Three (2014 - Eastbourne, 2013 - Basel, 2012 - Washington)
"And it was a bit tricky because afterwards he said: 'Are you still going to come for the birthday dinner tonight ....?'"
Inglot helped Philippines-born Huey celebrate his 29th birthday that evening. It was a little awkward at times, but the 6ft 5in British player - who broke into the world's top 20 and made his Davis Cup debut earlier this year - knew it was time to move on.
"One of the main things I always said to myself was that I'm not going to try to blame him if I have my own problems still to solve," he said.
"I started realising that in training I wouldn't be able to improve my game as much as I wanted to. I wanted to do a lot of repetition to hone the shots I needed and he believed in a lot of variety, and never having a rhythm, because that's much like a doubles match.

"We didn't actually communicate enough. We didn't want to hurt each other's feelings and we let it go unsaid. Maybe the underlying issues became too much of a problem. Sometimes we would kind of snap at the end, but I think you could start seeing, I wouldn't say the resentment, but a little bit of 'this is not really what I want to do'."
If you are a doubles player, then pledging to stay single after a break-up is not going to get you very far. While still in New York, Inglot texted the Romanian doubles player Florin Mergea for the number of another player he thought might make a suitable partner.
Mergea, it turned out, felt he was coming to the end of his own successful partnership with Croatia's Marin Draganja. The two soon realised they shared a very similar philosophy and agreed to play together for the rest of the year, and almost certainly beyond.
In three initial tournaments together, they reached the semi-finals in Kuala Lumpur, before a torn stomach muscle sidelined Inglot for two weeks. And even though Mergea spent one of those weeks with his ex, the two are now planning pre-season training and discussing whether to employ a travelling massage therapist.

With the LTA deciding to deploy their specialist doubles coach Louis Cayer in a broader role, the top British players have had to invest in other coaching help. Inglot is working with Nick Cavaday - whose sister Naomi, the former British number four, recently made a tour comeback three years after retiring.
For Inglot, that coaching investment means that money can be a little tight, even for someone with a finance degree.
"It's the kind of investment you have to put in to yourself if you want to achieve the greatest things," the 28-year-old said.
"Some people are too scared to do that, but I feel if I'm not giving it everything I can money wise and effort wise, then I am always going to have regrets.
"It might take five years and you might have to drop half a million (pounds) in terms of expenses, but to be a Grand Slam champion - not a lot of people can say they are those kind of guys, and that's what I want to be.
"Once you have had a taste of it, you just want more and more. Winning can be a bit of a drug, and a bit of an addictive one."