Andy Murray column: A tough year, World Tour Finals, Strictly

By Andy Murray
World number six
Last updated on .From the section Tennis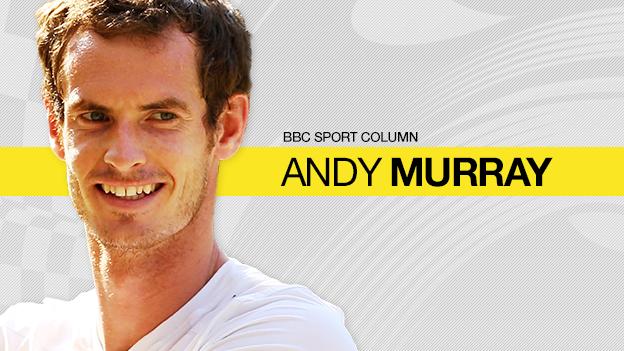 ATP World Tour Finals, O2 Arena, London, 9-16 November
Coverage:
Afternoon sessions (14:00 GMT) and first semi-final (14:00 GMT) on BBC Two & BBC website, final on BBC Three & BBC website (19:00 GMT); live commentary of each match on 5 live sports extra, live text commentary on BBC website
Andy Murray began his ATP World Tour Finals campaign with a 6-4 6-4 loss to Japan's world number five Kei Nishikori at the O2 Arena on Sunday. He plays Canada's Milos Raonic on Tuesday.
It's disappointing to start with a loss at such a big tournament but I'm still in the competition, and it just gives me another challenge at the end of a tough year.
The ATP World Tour Finals are for the top eight players, so I wouldn't go into any match just expecting to win, and Kei Nishikori has had a great year.
I felt good in practice but sometimes it doesn't happen for you out on the match court, and after a 6-4 6-4 defeat, now I have to try and win my next two matches - and win them well.
Last year I didn't even make it to this tournament because I had had back surgery, and recovering from that, as well as changing coaches, have made 2014 a real test.
It's certainly not been my best year, but considering what I've been through it's been fine.
The surgery was the hardest part to get over.
Obviously when I stopped working with coach Ivan Lendl that was tough, because we had great success together and I really enjoyed working with him, but coming back from surgery is more serious because, let's face it, you only have one back.
You can change coaches or find different people to work with, and I already had a good team in place to help me through the split with Ivan, but the back issue lasted longer. It had been a problem for a few years before I had the surgery, and coming back from that was hard.
The first four or five months of this year were not always easy but since then it's been fine.
At least now I finally feel happy and confident that my body's going to be good, and these last six weeks or two months are going to stand me in good stead for next year. I'm looking forward to being able to go from the start in 2015.
Playing so much over the last couple of months was challenging but it happens more than you might realise - at the beginning of the year, for example, or leading up to the US Open.
You do get into a rhythm of playing matches but it can be difficult mentally. Every single day you're preparing for a different opponent, and each week it's a different surface, with different conditions and travel in between, so it takes a bit of time to adjust to that.
When you're in China you don't necessarily see what people are saying back home but I had a lot of messages from people kind of laughing at how much I was playing - I think I played 23 matches in 37 days. But I had good support at the tournaments while I was away, and that helped me get through some of the matches.
I spend a lot of time away from home so it's not that unusual but it's certainly good to be back, although this year I've chosen to stay in central London during the tournament.
In the past I've stayed at my place on some or all of the nights, but this time I moved over to the hotel on Thursday and I've been getting the boat along the Thames to the O2. It certainly wakes you up.
Staying in a hotel does mean that unfortunately, unlike during Wimbledon, my girlfriend Kim isn't cooking for me in the evenings - at least it's unfortunate for me, she's probably delighted!
Of course I haven't been the only person in my family involved in tough competition over the last few weeks, and it was nice to get a visit from my mum and her Strictly Come Dancing partner Anton Du Beke after practice at Queen's Club last week.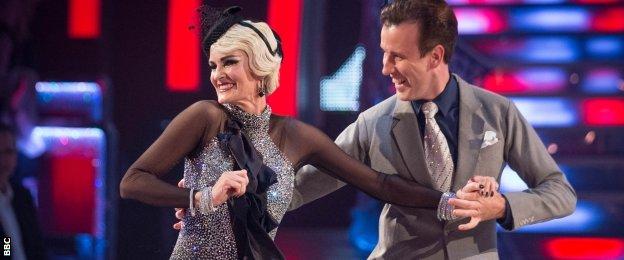 She's enjoying it so much - it's the happiest I've seen her in a long time. She's learning something new and she's having a great time with Anton. He's been honest with her (sometimes brutally!) but they're having a really good time together. So long as she's happy, I'm happy.
I can't say it's inspired me to get on my dancing shoes and I wouldn't have thought you'll see me appearing on Strictly in the future - but you never know.
Hopefully I can keep myself busy with tennis for a while yet, although I'll need to play better than I did on Sunday if I'm going to extend my week at the O2.
That's the nice thing about the round-robin though - if this was another event I'd be going home, but I still have an opportunity to get back into the tournament.