Andy Murray column: The other guys got better
Last updated on .From the section Tennis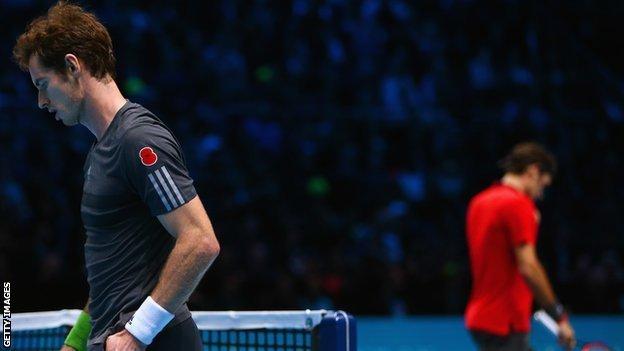 ATP World Tour Finals, O2 Arena London, 9-16 November
Coverage:
Afternoon sessions (14:00 GMT) and first semi-final (14:00 GMT) on BBC Two/BBC Sport website, final on BBC Three/BBC Sport website (19:00 GMT); live commentary of each match on BBC Radio 5 live sports extra, live text commentary on BBC Sport website
Roger was really exceptional on Thursday night, it was the best he's ever played against me, but I was disappointed with my performance. There's no denying how much it hurts.
At 6-0 and a break down, I wasn't worrying about losing the match 6-0 6-0 so much as trying to string a couple of points together and maybe start thinking about winning a game.
It was the first time I'd been in that position in my whole career and I hope it never happens again.
This year has been testing and I've learned a lot along the way, it's just a shame to finish it with another very harsh lesson. I'm sure it will be a tough one to look back in the future.
Maybe I can use it as motivation, although that's never really been an issue for me. I just have to remember that this time last year I was at home doing my rehab after back surgery and watching bits and pieces of the matches on TV. It wasn't easy.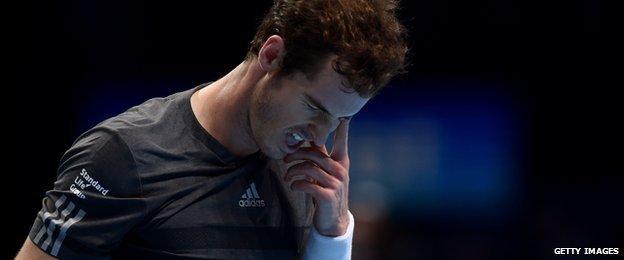 Sometimes I'd gone into the Paris Masters at the end of the year feeling quite tired, whereas last year I was watching it thinking: 'I'd love to be there.' When you see guys competing, you realise how much you miss that.
Over the last few months I'd really started to enjoy my tennis again after struggling earlier in the year. My back had still been giving me some trouble when I thought that doing the rehab meant it would be fine.
That wasn't the case, and I was completely wrong to expect it to be like that.
Then the split happened with my coach, Ivan Lendl, and that was tough too. I brought Amelie Mauresmo into the team over the summer and for the last two or three months you would say it has gone well.
A match like Thursday night's is extremely disappointing for me though. I need to make sure when I'm going into those big matches that I have everything covered and I'm totally clear about what I want to do. That's something I need to look at.
So what have I learned this year?
Well, firstly that going through surgery is not something I want to repeat, so I'll try and take better care of my body in future.
I also learned that when you do spend three or four months away from the court, the other guys get better.
People often like to compare generations and ask whether Roger would have beaten someone like Rod Laver. The surgery made me realise that while you're away the game moves on even in the space of a few months.
The other guys continue to make slight improvements, your level drops and they just get a bit further away from you. To catch up with them takes time and, in my case, this year I ran out of time.
I clearly wasn't at the top level by the end of the year and I'm going to need to put in a lot of work to get back there, which might mean changing my plans for the off-season.
I've got my friend Ross Hutchins's wedding next week and I'm the best man - I can't say my confidence levels are sky high right now but I'm sure the speech will go OK.
I had then planned to head to Miami in the first week of December, but if I want to make changes to my game it will take a lot longer than 10 days of practice.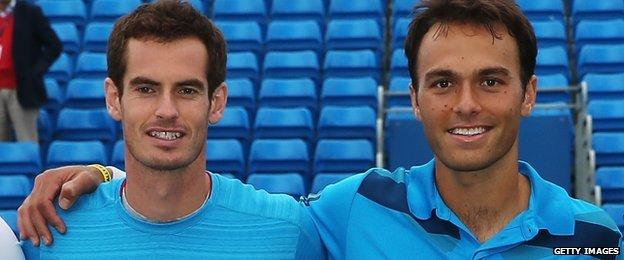 There won't be drastic alterations to my game but Thursday night was not good enough, and even against the best players I should be giving myself opportunities to win games, sets and matches.
The good thing is I now have time to think about a few things and then go and work on them. A week is a long time in tennis, things can change quickly, and I know I can do what is necessary to sustain a higher level consistently. My goals remain as high as ever and the next target is already clear - to try and win the Australian Open.
Thanks for your support during the year and in London over the last week, I'm just sorry I couldn't have done better, but I'll work as hard as possible to come back stronger in 2015.