Andy Murray: What next after early World Tour Finals exit?
By Piers Newbery
BBC Sport at O2 Arena, London
Last updated on .From the section Tennis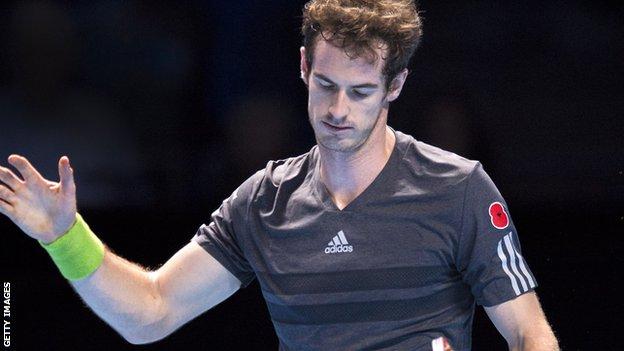 "That's not a tape you want to look at," was John McEnroe's caustic view of Andy Murray's 56-minute demolition by Roger Federer on Thursday.
"If I were his coach I would definitely take a break - he needs a break."
The former world number one was not alone in being stunned by the one-sided nature of Murray's final match of 2014.
Former British number one Tim Henman described it as "a real lesson", while seven-time Grand Slam champion Mats Wilander questioned whether Murray is ready to make the necessary changes to get back among the game's elite.
For his part, Murray spoke in the aftermath of looking at his game plan and becoming "totally clear about what I want to do" for 2015.
A tough 2014
Murray described his season as testing but "fine" bearing in mind he had back surgery last September and lost the services of coach Ivan Lendl in March.
He went on to play 79 matches, his busiest year, and racked up three titles in a gruelling six-week run at the end of the season that led to him qualifying for the World Tour Finals.
However, Thursday's defeat in London was his ninth at the hands of Federer, Novak Djokovic or Rafael Nadal in 2014.
Andy Murray's dash to the ATP World Tour Finals

Paris Masters

Lost to Novak Djokovic in quarter-final

Valencia Open

Beat Tommy Robredo in final

Vienna Open

Beat David Ferrer in final

Shanghai Masters

Lost to David Ferrer in last 16

Beijing Open

Lost to Novak Djokovic in semi-final

Shenzhen Open

Beat Tommy Robredo in final
"There's clearly a gap," McEnroe added.
"Part of it is what happened leading up to [London]; he's played too much, so he's on the verge of burnout - I'm assuming without having spoken to him.
"You're talking about someone who had to play a lot to get here, so he seems to have not much left in the tank. He looked tired, his legs looked heavier.
"I don't think you can judge by one match, but overall it's been a bit of an uphill battle for him. It seems like he's not quite where he was.
"Why that is, I'm not sure. That's a question I don't know if even he knows the answer to."
Following Federer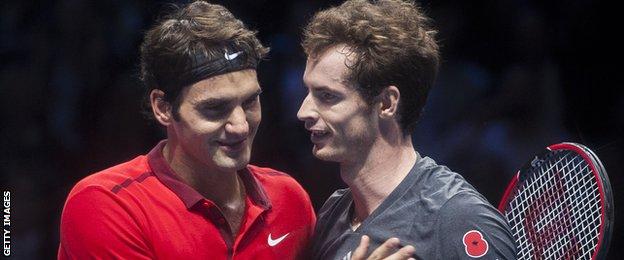 Murray's crushing loss to Federer served as a sharp reminder of how far the Scot has to travel to get back to the very top of the game.
Federer, 33, recovered from his own back issue last year to enjoy a superb 2014 and end the year within sight of the number one ranking.
"The best example is Roger," Wilander says.
"He's taken it to a completely different level. He's changed racquets, he's hired Stefan Edberg to help him out with volleys, and his game is different.
"That's the scary thing, to take that first step."
Federer and Murray: 2013 v 2014

Roger Federer
Andy Murray
1st serve percentage

+1%

-2%

1st serve points won

+3%

-1%

2nd serve points won

+3%

-1%

Break points saved

+5%

-5%

Service games won

+4%

-6%

Service points won

+2%

-1%
One area that Murray needs to work on is the serve, the "Achilles heel of his game", according to ATP analyst Craig O'Shannessy.
"In a game of very small margins, Murray's critical drop-off in first-serve percentage has a detrimental domino effect on the rest of his serving game.
"Murray simply can't afford a 2% drop in first-serve percentage, as it is already critically low (60% to Federer's 64%).
"Murray also trails Federer in first-serve points won (74% to 79%), and the distance between second-serve points won (51% to 58%) is alarming.
"The other numbers are also a train wreck for the Brit in comparison, trailing Federer this year in break points saved (61% to 70%), service games won (85% to 91%) and service points won (65% to 71%)."
The game plan
Murray won 59 of his 79 matches in 2014 but lost all nine against the top three, and was well beaten by Nadal at the French Open, Grigor Dimitrov at Wimbledon and Djokovic at the US Open.
Federer ended his Australian Open hopes in January, and delivered a crushing blow to finish the Briton's season at the O2 Arena.
"His game had no identity against Federer," said Henman. "What was the plan out there?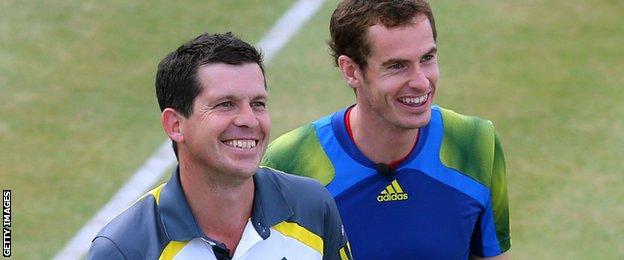 "It's about him making his opponents do the running. He's a great athlete but he does too much running, and when he's running he's not dictating."
Henman, a six-time Grand Slam semi-finalist, believes there are some straightforward building blocks that Murray can put in place.
"He can serve aggressively, and there are only six first serves you can hit," said Henman. "A slow one out wide, in the body, up the middle, up the middle, in the body and out wide.
"On the second serve, I'd say his ball toss needs to go a little bit further left to get some more kick on it. He returns as well as anyone but how many times do you actually see him go for it on a second serve?
"From the back of the court he's got as good a two-handed backhand as Djokovic, but he doesn't use it enough. I'd be looking for him to really crunch the ball cross-court and down the line, and his forehand can be aggressive.
"I think with what he's achieved now, the consequences of missing are really not that great.
"He's a Wimbledon, US and Olympic champion. If he stands in and crunches a few balls and misses, big deal. But because he's so good, he won't do that."
The coach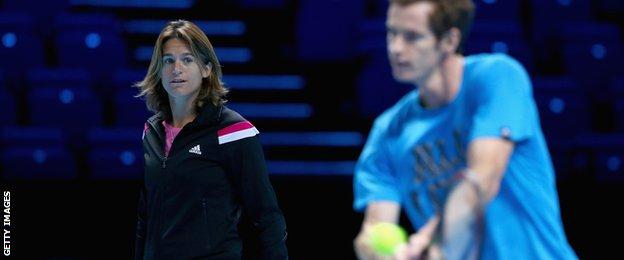 Murray split with Lendl in March and began working with Amelie Mauresmo at Queen's Club in June, with a permanent arrangement confirmed after Wimbledon.
"I don't like getting people in trouble, but it's my job to be honest. I would not call it a roaring success," said McEnroe.
"That doesn't mean that it shouldn't be given more time."
Russell Fuller, BBC Sport Tennis correspondent
"Andy Murray has a best man's speech to write for Ross Hutchins's wedding this weekend, and some serious thinking to do."He seems totally committed to playing three days in the inaugural International Premier Tennis League in Manila at the end of the month, even though an extended training block in Miami would be a better environment in which to make changes to his game."He may also reflect on whether he needs to freshen up his team, and whether Amelie Mauresmo is indeed the best person to steer the ship: it is harsh to judge anyone's influence just five months in, but Murray's performances remain underwhelming against the very best in the world."
From the beginning of Queen's, Murray had a 34-10 record, made the quarter-finals of the US Open, won titles in Shenzhen, Vienna and Valencia and qualified for the ATP Finals.
Wilander added: "Obviously, it was much easier for Lendl to go in and say, 'You haven't won and this is what you need to do - A, B, C ,D.' In comparison, it's a very tough job for Amelie, for anyone.
"What does he want? What sacrifice is he going to make to get back into the winning circle?
"Right now, it doesn't seem like he's made enough tactical and technical sacrifices to give himself the chance to win.
"Lendl took him down a path, this time Andy has to take Amelie down a path: 'This is what I want to do with my tennis.'
"And she needs to support him, be quite critical and help him with technical changes. It's a tough job."
A new year
After making his debut as a best man at friend Ross Hutchins's wedding next week, Murray is scheduled to play in the inaugural International Premier Tennis League later this month will then head to Miami for his annual gruelling training block.
He will then play an exhibition event in Abu Dhabi on New Year's Day, followed by the Hopman Cup in Perth, before the Australian Open begins on 19 January.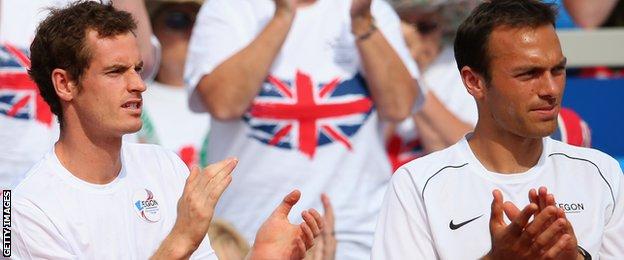 "Andy knows he needs to address a few issues," Henman said.
"It's about clarity of thought. You've got to take a step back and look at the whole set-up, the whole team and his lifestyle and see whether that is working as well as it can. He's the only one who can answer that.
"He is such a good player but he's capable of winning the wrong way. It's a great asset but when you come up against the very best guys, you can't just turn it on. He's got to play the right way all the time.
"He sets the bar high. He's qualified for the World Tour Finals, which is an incredible achievement, so you have to keep perspective.
"But Andy's career right now is about contending at majors. Can he contend in Australia? Absolutely."