Davis Cup: Roger Federer faces tough French test for missing title

By Russell Fuller
BBC tennis correspondent
Last updated on .From the section Tennis77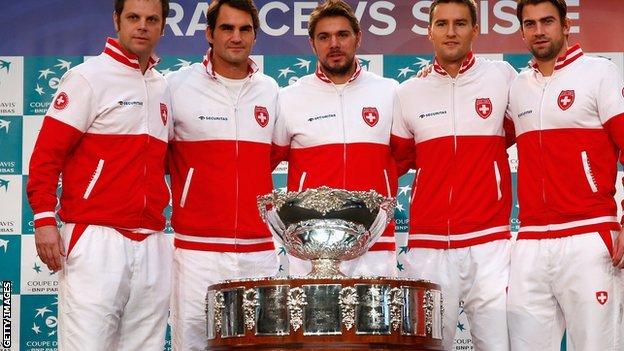 Roger Federer has won 17 Grand Slam titles and spent 302 weeks as the world's number one player. His 995-match wins have yielded a total of 82 titles, of which six came at the World Tour Finals and another 23 at Masters Series level.
He became an Olympic champion in Beijing in 2008 - but has never won the Davis Cup with Switzerland.
"There's so much more than tennis in life, but clearly it's a big deal, no doubt about it," Federer said, as he reflected on the importance of adding the Davis Cup to his glittering list of achievements in Lille this weekend.
The closest Federer has come to winning the competition was in 2003, when he relinquished a two-set lead to Australia's Lleyton Hewitt and lost the pivotal fourth rubber of the Melbourne semi-final.
Would he have any cause for regret if he retired without helping Switzerland win a first Davis Cup title? Should it in any way affect the way we view him as a player?
There are many who believe that Rafael Nadal - with 14 Grand Slams to his name by the age of 28, plus an Olympic singles gold and four Davis Cup titles - should be considered the greatest player of all time.
It is a question Federer answered more directly in an interview with USA Today at last week's World Tour Finals in London.
"Davis Cup is not what it used to be anymore in my opinion," he told the paper.
"It would be great and it would go down as a big moment in tennis history in Switzerland. I see it more as something for fans, the Swiss federation, and for the other players on the team rather than something for me necessarily."
Federer is adored in France. A fluent French speaker, he recalls how people knocked on the windows of his courtesy car when it stopped at traffic lights in the year of his only Roland Garros triumph. Jeremy Chardy is French, but he was very much the crowd's second favourite when they met in the second round of the Paris Masters last month.
Here in Lille, the atmosphere will be different. Hostility to Federer may be considered close to blasphemy, but this is a competition France is desperate to win.
"We expect the values of sport [to be] met," said Jo-Wilfried Tsonga, when asked about a predominantly French crowd of 27,000 spectators, who snapped up all the tickets within two hours of them going on sale.
"But I have one single thought: bringing back the trophy. It's not only part of the major events in my career, it is the major event in my career."
France has won the Davis Cup nine times. 'Les Quatre Mousquetaires' of Jean Borotra, Jacques Brunon, Henri Cochet and Rene Lacoste recorded six victories between 1927 and 1932, with the last triumph coming in 2001. Since then there has been the disappointment of losing finals to Serbia in 2010, and - (in)famously - to Russia in 2002 when Mikhail Youzhny (two sets to love down and two points from defeat in the decisive fifth rubber), fought back to beat Paul-Henri Matthieu.
The final is being staged at Stade Pierre-Mauroy, the home of Lille's Ligue 1 football team. The stadium has a Euro 2016 quarter-final to look forward to, and has already hosted the French rugby union team, and concerts from Rihanna and Depeche Mode since opening two years ago.
Last weekend it staged a motocross event, but earlier in the week it smelt as if the Nord-Pas-de-Calais Agricultural Show had been in town (I'm told the stench was caused by the gases that form when the grass is covered). Of greater concern now is the temperature which, even with the roof closed in a relatively mild November week, would barely rise into double digits without the help of heating lamps suspended from the roof.
They do make a difference, but spectators would be advised to bring a winter coat. Players won't need ice towels at the change of ends, and conditions are far from ideal for a player with a back injury which nearly kept him out of the tie.
Federer admits he doesn't know whether he would have played if the Davis Cup wasn't the prize this weekend, but is delighted to get the chance - whether it will enhance his position as the greatest of all time, or not.
"Clearly it's a cool year for all of us who spent a lot of good times together," he said.
"Of course it would be very special to win here."