Andy Murray teams up with Maria Sharapova on IPTL debut
Last updated on .From the section Tennis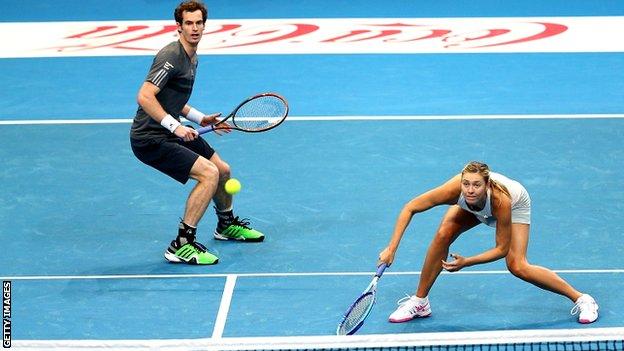 Andy Murray made a losing start on day one of the International Premier Tennis League in the Philippines, despite teaming up with Maria Sharapova.
Manila Mavericks' star players Murray and Sharapova lost in the mixed doubles before Marin Cilic beat the Scot 6-5 in singles as the UAE Royals won 29-24.
The four-team event takes place in Manila, Singapore, Delhi and Dubai, with the final on 13 December.
Murray is only scheduled to play over the three days of the Manila leg.
IPTL teams
Indian Aces (Delhi): Federer, Sampras, Monfils, Ivanovic, Mirza, Bopanna, Santoro
Manila Mavericks: Murray, Tsonga, Flipkens, Nestor, Moya, Sharapova, Huey
Singapore Slammers: Serena Williams, Agassi, Berdych, Hewitt, Kyrgios, Hantuchova, Soares, Rafter
UAE Royals (Dubai): Djokovic, Wozniacki, Cilic, Mladenovic, Ivanisevic, Zimonjic, Jaziri
The ties are played over five sets in varying formats, with Murray and Sharapova the highest-profile pairing on day one but still going down 6-4 to Nenad Zimonjic and Kristina Mladenovic.
Serena Williams, Roger Federer and Novak Djokovic are among the other leading names due to take part, along with former champions including Pete Sampras, Andre Agassi, Goran Ivanisovic and Pat Rafter.
With ties decided by the total accumulation of games, Manila's challenge came to and end when Murray lost to Cilic in a decisive five-minute shoot-out - one of a number of innovations in the format.
IPTL innovations
Each match consists of five sets: men's singles, women's singles, mixed doubles, men's doubles, legends' singles
The team that wins the most games, accumulated from all five sets, wins the match
Each set is played first to six games with a five-minute shoot-out at 5-5
Players have a 20-second shot clock between points
Team coaches can call a 60-second time-out once during each set
The receiving player can call a Power Point once every set, indicating that the next point counts double
Murray, 27, was playing for the first time since facing Djokovic in an exhibition at the ATP World Tour Finals 12 days ago.
It was also his first appearance since it was and he revealed in a courtside interview that the wedding will be "next year, not sure when".