Petra Kvitova: Wimbledon champion on life on the road
Last updated on .From the section Tennis

Petra Kvitova won her second Wimbledon title last summer and ended 2014 with Fed Cup victory as part of the Czech Republic team. The world number four will give monthly updates throughout 2015 in an exclusive column for BBC Sport, which begins in Melbourne at the Australian Open.
Late-night Sydney snacking
It was great to start the new year with a title in Sydney but two hours later I was eating my dinner out of a box in the back of a car.
I think we finished around 10pm with the trophy ceremony, and then I saw my fitness coach and did a bit of bike and some stretching just to calm down a little bit.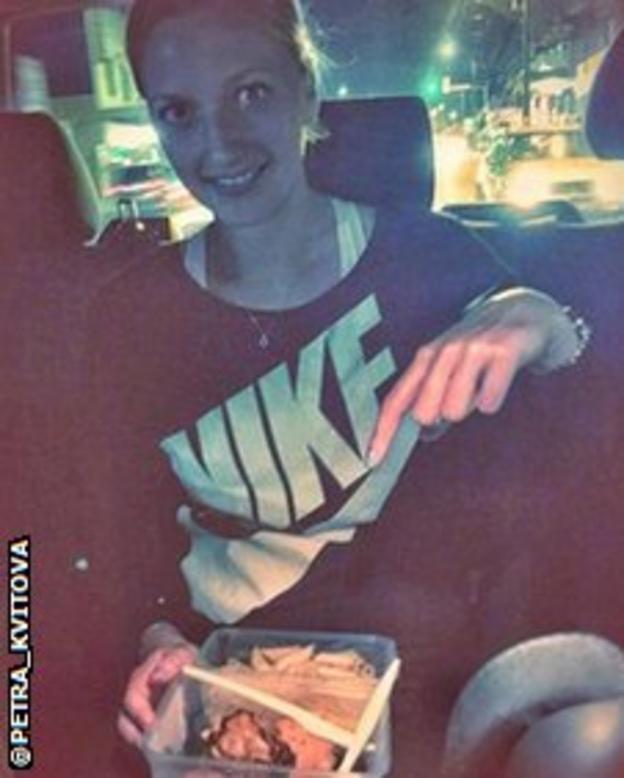 Then it was a quick shower and an hour of press and photos, plus pictures with the tournament volunteers. I tried to eat a little bit in the car, chicken and pasta which my fitness coach Alex ordered for me - it was the last food on site because we finished so late, so I was lucky to get anything!
I got back to the hotel at about 11.30pm, had a little bit of treatment from Alex and went to sleep. I joked with my coach that I have to win the title to get a day off, but luckily I play on Tuesday in Melbourne. I needed to have a bit of a rest.
I don't sleep well when we are finishing so late. I think it was probably only an hour and a half but we had to be at the airport and with all the packing and unpacking, there's a lot to do.
From Melbourne airport we went to the hotel, had half an hour, and headed to Melbourne Park for the Australian Open media. So a busy 24 hours, but it's much easier when you've won a title.
Flight plan
I have no idea how many flights I caught last year but I've already managed four in 2015, and there are many, many more to come.
In the beginning I was so excited about all the travelling, but after a few years it's not quite so exciting any more.
I've always been a person who likes to take care of myself but there is so much to do behind the scenes, and I love to just focus on the tennis.
Living out of a bag, in hotels, packing, unpacking, travelling, the hours of flying, sometimes the credit card doesn't work at the hotel or the room isn't ready - I'm lucky to have a team around to help me.
Team Petra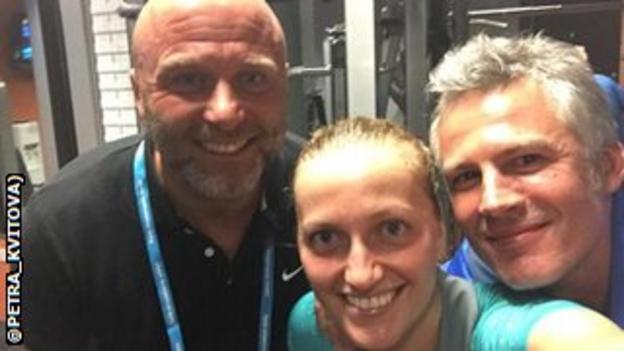 Here at a Grand Slam I have my tennis coach, David, my fitness coach and physio, Alex, and my agent, Marijn, with me.
Alex used to work with Li Na and before that other great players like Pete Sampras and Andre Agassi, and I'm really glad he's part of my team now. I want to be fitter and quicker, to get to the ball faster, and he knows what I need to do.
He also understands our humour, so it's been easy for him to fit in. I knew Alex from the tournaments but not as well as we do now. He's a lot of fun and we laugh all day long.
OK, maybe not all day. When I'm tired I might not be quite so talkative but that's the same for anyone - if you're living with a husband or wife it can be the same!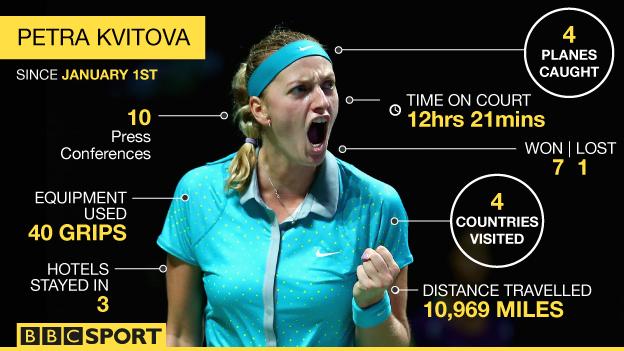 Fitter, faster, stronger
We did everything we could in the off-season to prepare for the new year, and that included practising, practising and practising some more.
Alex pushed me hard and although I wouldn't say I hated him, there were certainly some exercises he found that I wasn't too happy with! But I know the tough ones can only make me better. I try to take them all on and not think 'I hate this, I won't do it.'
What is different this year is that Alex is both a fitness trainer and a physio, so I was able to have treatment every day after practice and matches.
I didn't have that before; I'd just finish the match, have a cool down and a stretch and that's it. Now I have treatment for two hours.
Slams or rankings?
I watched a little bit of the Wimbledon final soon afterwards but it's already six months ago, time is flying!
For sure, it was one of the best matches that I ever played. I was in the zone and didn't think about anything but the shot in front of me. I was still worried, thinking 'you have to keep playing like this', but in the end I played a great match.
If I had to choose between a third Wimbledon title and the number one ranking, I would choose Wimbledon. The ranking just shows how you're doing in the year, so I think the Slams are first and it shows in the number anyway.
I've been number two and I still hope to make number one. I was very close, I didn't make it, but I'm still alive! I hope that one day the time will come. It's one of my goals for the future, for sure.
Another Grand Slam title in Australia would help and I'm well prepared after Sydney. I know Li Na said I am the woman to beat but I wouldn't say I'm one of the big, big favourites. We'll see.
Petra Kvitova was talking to BBC Sport's Piers Newbery