Amelie Mauresmo: How Melbourne made Andy Murray's coach
Last updated on .From the section Tennis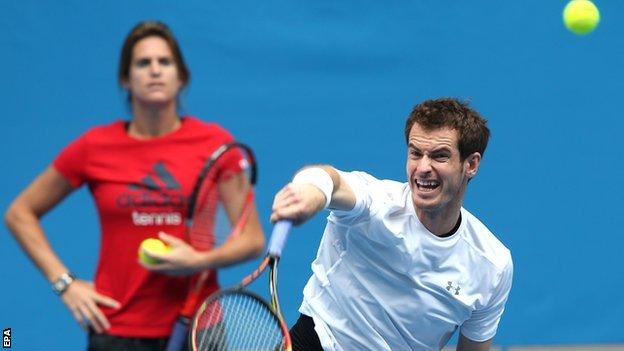 Andy Murray trained with a heart-rate monitor strapped to his chest as he prepared for this week's Australian Open in Melbourne.
Amelie Mauresmo's stress levels, as she watched from the courtside shade, may have made equally interesting reading.
Murray's coach has already found herself on the sharp end of anonymous criticism after an unnamed former Grand Slam champion recently said the decision to appoint her was "unfathomable".
The Scot's form has been patchy under her guidance. After the wheels came off last year's defence of his Wimbledon crown, a creditable US Open showing was followed by an underwhelming performance at the World Tour Finals.
Murray, free now from the after-effects of back surgery, is a three-time finalist at the Australian Open. He has a tough draw but anything less than the quarter-finals this time and the voices questioning Mauresmo's suitability will intensify. Some might even put their name to their criticism.
The Frenchwoman, 35, could soon find herself sharing a players' box with Dani Vallverdu - part of Murray's team as he chased down two Grand Slam titles, but now installed with rival Tomas Berdych after the Team Murray atmosphere turned sour following Mauresmo's appointment in July 2014.
But Mauresmo is well versed in controversy, animosity and pressure at the season-opening Grand Slam. Her experience in Melbourne 16 years ago was pivotal in shaping public perceptions of her, while a belated title in 2006 brought a career landmark of contrasting emotions.
1999 - 'When she said she was gay, it brought an extra dimension'

Mauresmo arrived at the Australian Open in 1999 as an unseeded 19-year-old. She left as perhaps the most talked about sportswoman on the planet.
Her tennis was just part of it.
Australian Nicole Pratt, whom she beat 6-3 6-3 in the third round, recalls Mauresmo's "single-handed backhand that opened up the court".
Belgian Dominique Monami, then ranked 11 in the world, was undone 6-3 7-6 (7-3) in the quarter-finals. "She was using a lot of spin that was making the ball very heavy when you received it," Monami recalled.
Mauresmo's mix of touch and guile, together with a reinforced serve, then sensationally overhauled world number one Lindsay Davenport in their semi-final.
Amelie Mauresmo's 1999 Australian Open run

Opponent

Result

1R:

Corina Morariu (US)

Won 6-7 (2-7) 7-6 (8-6) 6-2

2R:

Patty Schnyder (Swi)

Won 6-7 (1-7) 6-4 6-3

3R:

Nicole Pratt (Aus)

Won 6-3 6-3

4R:

Emilie Loit (Fra)

Won 6-0 7-5

QF:

Dominique Monami (Bel)

Won 6-3 7-6 (7-3)

SF:

Lindsay Davenport (US)

Won 4-6 7-5 7-5

F:

Martina Hingis (Swi)

Lost 6-2 6-3
But it was her subsequent announcement that she was gay and travelling on tour with partner Sylvie Bourdon that propelled her off the back pages and into wider public consciousness.
As she prepared for her first Grand Slam final, it was another leap into the unknown.
Tennis greats Billie Jean King and Martina Navratilova, both far bigger names than Mauresmo, had seen sponsors flee when they spoke about their sexuality in 1981.
"It was pretty courageous, especially on that occasion, moving into the final of a Grand Slam," Pratt remembered. "In the locker room it wasn't a secret to the players. I think that it was just potentially something that was holding her back. She couldn't be who she really wanted to be in the public eye.
"It was a massive story in Australia - there were people who were positive and there were negative responses as well."
Davenport saying she thought she had been "playing a guy" against Mauresmo was neither.
Clumsy rather than catty, the American had been talking about Mauresmo's tennis rather than her newly-publicised personal life. She sent Mauresmo a note explaining and apologising the next day.
The observation from Martina Hingis that Mauresmo was "half a man" was less easy to forgive.
"Really stupid" was Mauresmo's public response as coverage of her win over Davenport was overshadowed by Hingis's insult and their forthcoming meeting in the final.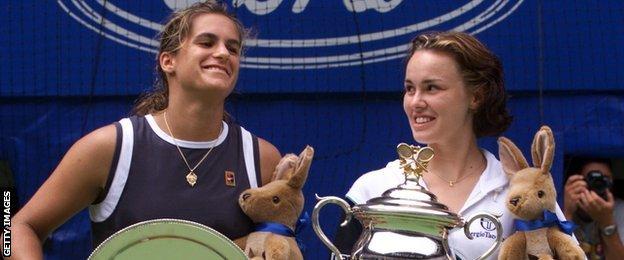 She said Hingis's words were the last thing on her mind when she stepped out on the Rod Laver Arena, but she was well beaten, slipping to a 6-2 6-3 defeat in the final.
Prime-time, prime ministers & hisses for Hingis
Mauresmo left the tournament saying she wanted to concentrate on tennis, but the effects of her announcement were never going to be shaken off so easily.
"A couple of weeks later there was a tournament in Paris and Paris Match had on their front page a picture of Amelie and her girlfriend kissing. It was huge," explains Monami.
"There were plenty of gay players at that time, but most of the time it was something that was kept quiet on the tour.
"When she said she was gay, the attention brought an extra dimension. It was not only about sport, it was about human relations."
On her return to France, Mauresmo was the big-name guest on prime-time television news. French Prime Minister Lionel Jospin invited her and Bourdon to a reception to celebrate International Women's Day.
The following year, she competed for France at the Sydney Olympics, but only after the national Olympic committee ceded to her and her team-mates' request not to select Natalie Tauziat, who had criticised Mauresmo and Bourdon's relationship in a book.
Hingis was not allowed to forget her part in Mauresmo's coming-out either.
She was hissed and jeered as she lost to Mauresmo in Paris four weeks after the Australian Open. She was given the same treatment again in that year's French Open final as her game disintegrated in defeat by Steffi Graf.
2006 - 'The goal was still to win a Grand Slam'

Seven years later, Mauresmo was back in Melbourne, and still waiting.
She had been in three Wimbledon semi-finals and one at the US Open since, but it seemed a second Grand Slam final appearance, and the big-match mentality needed to secure it, might be beyond her.
"She was very frustrated and disappointed after those defeats," her then-coach Loic Courteau told BBC Sport. "But the goal when she appointed me in 2002 was to be number one and win a Grand Slam. The journey was not finished. She had plenty of time to do it.
"She won the WTA Championship at the end of 2005 and it was something big for her to beat all the top girls there. It wasn't a Grand Slam, but it was a big one and she arrived in Melbourne with the confidence she had been looking for all these years."
Mauresmo rode that wave in style. After losing the first set in her opening match, she didn't drop another until the semi-finals.
There, a tight match against Kim Clijsters went her way as the Belgian turned her ankle and retired in the deciding set.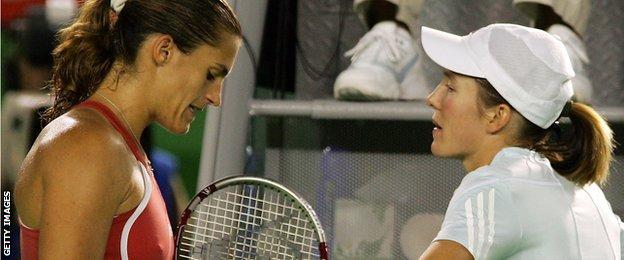 Justine Henin, trailing 6-1 2-0, then dropped out of their final, blaming, alternately, "no energy" when on court, and then a stomach upset, for her failure to see the match out.
'Winning Wimbledon was a kind of revenge'
Mauresmo had her first Grand Slam title, but as she settled down to celebratory food and wine at the France Soir restaurant in swish South Yarra, there was something missing.
"In the final against Henin, Amelie was destroying her, 6-1 2-0. There was no match," Courteau said. "But she was very disappointed not to play the final point.
"In the final of a Grand Slam, you have to respect the opponent. Even if you are a little sick, if you don't have a big injury you have to finish the match - to stop for a bad stomach is not possible.
"She couldn't feel the emotion of winning her first Grand Slam and that was terrible for her."
Six months later, steeled by the memory of what she was denied in Melbourne, Mauresmo beat Henin again. This time in the Wimbledon final. This time, on court rather than at the umpire's chair. This time a Grand Slam champion without the asterisk.
"That was extra sweet. It was a kind of revenge for Amelie," Courteau added. "She wanted so badly to win this match and to win it normally and finish the match."
2015 - 'Amelie is a little more relaxed now'

There have been recent discussions with Courteau about joining Team Murray.
The 51-year-old is currently employed by world number 25 Julien Benneteau, but has described the prospect of working with Murray as "fabulous".
His possible recruitment is unlikely to be Mauresmo panicking as she finds herself in sole control of Murray's career.
She may have phoned her old coach to get his thoughts on Murray's game before taking on the job last summer, but he cannot offer the Scot the same 'been there, done it' experience as Mauresmo.
The hulking weight of public expectation at a home Grand Slam, the questions over temperament, the eagerness of others to offer an opinion on your personality - she has experienced them all.
Murray under Mauresmo

Tournament

Round reached

Wimbledon

Quarter-final

Toronto

Quarter-final

Cincinnati

Quarter-final

US Open

Quarter-final

Shenzhen

Winner

Beijing

Semi-final

Shanghai

Third round

Vienna

Winner

Valencia

Winner

Paris

Quarter-final

World Tour Finals

Round-robin
Off the court, while tee-total Murray does not have his coach's passion for expensive white wine, they both share a love of games - fantasy football for him, French card game Belote for her - an interest in politics and a keen sense of humour.
It will be the results rather than their relationship that decides their future together.
"Amelie is a little more relaxed now than when we met in 1999," says Pratt, who still bumps into her old opponent as a coach with Tennis Australia - most recently at September's US Open.
"There is pressure that comes with coaching, but it is nowhere near what you experience when you are a player, especially someone like her."
Down under, but not down or under pressure then. After her own experiences in Melbourne, Mauresmo can deal with whatever the next fortnight brings.