Australian Open: Roger Federer through despite hand problem
Last updated on .From the section Tennis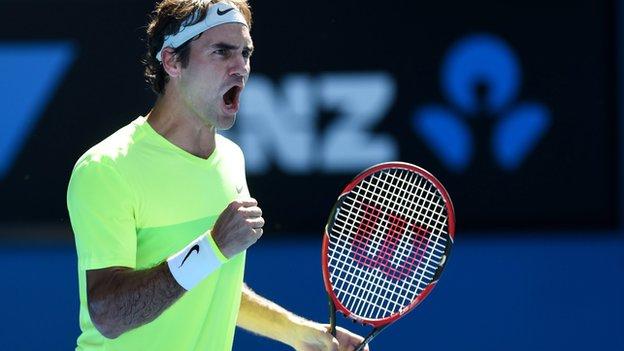 Was Federer stung by a bee?
Early morning finish for Halep
Mixed fortunes for 'Special Ks'
Britwatch: Jamie Murray off to winning start
Quotes of the day: Andy Murray's Neighbours admission
Roger Federer needed four sets to get past Italy's Simone Bolelli at the Australian Open after a mystery problem with his finger hampered the Swiss.
The four-time champion required medical treatment after losing the first set but came back to win 3-6 6-3 6-2 6-2.
Rafael Nadal beat Tim Smyczek 6-2 3-6 6-7 (2-7) 6-3 7-5 and Andy Murray saw off Marinko Matosevic 6-1 6-3 6-2.
Second seed Maria Sharapova saved two match points before beating qualifier Alexandra Panova 6-1 4-6 7-5.
Federer stung into action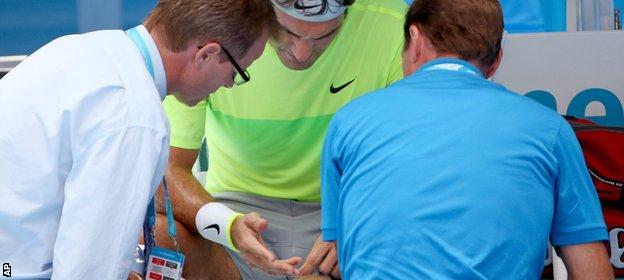 Federer was at a loss to explain exactly what the issue with his hand was, but thought the local wildlife might have been behind the problem.
"I was looking at it and it felt like a bee stung me," said the Swiss. "I thought: 'It can't be possible.' I've never had this pain before.
He later added: "I don't know if it's a blister. I don't know what that thing is. It's the weirdest thing. I don't know. I feel it on the tip of my finger. I feel like it's numb and swollen.
"I knew we couldn't tape it up because then it would be even bigger and more weird. I just said: 'I hope it doesn't get worse or stay like this.' Actually it went away, but now I feel it again."
Last one out turn off the lights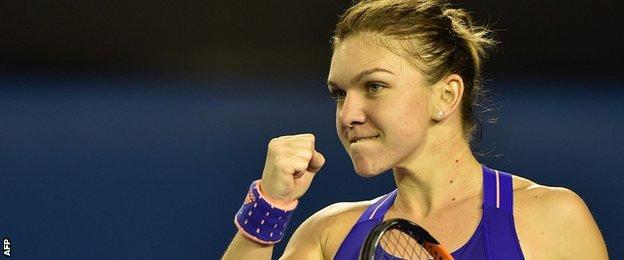 The first match of the night session might have taken four hours and 12 minutes but that didn't stop them pressing on with the second.
Most of the spectators had understandably headed for home and Simona Halep did not fancy hanging around either, the Romanian third seed beating Australia's Jarmila Gajdosova 6-2 6-2 before heading off court at 00:50 local time.
Mixed fortunes for 'Special Ks'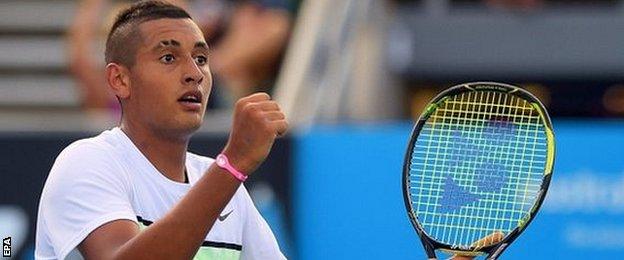 Aussie teenagers Nick Kyrgios and Thanasi Kokkinakis have captured the imagination over the first few days at Melbourne Park, but only one of the 'Special Ks' will return in round three.
Kyrgios, 19, saw off 6ft 10in Ivo Karlovic 7-5 6-4 5-7 6-4 on a raucous court three, but 18-year-old Kokkinakis could not follow suit as he went down to compatriot Sam Groth 3-6 6-3 7-5 3-6 6-1 on Hisense Arena.
There is no doubt that Kyrgios, who beat Nadal at Wimbledon last year, is relishing the spotlight once again.
"There should be a lot of expectation on Australians playing their home Grand Slam," he said. "We all know there's a lot of expectation on us. It's fair enough. We should be performing at Grand Slams."
The Australian feelgood factor will continue on Friday, with Groth through to face perennial bad boy Bernard Tomic. "Two Australians playing in the third round, it doesn't happen like this very often," said Tomic. "It's a very big opportunity for myself."
Britwatch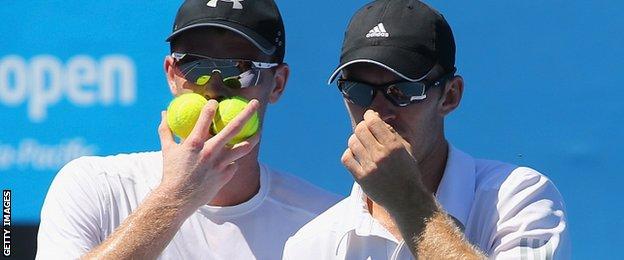 Andy is not the only Murray with designs on the title in Melbourne, big brother Jamie has been on fine form in the doubles with Aussie partner John Peers.
The pair already have a title in 2015 from their trip to Brisbane and after a testing couple of hours on court 10, they saw off Argentina's Maximo Gonzalez and Juan Monaco 6-1 6-7 6-4 in round one.
Fellow Brit Dom Inglot is also through with Romanian partner Florin Mergea after they beat Australians Matthew Ebden and Matt Reid 6-2 6-2.
Former Wimbledon doubles champion Jonny Marray could not make it a British hat-trick as he and Ukraine's Sergiy Stakhovsky lost 6-4 7-6 (8-6) to Pablo Cuevas and David Marrero.
Quotes of the day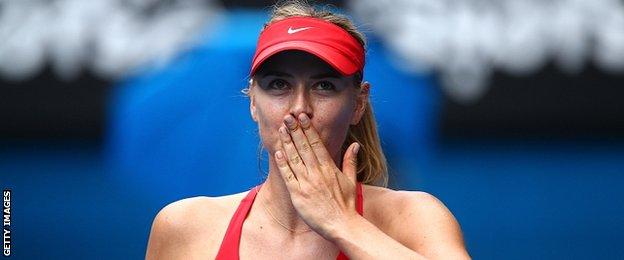 "I quite like my outfit, so..." Maria Sharapova makes an unsurprising choice when asked who wears the best kit.
"I've never watched Neighbours in my life, here or back home." Andy Murray risks offending the locals.
"I want to ask you a question. After this press conference, how long does it take to write the thing? You have to stay up till 03:00 or 04:00?" Bernie Tomic begins his press conference with a question for the media.
"It's important to keep yourself fresh and just try to go through the heat and the sun and not playing with your hair. Let's leave it for the football players." Tomas Berdych on why he is wearing a cap in 30C heat.
Like most teenagers, Thanasi Kokkinakis does not ring his mother much: "Never. She calls me all the time though. She doesn't know a lot about tennis. She just asks me if I am eating well and checks that I put my sunscreen on."
"I guess it's just youth. You know, you're not going to see Roger or Novak doing things like this." Nick Kyrgios does not expect to see Federer or Nadal down at the salon getting their eyebrows shaved any time soon.
"She's amazing; you're going to get killed. No, I'm kidding." Eugenie Bouchard has a suggestion for what her ex-coach Nathalie Tauziat might tell current charge Caroline Garcia about facing the Canadian in round three.
Selfie of the day
When you throw your phone down on court, you are taking a risk. Luckily women's seventh seed Eugenie Bouchard loves a selfie and her native Canada.