Martina Navratilova says 'gates opened for female coaches'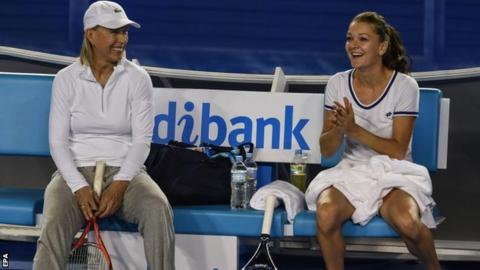 Martina Navratilova says "the gates have been opened" for female coaches as former players begin to work with the current generation.
The 18-time Grand Slam champion coaches world number six Agnieszka Radwanska, while ex-number one Lindsay Davenport is working with American Madison Keys.
They follow the example of Amelie Mauresmo, who has been coaching Andy Murray since last June.
"Now the gates have been opened and they will stay open," Navratilova said.
Ivan Lendl, Boris Becker,Stefan Edberg and Goran Ivanisevic are among the former players to have taken up coaching positions on the men's tour in recent years, but it has taken longer for the illustrious names of women's tennis to follow suit.
"I think men are more adventurous in that, they're more likely to take chances," Navratilova, 58, added in an interview with BBC Sport.
"Women play it safe. But now maybe more of the women that see how it's working for the guys think, 'I can do that too'.
"Maybe they'll pick male players, not necessarily female players, it's just whatever that match is that works for that player."
Mauresmo remains unique as a female coaching one of the world's top male players, but Navratilova see no reason why others should not follow.
"A woman can coach a man just the same way a man can coach a woman," she said.
"It's about that one-on-one relationship, whether that works. Gender is irrelevant. Certainly the tennis ball doesn't know what the gender was of the tennis coach."
Radwanska has been ranked as high as second in the world and reached the 2012 Wimbledon final, but has yet to win a Grand Slam title and lacks the firepower of many of the top 10.
"You never know what you can bring to a player," Navratilova said.
"Inspiration is one thing - I know I felt great when Billie Jean King was working with me part-time. Whenever she was around I know I worked a little bit harder.
"Just that gives you a bit of a boost, but I think most of all it's about what I can bring to the table as far as mentality, what goes through your heart, what goes through your head, and how to play the game.
"Agnieszka doesn't need any big changes but some adjustments here or there that I think can make a big difference in her game."
Listen to the full interview with Martina Navratilova in a tennis special at 21:00 GMT on BBC Radio 5 live