Jamie Murray frets over Andy's legacy in Scotland

By Kheredine Idessane
BBC Scotland at the Australian Open
Last updated on .From the section Tennis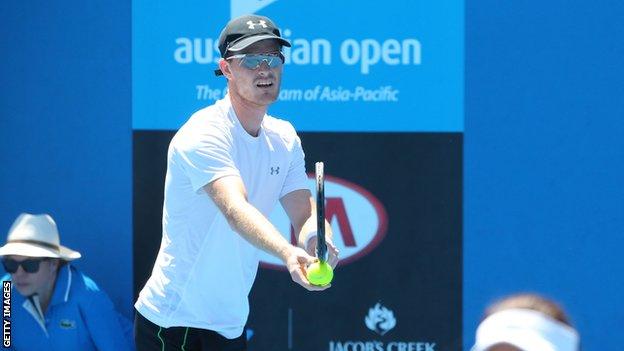 Jamie Murray has expressed his concern that there will be no legacy in Scotland when his brother, Andy, retires from top-class tennis.
The doubles specialist says such a scenario would be a "tragedy" because many youngsters would like to play.
"It's a big worry for me that Andy will stop playing in a few years and there will be nothing to show for it in Scotland," said the 28-year-old.
Tennis Scotland says it is "fully committed to growing the game".
The 2007 Wimbledon mixed doubles champion argues that a lack of facilities is hampering the chances of children in Scotland taking up the sport.
He told BBC Scotland in Melbourne: "A lot of kids want to become the next Andy Murray, they want to pick up a tennis racquet and learn to play a great game.
"I wish it was a lot easier for them to be able to do that.
"They need facilities and the right people in charge in the right places - passionate people that care about the game.
"That's a huge thing if you want to continue to grow the game."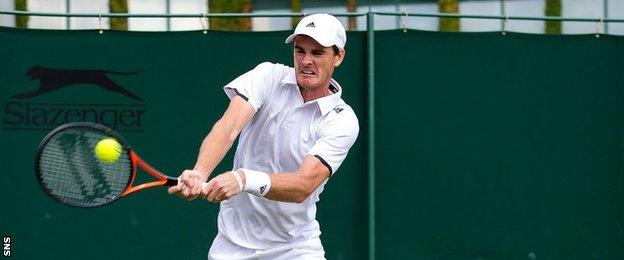 When asked if he disputed that such an infrastructure was in place in his home country, Murray replied: "I'm not so sure, no, but that's my opinion.
"It would be a tragedy [if there was no legacy] because there is no history of Scotland producing any tennis players.
"They have produced one and there is a huge interest in the game now and I'm sure a lot more people want to play and hopefully they are able to do that, but it's difficult just now because the facilities are not there for starters."
Tennis Scotland states that since January 2012 it has invested £4.517m in 33 projects to develop outdoor facilities, about half of which was funded by the Scottish government agency sportscotland and the Lawn Tennis Association and the remainder by local authorities and other partners.
However, it says it is held back in its efforts to progress 12 indoor initiatives because it does not have the £11.3m those projects would require.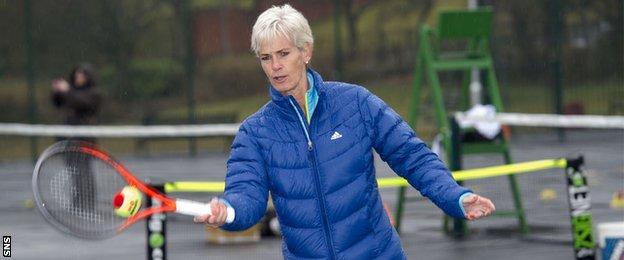 In a statement to BBC Scotland, Tennis Scotland said: "With an annual turnover in the region of £1.5m, Tennis Scotland alone simply does not have the funding needed to complete these projects and, unless other sources of monies are secured, only three or four of these projects are set to be completed over the next four-year period.
"It should be emphasised that Tennis Scotland's role is as a facilitator, not a funder.
"Nothing would please us more than to have significant additional indoor facilities but unless they are sustainable, and receive additional funding, they will not happen."
Responding to Murray's comments on developing young players, Tennis Scotland say that is "inexorably linked to the facilities situation".
It acknowledges that "those with exceptional talent will have to travel to obtain the required competition to take them to the next level".
It added: "Tennis Scotland is fully committed to growing the game and getting more people picking up a tennis racquet. This is evident from the 51% increase in the number of members of Scottish registered tennis venues over the past five years.
"We are extremely passionate about our sport and after Jamie expressed similar sentiments in November, we asked that he engage with ourselves to work more closely together going forward. However, to date, he has not taken up that offer."