Australian Open 2015: Sharapova and Nadal reach quarter-finals
Last updated on .From the section Tennis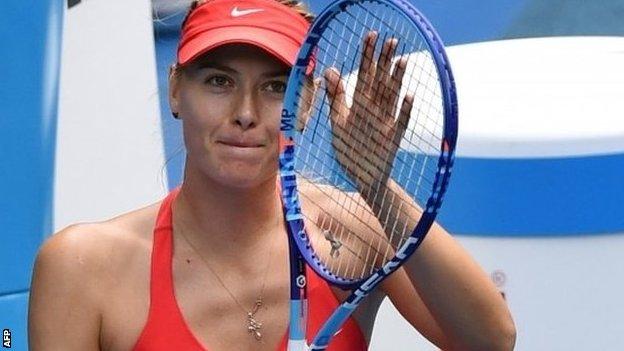 Maria Sharapova will face Eugenie Bouchard in the Australian Open quarter-finals after the pair won in contrasting styles on Sunday.
Canada's Bouchard, the seventh seed, lost five straight games but recovered to beat Irina-Camelia Begu 6-1 5-7 6-2.
Russian second seed Sharapova defeated Shuai Peng of China 6-3 6-0.
Rafael Nadal overcame South Africa's Kevin Anderson 7-5 6-1 6-4 while Andy Murray beat Grigor Dimitrov 6-4 6-7 (5-7) 6-3 7-5 to reach the quarter-final.
Murray will face teenager Nick Kyrgios in the last eight.
Kyrgios fought back from two sets and match point down to beat Andreas Seppi 5-7 4-6 6-3 7-6 (7-5) 8-6 and maintain Australian interest in the men's draw.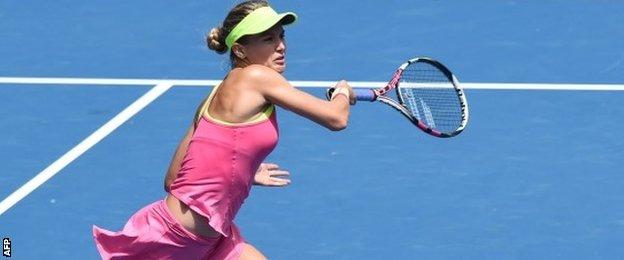 Bouchard bounces back
Bouchard recovered from an alarming mid-match slump that saw her drop five games in a row from 6-1 3-0 up, and eventually require a third set to see off Begu.
"It's disappointing for me because I want to play so well and I want to be perfect," said the 20-year-old. "That's not possible. But I learned a lot from it and I'll try to make sure it doesn't happen next time."
Next up is a fourth meeting with her childhood idol Sharapova, with the Russian 3-0 up in previous meetings, including a dramatic French Open semi-final last year.
"I definitely want to keep playing my game no matter what and really kind of take it to her, go for my shots," said Bouchard.
Courting trouble
Bernard Tomic might have struggled to lay a glove on Tomas Berdych, but he gave tournament schedulers both barrels.
The fact that Lleyton Hewitt was the only one of 10 Australian men in the draw to play on Rod Laver Arena by round four had caused a few raised eyebrows, and Tomic called out tournament direct Craig Tiley on the subject.
"I think the scheduling was ridiculous this year," said Tomic. "Not just from my side, but for many players. I don't know who was in charge of the schedule. Really, some of the matches I saw, it was just like, wow."
Pushed on the issue, he added: "You'll have to ask Craig Tiley. That's the guy organising everything. Apparently he's the best."
Quotes of the day
"Genie, this is unacceptable." Eugenie Bouchard on the stark message she told herself in the bathroom after losing the second set against Irina-Camelia Begu.
"When I was coming up, I was compared to [Anna] Kournikova for many years in my career and still occasionally that name always comes up in interviews and articles. That's just part of it, part of the game, part of the business." Sharapova on the comparisons made between her and Bouchard.
"Not really. I have been at the US Open semis." Ekaterina Makaraova is not about get carried away and describe reaching the quarter-finals as her best ever Grand Slam performance.
"That's not mathematics. You cannot say a number. It doesn't matter at the end. I am in the quarter-finals." Rafael Nadal does not fancy putting a percentage on his level of fitness.
"Wasn't even thinking about that." Nick Kyrgios declines the invitation to say he was inspired by the imminent Australia Day on Monday.