Australian Open: Novak Djokovic's downfall plotted by Jamie Delgado
By Piers Newbery
BBC Sport at Melbourne Park
Last updated on .From the section Tennis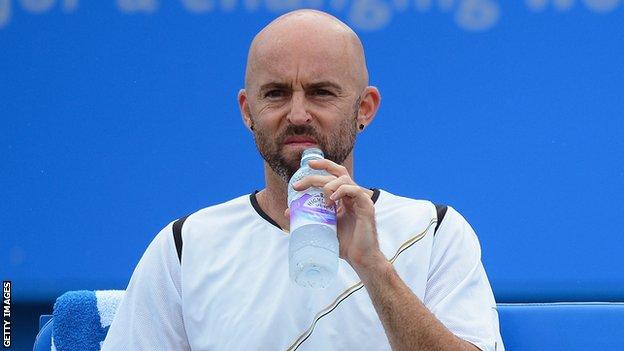 Australian Open: Djokovic v Muller
Venue:
Rod Laver Arena, Melbourne Park
Date:
Monday 26 January
Time:
09:30 GMT approx
There is another British man hoping to derail Novak Djokovic at the Australian Open this week before Andy Murray gets the chance.
When Djokovic takes on Gilles Muller on Monday, the world number one will have Boris Becker in his box and the Luxembourg number one will have Jamie Delgado.
It might sound like a mismatch, but 31-year-old Muller's presence in the fourth round highlights Delgado's considerable impact in his first year of coaching.
"It's awesome to play against the best player in the world in a night match at a Grand Slam," Delgado told BBC Sport.
"That's what Gilles has worked so hard for. Twelve months ago he started off at the lower tournaments and had to go to some places he didn't want to go to, so to get to this sort of stage is amazing.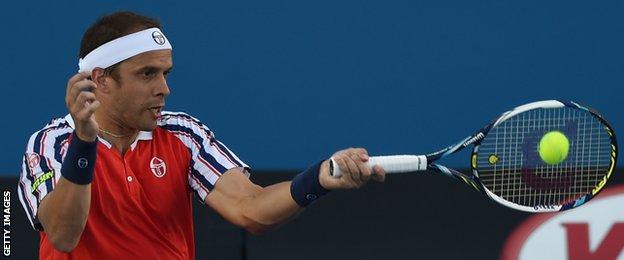 "But we're also looking for him to go out there and play his game and push Djokovic, and if he plays well maybe even beat him."
Delgado, a former British Davis Cup player and world number 121, saw his role evolve over the last year from Muller's doubles partner to coach.
"I wanted to help him get to his career ranking, to do something he hadn't achieved before, and he matched his best of 42 last week," said Delgado.
"After the matches he's won here, he'll go up, and that was a goal for us."
Muller was languishing around the mid-300s in the rankings last January after missing the previous six months with an elbow injury, and the route back to the top was arduous.
He took in Germany, France, Kazakhstan, Mexico, China, Taiwan and South Korea in the search for ranking points on the second-tier Challenger Tour, before breaking back into the top 100 after coming through qualifying at Wimbledon.
That tournament also saw Delgado set a record for a male player with his 23rd consecutive Wimbledon appearance as he played doubles with Muller, something he does not expect to repeat this year.
"If someone would give me a spot in the draw, I'd love it," said the 37-year-old from Birmingham. "But I'm not banking on it."
Jamie Delgado factfile

Age:

37

Lives:

London

Turned pro:

1995

Highest ranking:

Singles - 121 (August 2001)

Doubles - 57 (October 2012)

Finals:

Singles - none

Doubles - two (Los Angeles, Eastbourne - both 2012)
Delgado has plenty to keep him occupied, having just opened the Living Tennis academy at Bisham Abbey with former British number three Martin Lee, along with media work.
He has a 24-week contract with Muller and designs on pushing well beyond 42 in the world, after the 6ft 4in big-server responded so well to his initial plan.
"From what I saw last year with him physically, I made it clear that what was going on was not good enough," said Delgado.
"He's now got a physical trainer back in Luxembourg who did a good pre-season with him and has given him a programme that he does on the road, and I manage it.
"He's bought into it and he's had some good results early in the year, which is great because it confirms to him that it works."
Even in a tournament of surprises, a victory against Djokovic would top the lot, but Delgado has expectations of his man's first meeting with the world's best.
"It will be a tough match obviously but Gilles has worked really hard, improved in his professionalism, and tactically he's better," said the Briton.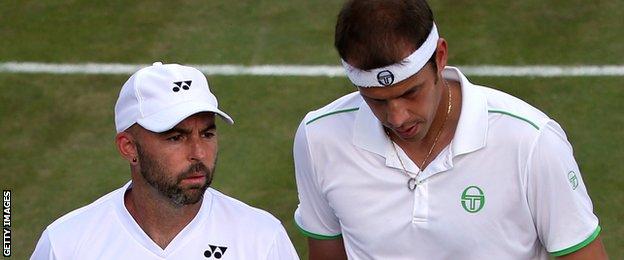 "It will be interesting if he can play his game. There's no better test of where you're at."
Just do not expect histrionics when the cameras cut to the player's box on Monday - Delgado plans to take a leaf out of Ivan Lendl's book.
"Gilles is always looking for eye contact," he said.
"I try and be as relaxed as I can, not too over-excited or with my head in my hands. I try to keep on an even keel, even if inside I'm not feeling that way!
"I'll be excited, nervous for him and for us, and obviously egging him on and hoping he does himself proud, because he's good enough to give Djokovic trouble.
"If he were to do that, even if he was to come up short it would help a lot for the rest of the year."