Andy Murray: Australian Open win shows physical improvement
By Piers Newbery
BBC Sport at Melbourne Park
Last updated on .From the section Tennis
Andy Murray felt his Australian Open win over Grigor Dimitrov showed how much he has improved physically.
Murray took confidence from feeling he was the fitter man in the closing stages, having struggled at times on his return from back surgery in 2014.
"For a match that went three and a half hours, physically I felt way better than the last year or so," said Murray.
"My body allowed me to play that way for the whole duration of the match. I didn't feel tired. I felt fresh. My back felt good. I wasn't feeling stiff at all."
Murray's kilt conundrum
Asked on court following his win over Grigor Dimitrov, Murray quipped he would leave it until the last minute before deciding whether to wear a kilt or suit on his wedding day.
"I am going to have both options and see what I feel like in the morning when I wake up," he said.
Murray cramped badly against Robin Haase at the US Open in August and last week referred to what he felt had been unfair criticism in New York.
He admitted after his defeat by Novak Djokovic in New York that the Serb had been stronger than him, but that was not the case against Dimitrov in Melbourne.
"I felt like maybe he was tired," said the Scot. "I don't know if he was, but that was the feeling I got with the way he was playing at that stage.
"I tried towards the end of the set to extend the rallies.
"And physically I felt completely different to how I felt at the US Open last year or even here last year when I played a long match, especially in cold conditions. It was like night and day."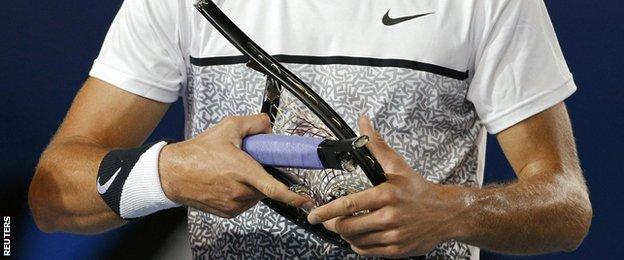 Murray is through to his 16th Grand Slam and sixth Australian Open quarter-final in a row, and this time he will be taking on the hope of a nation in Kyrgios.
The teenager has captured the public imagination as he bids to become the first Australian man since Mark Edmondson in 1976 to win their home championships.
"Obviously the crowd will be right behind him. Understandably so," said Murray.
"They're going to watch him play a lot of matches like this over the next 10, 15 years probably. That's just something that I'll have to deal with in my way.
"I've played a lot of matches. I've played in the French Open against French players where the crowd can be very difficult. I've experienced it before, so hopefully I'll deal with it well."