Maria Sharapova beats Eugenie Bouchard at Australian Open
Last updated on .From the section Tennis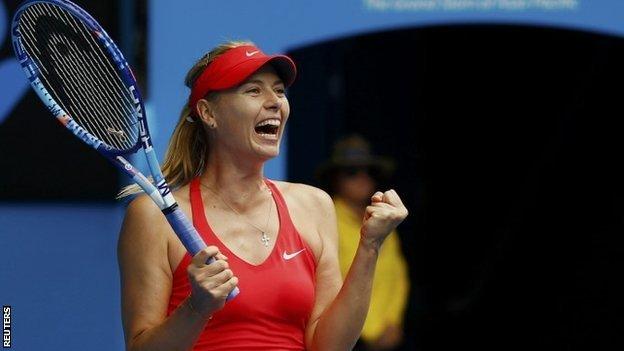 Maria Sharapova brushed aside seventh seed Eugenie Bouchard in straight sets to set up an all-Russian Australian Open semi-final in Melbourne.
The 2008 champion, seeded second, won 6-3 6-2 in one hour and 18 minutes at a cool and blustery Melbourne Park.
Tenth seed Ekaterina Makarova beat third seed Simona Halep 6-4 6-0 in Tuesday's opening match.
Tomas Berdych upset Rafael Nadal 6-2 6-0 7-6 (7-5), while Andy Murray beat Nick Kyrgios 6-3 7-6 (7-5) 6-3.
'Focused' Sharapova marches on
Sharapova, 27, took her record against Bouchard, 20, to 4-0 with a clinical performance as the Canadian made 30 errors in 78 minutes.
"I thought I had a really good start," the Russian said. "I kept my focus throughout the whole match. I didn't feel that I had too many letdowns, which is important.
"When I did have a few slips I was able to come out with great first serves or really powerful returns."
Bouchard said: "I felt under pressure the whole time, a bit on my back foot. That's not how I want to play. I feel like I didn't start well, and it kind of all went downhill from there."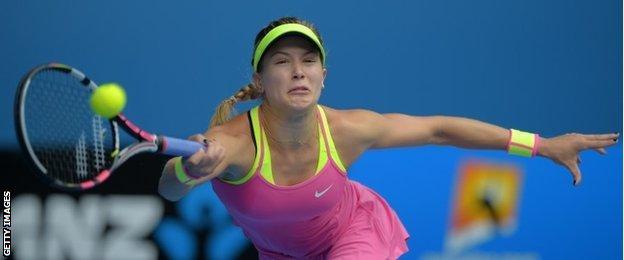 Britwatch
Jamie Murray's Australian Open came to an end with defeat in round two of the mixed doubles.
After a strong start, Murray and Taiwan's Hao-Ching Chang lost 3-6 6-4 10-5 to fourth seeds Alexander Peya and Andrea Hlavackova on court two.
Quotes of the day
"Melbourne." Nick Kyrgios is asked where he'd like to be this time next year (in the rankings).
"I also know what Dani thinks of Berdych's game because he's told me, so it works both ways." Andy Murray on former coach Dani Vallverdu being in Tomas Berdych's corner for Thursday's semi-final.
"'If' doesn't exist in sport. That's the real thing. If, if, if - never comes. The thing is, you have to do it." Rafael Nadal with a melancholy take on his sponsor's famous slogan.
"Fly high. Sing your own song." Maria Sharapova scrawls a message for the world on the camera after her win over Eugenie Bouchard.
"That's a tough question. I just want to leave it." Ekaterina Makarova is asked whether Florida-resident Maria Sharapova feels "different" to the other Russian players.
"I cannot say pressure. Just I was a little bit stressed." Simona Halep is at a loss to explain why her 'A' game deserted here.
"I don't know if I'm playing or not. Am I playing, Jill?" Eugenie Bouchard asks her agent whether she will be playing in the Fed Cup for Canada next month.
Selfie of the day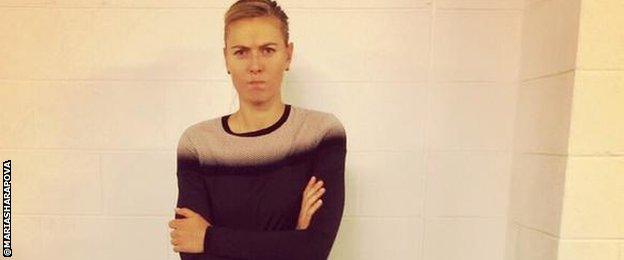 Okay, not quite a selfie, but Sharapova won't be cross after reaching the semi-finals.
"Sneaky picture face!! #AusOpen," she tweeted., sat on a gym cycling machine.