Australian Open: I predicted Andy Murray match - Dani Vallverdu
Last updated on .From the section Tennis
Australian Open semi-final - Murray v Berdych
Date:
Thursday, 29 January
Time:
08:30 GMT
Venue:
Melbourne Park
Coverage:
Live on BBC Two, text commentary on the website, audio commentary on BBC Radio 5 live sports extra
Andy Murray's former coach Dani Vallverdu expected to face the Briton for the first time at the Australian Open.
The Venezuelan, 28, left the Murray team after five years in November and began working with Czech Tomas Berdych.
Murray and Berdych will meet in the semi-finals at Melbourne Park on Thursday.
"I had a feeling it would happen here," said Vallverdu, a friend of Murray's since their teenage years.
"When I was flying back from the Czech Republic in December with Ross Hutchins, I told him 'you know they are going to play in the semi-finals in Australia.'"
View from 2013 Wimbledon winner Marion Bartoli
"I'm sure that they have a plan over a year to establish something into Andy's game, it doesn't come overnight. I'm sure Amelie Mauresmo is happy with the way Andy's playing right now, but I don't think she will take it more seriously or with more stress than the match before. What I feel she's extremely good at is she's able to understand what he goes through and help him manage his nerves, because she lived the same situation herself."
Murray, 27, split with Ivan Lendl last March and appointed Amelie Mauresmo as his coach in June, to work alongside Vallverdu.
The British number one said last week that the atmosphere in the team was "not positive" at times during the second half of 2014, and Vallverdu and fitness trainer Jez Green departed in November.
Vallverdu and Murray first met as youngsters at an academy in Spain and asked whether they were still friends, the Venezuelan said: "Of course.
"I will be very happy if Tomas wins. I will be a bit gutted for Tomas if he loses but at the same time I will be happy that Andy is in the final."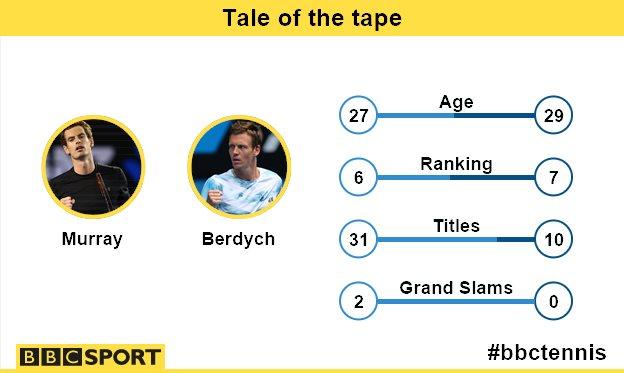 Murray said after his quarter-final win over Nick Kyrgios that Berdych had a "huge advantage" with Vallverdu on his side, adding that the coach should be able to come up with a "perfect" game plan.
Pressed on being at a potential disadvantage, Murray responded: "I also know what Dani thinks of Berdych's game because he's told me, so it works both ways."
Vallverdu played down the significance of his relationship with Murray, saying: "It can be a little bit of an advantage but everyone that knows tennis knows everyone's game. It's not rocket science.
"Maybe I know a little bit more about him because I've known him for 15 years and I have watched him play millions of times.
"But Andy's strength is that he will adjust depending how the match is going, that's something Tomas knows as well."
View from Jonas Bjorkman, ex-world number four
"Tomas knows how to beat him, he has a positive record head-to-head. Tomas has massive weapons in his forehand and backhand, he can hit winners from every position, serves big. He hits it hard, heavy and flat - we saw that against Rafael Nadal. Andy can go out with an 'A' game and if it doesn't work change to a 'B' game, and maybe even a 'C' game. Not many guys out there have that great quality."
Vallverdu is looking to help Berdych reach his second Grand Slam final, having ended a 17-match losing streak against Rafael Nadal in the quarter-finals that he described as "a huge win".
He added: "It's not going to be normal but I don't think it's going to be strange. (Andy's) been through it already with a couple of his coaches, so I think he will deal with it fine.
"Maybe the first couple of games it will be a bit weird but it will be fine. it's just a tennis match at the end of the day.
"I've been with Andy for the last five years and now I am with Tomas, so I just have to worry about our side."
The perfect plan for Berdych?
1.
Deuce (right-hand) Court, 1st Serves:
Murray has made 72 first serves out wide
and 38 down the middle in four matches. Focus on returning the wide one first.
2.
Advantage (left-hand) Court, 1st Serves: Murray's favourite spot is the slider to the forehand, making 66 to the middle and only 41 out wide.
Blocking forehand returns required.
3.
Serve and one forehand:
Murray has made a tournament best 81% returns
and will target Berdych's less dangerous backhand. Move quickly and hit more forehands in the ad court as the first shot after the serve.
4.
Play Big: Murray has more forced errors (65 forehand/75 backhand) than unforced errors (69 forehand/50 backhand), so
attack him with power, depth and direction.
5.
Hang from the Baseline:
Berdych has won 53% of his baseline points
while Murray has won 50%. Do not be afraid to extend rallies to open up gaps.
(Australian Open analyst Craig O'Shannessy)