Australian Open: Katie Swan 'belongs' as Brit makes last four
Last updated on .From the section Tennis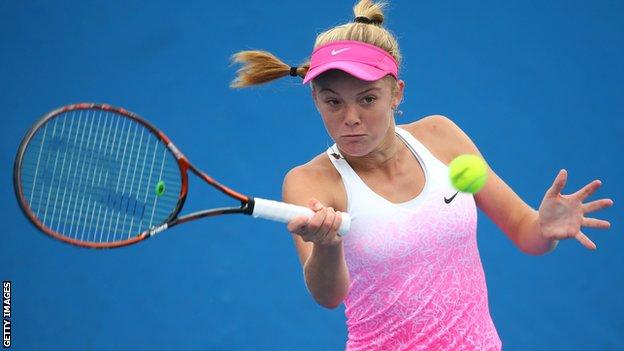 Great Britain's Katie Swan says she feels like she "belongs" at the Australian Open after reaching the semi-finals of the girls' singles.
Swan has already beaten top seed Shilin Xu of China and defeated 11th seed Raveena Kingsley in the quarter-finals.
"It's been amazing," said Swan, who is the 14th seed in Melbourne.
"I'm loving it here. It's even better that I'm still going. I definitely feel like I belong here and I've shown that on the court this week."
Swan, currently ranked 31st in the world at junior level, was one of the youngest players in the draw when she made her debut at Wimbledon last year but lost in the first round to Romania's Ioana Rosca.
However, she has shown her potential in Australia and her 6-4 6-3 win against American Kingsley on Thursday secured a meeting with close friend Galfi.
"We're good friends off the court and I'm sure it will be a great match," she added. "We'll still be friends before and after the match, we'll just be focused on playing."
Swan moved to the USA two years ago because of her father's job and although she has developed an American accent, she insisted: "I'm definitely British, even though I don't sound it.
"I'm still with the LTA [Lawn Tennis Association] and I'm not doing anything for the USTA [United States Tennis Association].
"My British friends think I sound fully American and my American friends think I still sound English. It's funny, they both give me stick about my accent."