Andy Murray: Leaner, quicker and a new identity to his game
By Piers Newbery
BBC Sport at Melbourne Park
Last updated on .From the section Tennis
Andy Murray looked a different person to the shattered athlete who left New York last September, or the embarrassed figure at the O2 Arena in November.
A fourth Australian Open final defeat left him disappointed but hardly destroyed as he wound down his media duties at Melbourne Park.
While spectators and experts pondered the mental lapse that saw him lose 12 of the last 13 games to Novak Djokovic, the British number one had taken out his frustration on his racquet. He had already moved on.
"Success is being happy," said the 27-year-old. "I would rather lose in the final and be happy than win the final and go home and be miserable.
"I want to try to enjoy my tennis more right now than I probably did at the beginning of my career and everything that goes into it."
The final hour left a sour taste but two weeks in Melbourne put a difficult 2014 firmly behind him and made a statement about his form, his fitness and his coach.
The body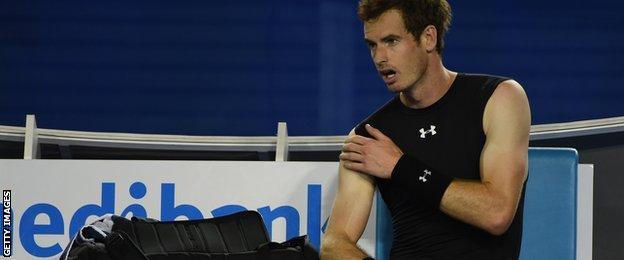 Martina Navratilova: "I think Andy has slimmed down a little bit, he seems to be a bit leaner to me. He's moving really well but still has all the power."
When Murray posted a bleary-eyed picture from a London hospital bed two months after his Wimbledon win in 2013, it marked a key moment in his career.
The procedure, thought to have targeted a spinal disc, had been successful but a hard road lay ahead, and he might only now be convinced that he is fully over it.
"From time to time, I still feel the back," Murray said at Queen's Club last June, and there were cramping episodes at the French Open and the US Open, where he lost to Djokovic in four sets after wilting in the latter stages.
John McEnroe was watching in New York, and the former world number one was concerned, saying: "Ideally you should be able to go longer than this without feeling the effects."
Murray admitted: "I thought physically he was better than me in the end. I was a little bit disappointed, to be honest, because I did train very hard."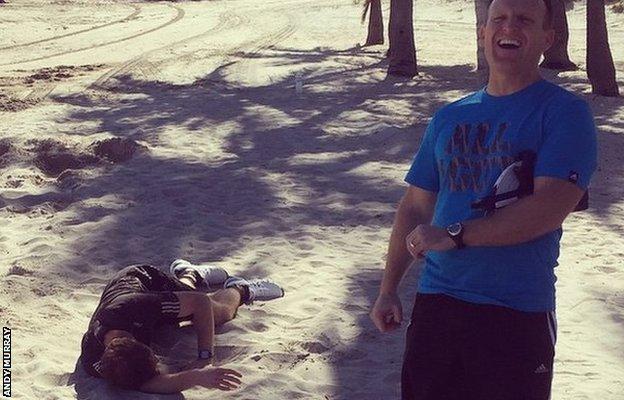 The departure of Dani Vallverdu, his childhood friend and coach of five years, grabbed most of the headlines when a Team Murray reshuffle was announced in November, but long-time fitness trainer Jez Green also departed.
Matt Little took on sole responsibility, having previously shared the role with Green, and a new approach was taken - speed work.
Murray and his team decided to focus on his traditional strength, footwork and agility, heading to the Florida beach rather than the track in the off-season, and he began 2015 saying: "I have never moved as well at the beginning of a year."
His defence was back to its best in Melbourne and drove the likes of Grigor Dimitrov and Tomas Berdych to distraction, and five months on from New York, defeat by Djokovic was not down to conditioning.
Murray: "The reason I lost that match was not a physical thing. I don't believe that. I know how I feel just now and how I felt after the match with Novak at the US Open. It appeared that he was the one that was struggling more physically than me."
The coach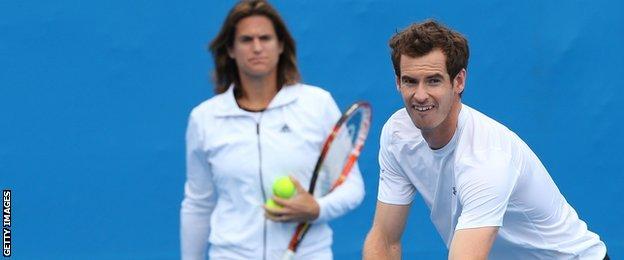 Mats Wilander: "No-one is in his head telling him what he needs to do. He's figuring it out for himself, and I love what he says about Amelie Mauresmo - she's a good listener. You would never think that's a quality a coach needs."
If back surgery was a calculated risk with clear gains to be had, the departure of coach Ivan Lendl came as a crushing blow outside of Murray's control.
"He had a big influence on me and my team, he was the leader," Murray admitted three months later as surprise replacement Amelie Mauresmo took up the role at Queen's Club.
The Frenchwoman had responded to a text message from Murray during the French Open, and a month later stepped out onto the practice courts with him for the first time and watched quietly as her new charge went through his usual routine.
The idea that Lendl had strutted around barking orders, while Mauresmo provides a benign sounding board, is wide of the mark. It was Murray's assistant coach Vallverdu who did most of the scouting and talking previously, with Lendl offering nuggets of advice from one Grand Slam finalist to another.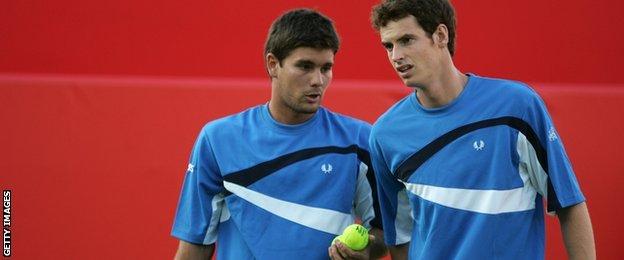 Murray calls upon Mauresmo for similar input, choosing an empty Centre Court the day before Wimbledon last year to discuss with her the emotions around his forthcoming title defence.
"It's hard for you to understand," Mauresmo told BBC Sport last week. "Talking about his emotions on the court and what he says, what it means. We talk about that and we know exactly what he feels on the court."
The fact that Mauresmo is breaking new ground for female coaches has been a secondary issue for Murray, although one he is happy to tackle.
His impressive run in Melbourne clearly felt like a vindication of a decision that attracted scepticism and derision in some quarters - all of which provided the kind of motivation which spurs him on.
Murray: "A lot of people criticised me for working with her and I think this week we have shown that women can be very good coaches as well. I'm very thankful to Amelie for doing it and I would say it was a brave choice from her to do it. Hopefully I can repay her for what she did."
The game plan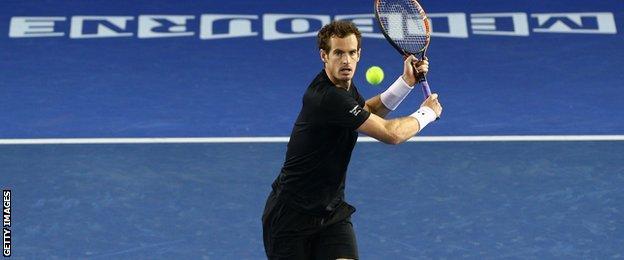 Judy Murray: "I think Amelie understands the variety Andy has and has helped him find a way to use that again. I think he'd lost that side of his game a bit and got caught up in it being all about being aggressive and trying to hit the ball hard."
When Murray managed just one game against Roger Federer at the ATP Finals two months ago, former British number one Tim Henman said the Briton's game had "no identity".
For all but the last hour of his fortnight in Melbourne, Murray had got his game back.
The received wisdom for much of his career has been that he is a natural counter-puncher who has needed to add a more aggressive intent to beat the very best.
Murray knows how to hit every shot in the book, it has always been more a question of when and why.
"As a player he's always been a problem solver on the tennis court, and sometimes he tried to solve the problem too much and got tangled up in long matches with players he shouldn't," said Wilander.
Australia saw Murray get the balance right more often than not, for six rounds devising clever game plans and mixing up his play astutely.
The 'slider' serve out wide and down the 'T' nullified the threat of Berdych, heavy use of slice took the pace out of hard-hitting teenager Nick Kyrgios, and a relentless barrage of returns drew the sting from a rampant Dimitrov.
There is more work to be done, with the second serve ultimately crumbling completely against the best player in the world, while Djokovic's willingness to come to the net on key points would be a useful addition to the armoury.
Murray: "It's pleasing to be back playing close to my best. And it does show that I still feel like I can make improvements in my game. I still think I can get a few percent better over the next couple of months."
The future
Wilander: "Even though winning is obviously a big reason why we play, it's not the main reason why we play. You have to want to win but you also have to want to play tennis, and if you want to win that means you're having fun."
Murray will wake on Monday officially reinstated among the 'Big Four' in the rankings, if not an Australian Open champion.
The tantalising thought that he could now have three of the four Grand Slam titles to his name must be put aside and another major challenge planned over the summer.
Mauresmo has not committed to travelling every week with Murray and will be absent in February, when he is scheduled to play in Rotterdam and Dubai, so there might be an addition to the team as he looks to fill the temporary void.
"I'll definitely have a think about it, because I don't want to go the whole month now not seeing anyone," said Murray.
"I'll try to get some help this month. But, again, it's about getting the right person rather than rushing and making a bad decision."
There is also a wedding to Kim Sears later in the year which, if Murray has anything to do with it, will be a lower-profile affair than his fiancee's headline-grabbing appearance on screen in Melbourne.
The prospect of leaving a family back home in Surrey could dull the competitive edge, but with his 28th birthday still three months away he can hope to have several more years competing for the major titles.
It might not have looked much like "fun" as Murray castigated himself and smacked his racquet into Rod Laver Arena, but Djokovic has a habit of driving opponents to despair.
Overcoming some of the best players of all time on the biggest stages should continue to provide Murray with sufficient motivation.
Murray: "Mentally I felt much, much stronger than I did at the end of last year and during the majors. I wouldn't want to come away from here feeling negative about the way that I played or reaching a Slam final."