Serena Williams: Indian Wells return evokes spirit of Mandela

By Russell Fuller
BBC tennis correspondent
Last updated on .From the section Tennis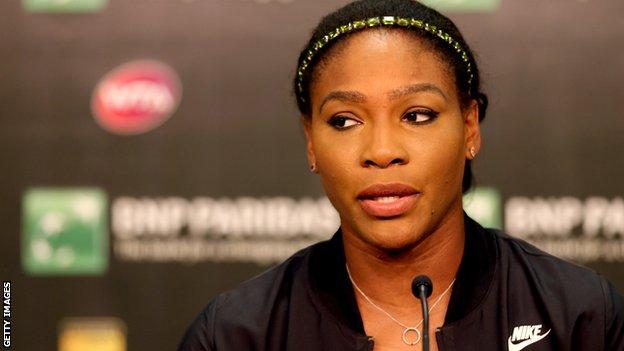 It was to her mother that a nervous Serena Williams turned to see what she would think of her youngest daughter competing in Indian Wells for the first time in 14 years.
Oracene said she would be in California to support her.
Serena's sister Venus also offered her encouragement, and even her father Richard - who has been so outspoken about the booing and jeering aimed at his daughter before the final of 2001 that prompted the boycott - told her that it would be a big mistake if she never returned.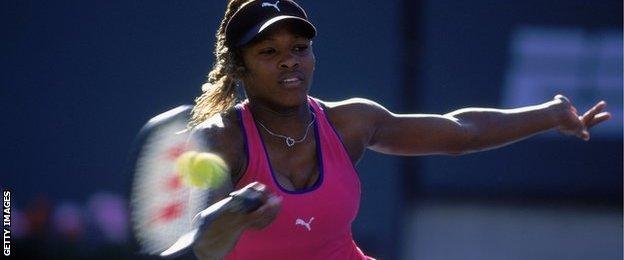 The verbal abuse directed at Williams before that final against Kim Clijsters stemmed from Venus' decision to withdraw from a semi-final between the siblings because of tendinitis.
In an essay composed for Time magazine, as she announced her return to Indian Wells last month, Williams made clear that she thought some of the vitriol was racist in nature. She felt she had won the match, but lost a much bigger fight: the fight for equality.
"The false allegations - that our matches were fixed - hurt, cut and ripped into us deeply. The undercurrent of racism was painful, confusing and unfair," she wrote.
Her father Richard was even more direct when his book "Black and White: The Way I See It" was published last year.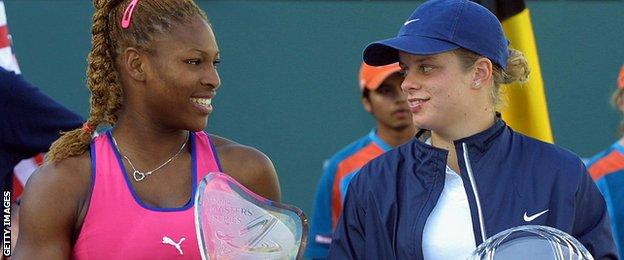 "It was a message from the past," he wrote, "one that America tries to put behind it but can never forget. It was a snapshot from the days when the open humiliation of the black race was accepted without question. Accusations and racial epithets flew through the stadium."
The tournament had previously held some very happy memories for the Williams family. They may seem poles apart, but Indian Wells is only 125 miles east of Compton, where Serena spent her formative years.
She won her first ever professional match here as a 15-year-old (partnering Venus in the doubles) and made a major breakthrough two years later when beating Steffi Graf to take the title.
Williams considered returning to Indian Wells last year, but was still anxious about the reception she might receive. Even this week, with the die cast, she suffered a late bout of stage fright and opted to spend an unscheduled extra night in Los Angeles.
The world number one has not forgotten spending so long in the locker room in tears after winning the title in 2001, but she is ready to forgive, and at 19:00 west coast time on Friday evening will walk out into the second-largest tennis stadium in the world to play Romania's Monica Niculescu.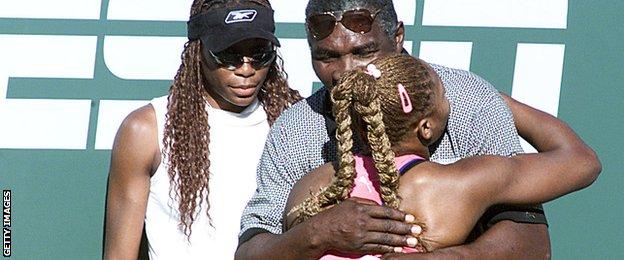 "I think there will be added nerves," she said in a tightly packed news conference, which played out to the constant soundtrack of camera shutters.
"I'm looking forward to stepping out and letting the whole world know that it doesn't matter what you faced - whether it's something that hurt you or hurt your family - you can just come out and be strong and say I'm still going to survive and I'm still going to be the best person that I can be."
She cited former South Africa president Nelson Mandela's autobiography Long Walk to Freedom as having significant bearing on her decision to return.
"I read the book about two years ago," she said. "That hit me hard because I met Mr Mandela a couple of times and we had some interesting conversations. He made such an impact on my life, and then reading his story it really hit me in an interesting way."
Williams regularly gives the impression that she would rather be anywhere else than the interview room. But on the eve of her playing return in the Californian desert, she was thoughtful, engaging and almost statesmanlike.
"I think it's a great opportunity, if you are in a position where you can stand up and speak and be a role model, then why not do it?
"And I feel like this is the perfect opportunity for me to do that."