Indian Wells: Serena Williams out of semi-final with knee injury
Last updated on .From the section Tennis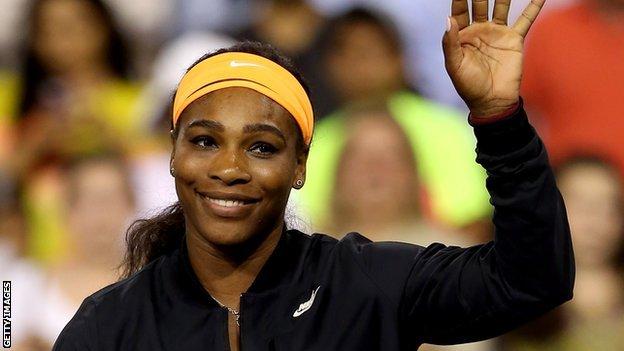 Serena Williams has withdrawn from her semi-final at Indian Wells because of an injury to her right knee.
The world number one was set to play third seed Simona Halep of Romania in the semi-final of the BNP Paribas Open.
Williams was playing the Californian event for the first time since she was booed while winning the 2001 title.
Halep will face former world number one Jelena Jankovic in Sunday's final after the Serb fought back to beat Germany's Sabine Lisicki 3-6 6-3 6-1.
"Four months ago I began a journey to play Indian Wells and it was amazing," said Williams.
"I never dreamed I could do it. But I would not have been able to do this without my fans.
"Though it ended early due to injury this year, I have to say I cannot wait to try again next year."
Russell Fuller, BBC tennis correspondent
"Fourteen years ago, it was Venus Williams who pulled out of a semi-final with her sister because of a knee injury - and by a cruel twist of fate, it was Serena's knee that gave up on her at the same stage this year."
Williams had an MRI scan after injuring her knee in practice earlier in the week, doctors telling her she had suffered a strain in her quadriceps tendon.
She tried treating it with an anti-inflammation injection, but with little success.
Williams added: "I was just on the practice court two days ago and everything was going good.
"I went for a serve and just felt a super sharp pain in my knee.
"When you get to a level of pain where you are at nine or a 10, or even an eight, you don't want to push it because you can actually make it a lot worse," she said.
More from Russell Fuller
"There was no repeat of the jeering Serena was subjected to in 2001: she walked on to court to a warm reception to explain that her swollen knee was just too painful to play on. Her withdrawal was well choreographed; Serena has promised to return next year; and may even be in Miami next week. The injury, she says, may only need a couple of days to settle down."
In 2001, Serena's sister Venus Williams pulled out of a highly anticipated semi-final clash between the two at the last minute with a knee injury.
The then 19-year-old went on to suffer booing and heckling from the crowd in the final, with her father accusing fans of racial abuse.
Williams said she never believed she would return to Indian Wells and only this year ended her 14-year boycott.