Andy Murray: 500 career wins but how many pairs of sweatbands?
Last updated on .From the section Tennis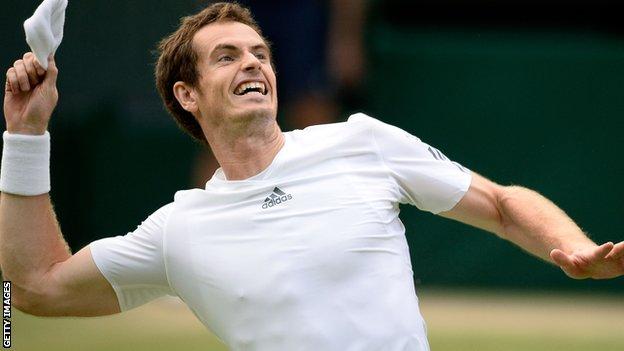 Andy Murray: 10 years, two Grand Slams and 500 wins.
The first Briton to reach 500 match wins
How each year of wins shaped up
435.7 Aces hit
57% 1st Serves in
153 Double faults
74% 1st serve points
Murray could eat 1,161 burgers & chips for all the calories he burned
Murray's fastest ever serve: 145mph
The same as the top speed of a Lotus Elise
During his career, Murray has travelled
Around the world 48 times = 100 days of travelling
He could have flown to the moon and back twice
Mars is 33.9m miles away, and could be 3.5% of the way there
Longest and shortest matches
294 mins US Open final victory 2012 v Djokovic
34 mins ATP Masters Series 2007 v Volandri
Time on court
On average, he has spent 113 hours or 4.5 days playing per year
Where did he win his 500 matches?
70.8% hard, 12.6% clay, 14.6% grass
2% of wins were played on carpet...
Countries visited
USA: 52
Spain: 24
France: 17
Italy: 13
Australia: 13
Canada: 10
Who he's faced the most?
Novak Djokovic 23
Roger Federer 22
Rafael Nadal 21
Gilles Simon 15
David Ferrer 14
Stan Wawrinka 14
During his 500 wins
Murray has used 12.5 miles of racquet string. That's 182 Centre Courts back-to-back
He ran 1,242 miles - equivalent to: 47 marathons
He drank 2,000 litres of water
He used 2,000 pairs of sweatbands... enough for everyone who attended the Royal Wedding in 2011
#bbcsport