Aljaz Bedene's British switch backed by Greg Rusedski
Last updated on .From the section Tennis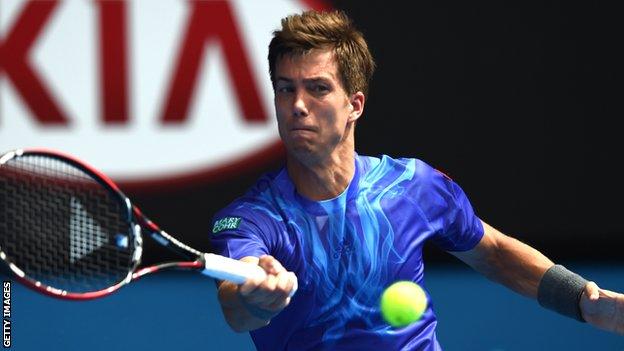 Slovenia-born Aljaz Bedene's decision to represent Great Britain will be good for British tennis, says Greg Rusedski.
Rusedski, a former world number four, gave up his Canadian nationality to represent Britain in 1995.
He said: "Every time you get another player in the top 100 it can only be of benefit. I think he will help push and drive players to get ahead of him."
Bedene, who moved to the UK seven years ago, won his first-round match in the Casablanca Open on Tuesday when he defeated Maximo Gonzalez 6-3 3-6 6-3.
He represented Britain for the first time at the weekend when he successfully qualified for the main draw in Casablanca.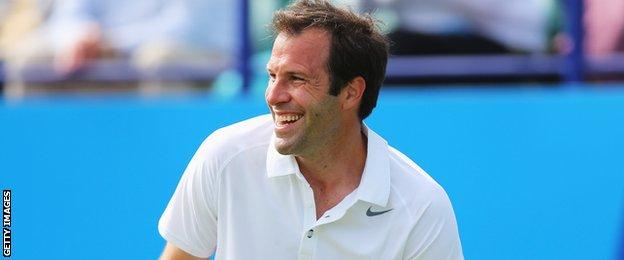 Bedene slipped from 83rd to 99th in the world this week, but remains nine places above James Ward, the former British number two.
The London-resident is not eligible to represent Britain in the Davis Cup however, following the introduction of an International Tennis Federation rule preventing players from representing two different countries in the competition.
But he is appealing against his omission on the basis that his passport application was lodged before the rule change came into place.
"At the moment when it comes to the Davis Cup he doesn't even factor into the discussion unless he gets the ITF to overturn their current ruling," said Rusedski, 41.
"But I think if the ITF do change their ruling and allow him to become available then it will be a good thing for the game in this country."