Novak Djokovic beats Tomas Berdych to win Monte Carlo title
Last updated on .From the section Tennis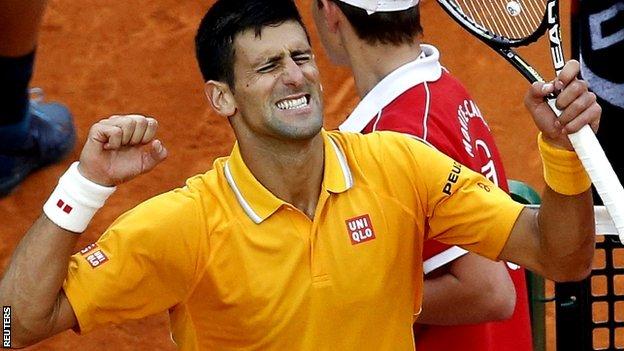 Novak Djokovic beat Tomas Berdych to win his second Monte Carlo title and become the first man to win the opening three Masters events of the season.
The world number one came through 7-5 4-6 6-3 on the clay to extend his winning run in 2015 to 17 matches.
Djokovic, 27, adds Monte Carlo to the Masters titles he won in Indian Wells and Miami last month.
The Serb hopes to complete the career Grand Slam with a first title at the French Open, which starts next month.
"I think the most important period of the year is coming up right now," said Djokovic.
"Obviously Roland Garros and Wimbledon are the priority. that's where I want to perform my best, but we'll take it step by step and see how far I can go."
Djokovic had laid down a marker with in the semi-finals and completed the job in Sunday's rain-interrupted final.
Leading Masters 1000 winners
27:
Rafael Nadal
23:
Novak Djokovic, Roger Federer
17:
Andre Agassi
11:
Pete Sampras
9:
Andy Murray
Sixth seed Berdych provided a real test for Djokovic, despite a 2-18 record against the top seed, but two breaks of serve were still not enough for the Czech in the opening set.
In overcast conditions, and with both men complaining about the slippery court, Djokovic secured the set at the second attempt.
The Serb was still not at his best and did well to recover from 0-40 at 2-2 in the second before the rain came and forced the players off court for an hour.
Another chance for Djokovic to break slipped by on the resumption, and it was Berdych who found something closer to top form as he grabbed his chance to level at one set all.
Djokovic looked on course for his 11th love set of the year when he raced 4-0 clear in the decider but Berdych pegged him back again, and the 2013 champion required two hours and 43 minutes to wrap up a hard-fought win.
"In the end, I'm sitting here with this trophy that is very special to me, of course," said Djokovic.
"This is what matters. Sometimes winning ugly is necessary. It's been a remarkable start of the season for me.
"The fact that now I have won three Masters in a row, that nobody ever has done that - that has given me, even this week, more motivation."