Davis Cup: Quarter-final tickets scarce for Great Britain fans

By Russell Fuller
BBC tennis correspondent
Last updated on .From the section Tennis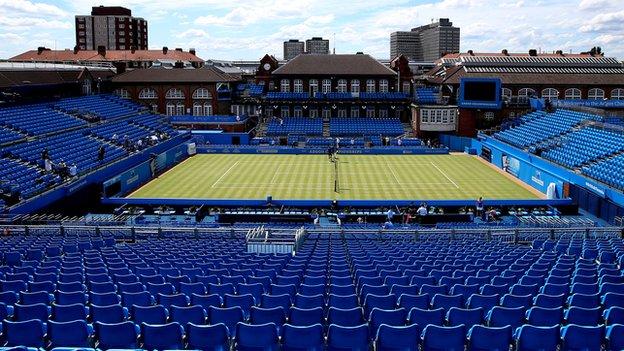 Tickets for Great Britain's Davis Cup quarter-final with France in July went on sale on Wednesday - but it has emerged that less than half will be available to British tennis fans.
The Queen's Club will have a capacity of just under 7,000, which means that an average of about 3,300 tickets a day were put on sale to British Tennis members at 07:00 BST on Wednesday.
Many more tickets would have been on general sale if an indoor venue like London's O2 Arena had been chosen, but the GB captain Leon Smith and his players asked for the tie to be staged on grass.
With The All England Club not an option in the week after Wimbledon, the capacity had to be compromised in order to play the tie on the team's chosen surface.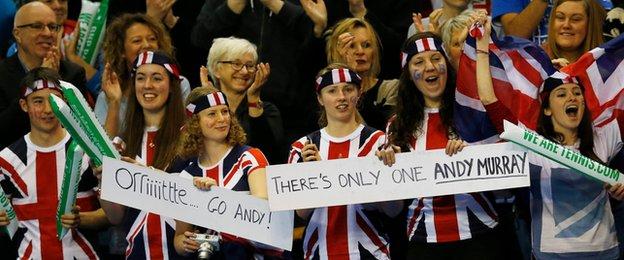 All the tickets for the opening day sold out in 90 minutes, but nearly half of the tickets for Saturday's doubles, and a handful for Sunday's reverse singles, were still available late on Wednesday afternoon.
This may have something to do with the entry price.
Some tickets for the doubles went on sale for £35 and £65, but roughly half are priced at £95 per head (plus booking and transaction fees).
By way of comparison, Centre Court tickets for the opening two days of Wimbledon cost £50, and rise to £160 for the men's final.
"We always knew this was going to be a high demand event given the size of the venue and there might be some disappointed fans," an LTA spokesman told BBC Sport.
"It's a balancing act between economics, giving our fans the best possible experience on the day, satisfying tennis family requests, as well as giving our team a realistic chance of winning the tie at Queen's."