French Open: Serena Williams calendar Grand Slam is possible

By Russell Fuller
BBC tennis correspondent
Last updated on .From the section Tennis176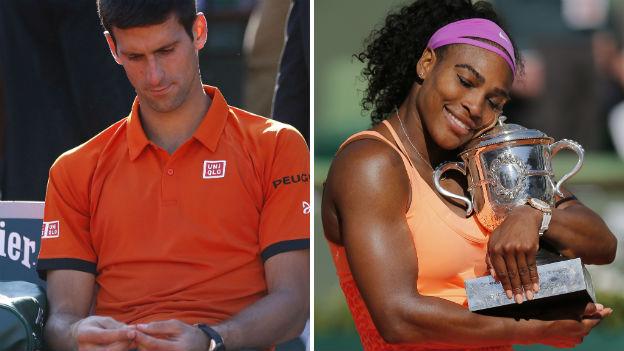 The exceptional performance, consistency and resilience of Novak Djokovic since the middle of last October had hinted at the possibility that he might just emulate Rod Laver's 1969 Grand Slam.
Instead, for the 23rd year in a row, following up Australian Open success by winning at Roland Garros has proved beyond any man.
But not beyond Serena Williams. Even a sick Serena Williams. By winning in Melbourne and in Paris, the world number one has given real momentum to the theory that the calendar Grand Slam is well within her compass.
Djokovic was incredibly gracious after his four-set defeat by Stan Wawrinka, which also deprived him of membership of that elite group of players who have won each of the sport's four Grand Slam events. His achievements appear to merit inclusion, but for now he shares the frustration of Pete Sampras, Boris Becker, Stefan Edberg and Jimmy Connors, who won everywhere but on the Roland Garros clay.
The defeat will sting, but may yet drive him to even greater heights. After all, he won Wimbledon last year just four weeks after losing the French Open final to Rafael Nadal, and this year he has an extra week to recover. It may also console Djokovic that Wawrinka had to produce one of the more exceptional performances in a Grand Slam final to deny him his place in history.
Wawrinka may not have the consistency of Djokovic, or of Roger Federer in his prime, but he has proved beyond reasonable doubt that his Australian Open triumph was no flash in the pan. Nadal may be struggling in 2015, and Federer no longer able to sustain his best over five sets, but - as Andy Murray will testify - the competition for Grand Slam titles remains incredibly intense.
Since Wimbledon 2014...

Novak Djokovic

Serena Williams

8

Titles

7

Australian Open 2015

Grand Slam titles

US Open 2014, Australian Open 2015, French Open 2015

66/7

Wins/defeats

54/5
The same cannot be said of the women's game, but that is not to take anything at all away from the extraordinary achievements of Serena Williams. Battling flu, and taken to three sets on five occasions, she again proved too good for the field to win a third title in Paris.
When Williams lost to Garbine Muguruza at Roland Garros and to Alize Cornet at Wimbledon in the space of a few weeks last summer, her days of dominance seemed numbered. But a couple of months later, and just a few days shy of her 33rd birthday, she pulled level with Chris Evert and Martina Navratilova on 18 Grand Slams by winning the US Open. That tally is now 20 and she has, quite literally, power to add.
Her longevity is perhaps the most remarkable factor. Williams won her first Grand Slam as an 18-year-old in New York in the last century.
"She hasn't played like Roger (Federer) - she hasn't played a full 17 seasons in a row," says her coach Patrick Mouratoglou, by way of explanation.
"She still likes to play, she still takes a lot of pleasure from the game, and she feels that she can still dominate tennis and win Grand Slams."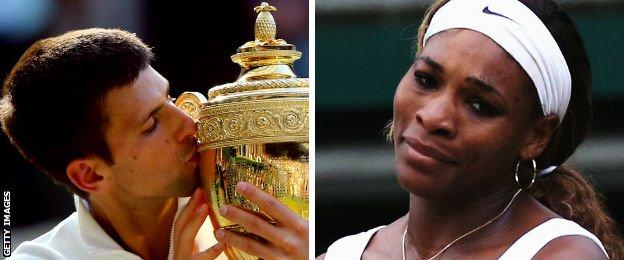 Williams herself said after losing to Ana Ivanovic at last year's Australian Open that she had long since given up on the idea of winning all four Grand Slams in the same year.
But Mouratoglou thinks it is possible.
"Why not?" he says. "That's probably the most difficult thing to do in tennis, so that would be something totally incredible. But why not? It's going to be very difficult, but it's possible."
Williams will hold all four Grand Slam titles simultaneously for the second time in her career if she wins Wimbledon next month. The original 'Serena Slam' was completed at the 2003 Australian Open, and if she does it again, she will be just one Grand Slam title shy of Steffi Graf's Open Era record of 22.
"Even sick, she remains the best," the seven-time Grand Slam champion Justine Henin told me at Roland Garros.
"I don't see a girl, or four or five girls that can push her. In a match for sure she can be dominated, but over a whole year she's still the best player in the world.
"When she wants to win something she usually has the capacity to do it. I'm not very concerned about the fact that she can be at the top of the game for the next two or three years."