Katie Boulter: Injury could end Wimbledon qualification dream
Last updated on .From the section Tennis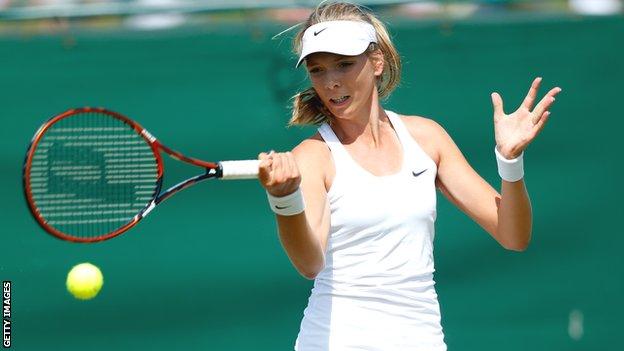 Katie Boulter says her ongoing back injury may force her to miss out on a chance to qualify for Wimbledon.
The 18-year-old British number 14 from Leicester is in her first year as a senior but she has been out of action since January.
"I have been working back slowly in the past few months but it will be touch and go as to whether I make the grass," she told BBC Radio Leicester.
"I am really really hoping to as it is my favourite tournament of the year."
Boulter played in the first qualifying round for Wimbledon last year, but lost a gruelling three-set match against experienced Italian Alberta Brianti.
Despite her recent injury concerns, the 18-year-old right-hander has not completely ruled out another attempt to reach the main tournament, which gets under way on Monday, 29 June.
"It's still in my plans," she said. "I am trying my hardest. It's looking less likely than it was before but I have to keep positive.
"In the next week or so will be the huge decision. I need to play tournaments before on grass which is important, otherwise I won't be prepared. But if I can't I can't - it's not a big deal. I have a long career ahead of me."