Boris Becker's 1985 Wimbledon win: 17 Again

By Russell Fuller
BBC tennis correspondent
Last updated on .From the section Tennis29
17 Again: A special interview with Boris Becker
Time:
19:30 BST
Date:
Tuesday, 16 June
Where:
BBC Radio 5 live
"It was a very different emotion. I didn't quite know what, I couldn't grasp it, but I knew it was a life-changing moment."
The words of Boris Becker, as he tries to describe the defining moment of his career.
The 17-year-old who beat Kevin Curren to win the 1985 Wimbledon Championships retired as a six-time Grand Slam champion, but will forever be associated with becoming the youngest male champion in the history of the All England Club.
That 17-year-old is now 47, and in a special BBC interview on 5 live the three-time champion reflects on how a "crazy German" became part of championship folklore.
Becker also details how sleeping pills may have cost him at least one further title, and discusses his flourishing coaching partnership with Novak Djokovic. He explains how he helped the world number one win last year's Wimbledon just weeks after a crushing French Open defeat by Rafael Nadal - and says he is confident of repeating the trick in the wake of this year's loss to Stan Wawrinka.
17 Again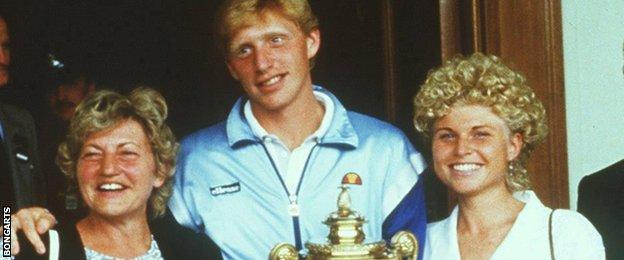 Boris Franz Becker owes his second name to his grandfather, who died on the eve of the 1985 championships. If his parents had not decided to keep the news from him, Becker thinks he would have lacked sufficient emotional strength to create the history he did.
There was plenty of drama along the way. In the third round, Joakim Nystrom twice served for the match, yet Becker won the deciding set 9-7. And a round later, he would have retired against Tim Mayotte if his quick thinking team had not intervened.
"I twisted my ankle so badly that I wanted to shake hands," Becker recalls.
"But he was too far away from the net, so my coaching team of Ion Tiriac and Gunther Bosch screamed out: 'Take a time out, take a time out, call the trainer.'"
Mayotte was beaten, then Henri Leconte, and then Anders Jarryd from a set and a break down in a two day semi-final. After Kevin Curren beat both John McEnroe and Jimmy Connors in straight sets, just the eighth seed from South Africa stood between the unseeded German and the Wimbledon title.
Boris Becker
Born: November 22, 1967. Leimen, Germany
Height: 6'3"
Turned pro: 1984
Win-Loss record: 713-214
Grand slam titles: 6
ATP tour titles: 43
Becker made sure he was first to his lucky Centre Court chair, and then immediately broke the powerful Curren serve in the first game of the match. It was only when serving for the title in the fourth set, that Becker started to feel nervous.
He started with a double fault, won the next three points with big serves, but then offered up another double fault. There was now only one championship point remaining.
"I just started looking up, and I started praying: 'God, give me a first serve, because I don't know what I'm going to do with that second serve," Becker continues.
"I had another big one, and the championship was mine. I had never felt like this. Members of the Royal Family come down to give you the trophy, and then the President of Germany saw me in the locker room. Those 15 - 20 minutes felt very eerie, almost, not real."
Born to be a champion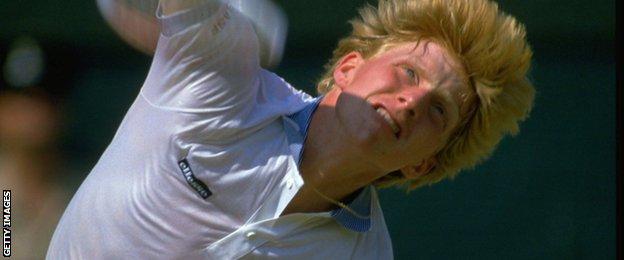 Without the diplomatic skills of his manager Ion Tiriac, Becker may never have got his hands on the 18 inch silver gilt trophy. Tiriac played a crucial role in persuading Boris' parents that his education should be put on hold to allow him to forge a professional tennis career.
Becker, in turn, credits his parents with giving him the self belief and confidence required to compete against the very best at such a tender age.
"I come from a strong set of parents," he explains during the interview - which coincides with the publication of his new book Boris Becker's Wimbledon.
"I have a great sister, who is four years older than me, and they always told me that I have to stand up for what I believe in: that it's about character, about personality and about doing the right thing."
John McEnroe experienced that first hand in Milan in March of 1985.
"I actually played him about four months before Wimbledon that year and he was sort of bitching and whining and complaining to a lot of the umpires," McEnroe remembers; the irony of his comments not lost on him.
"I remember saying to him at the time: 'Why don't you win something, before you start complaining?' Little did I think that at 17, four months later, he would take me at my word."
Stefan Edberg contested three consecutive Wimbledon finals against Becker, and can also claim to be the first person to have beaten him at the All England Club. Nearly two years his senior, Edberg won their first round encounter in the boys' singles of 1983.
"I always felt that Boris could lift his game on very special occasions," Edberg recalls.
"When he was playing at his best, at Wimbledon at a young age, he was serving bullets. And they weren't just bullets, they were close to the lines and they were coming when you didn't want them to happen."
"I didn't particularly want to be in the headlines. I'm more laid back and I'd rather have a quiet life - Boris really has the personality and he has the stardom and he's been really good for tennis in general."
The one that got away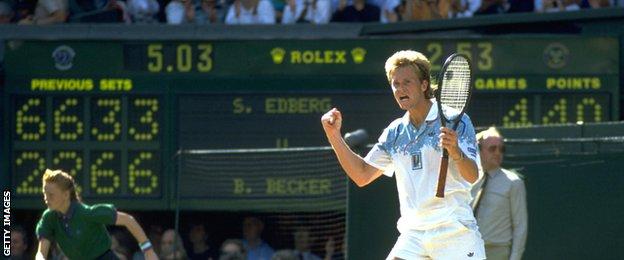 Becker thinks there is a "big chance" he would have won more Grand Slams if he had not broken through so early.
"For my education as a tennis player it was probably too early, because every time I went back on a tennis court, everything was compared to Wimbledon '85," he says.
"So I didn't give myself the time to experiment, to improve my backhand, to improve my footwork, because I was part of the circus."
And there is one particular Grand Slam final he thinks he might have won had he not taken sleeping pills the night before.
"I lost to Stefan Edberg in the 1990 final in five sets," Becker continues.
"I was sleepwalking in the first set and a half, and I think that was a late sleeping pill. I couldn't care less that it was the Wimbledon final or not - you become very slow and not aware of things."
The constant battle with jet-lag, and the need to sleep to perform, led Becker to sleeping tablets prescribed by the German Davis Cup doctor. He says he took them for a limited period, and only when the occasion demanded, before the birth of his first son in January 1994 persuaded him it was time to return to "healthy, clean living".
Champion player to champion coach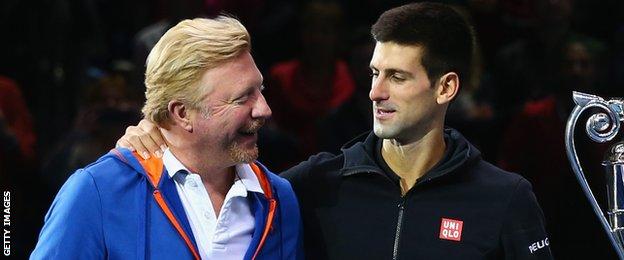 Becker now lives in Wimbledon and feels his career turned full circle last year when he walked through the gates of the All England Club as coach to Novak Djokovic.
And it was a long conversation over dinner on the eve of the men's semi-finals which, in Becker's mind, really cemented their relationship. Djokovic wanted to remember what it took to win the title, and they spoke for several hours over a meal prepared by the world number one's future wife Jelena.
Three days later, Djokovic beat Roger Federer to remind himself exactly how it felt. Like this year, he had just lost the French Open final, which leads Becker to believe that he can once again help his man get over the pain of Roland Garros defeat.
"It was a crushing defeat last year when he lost to Nadal in four sets and he came back and won Wimbledon," he says.
"That's my job: to pick up the pieces, to talk to him and to make sure he's back to his old self. I've done it last year and I think I'm able to do it this year."
Becker always enjoyed being the centre of attention as a player at Wimbledon - but age appears to have mellowed him. A description of best supporting actor would suit him just fine if Djokovic is once again the last man standing on Centre Court on the second Sunday.
"If you'd asked me 10 years ago, I would have answered it's more about me than the player," he concludes.
"There are many disadvantages of getting older, but one of the advantages is you become a little calmer, a little wiser, you understand more who you are and who you are not.
"So I'm very comfortable being in the second row, teaching one of the best players of all time."
Listen to Boris Becker: 17 Again at 19:30 BST on Tuesday's 5 live Sport on BBC Radio 5 live.