Andy Murray: Jonas Bjorkman to help Scot be more aggressive
Last updated on .From the section Tennis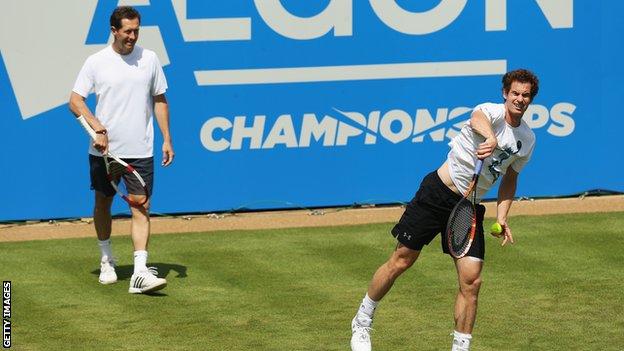 Andy Murray's coach Jonas Bjorkman says he will try and instil the confidence in the British number one to be more aggressive.
The Swede is Murray's sole coach at Queen's, with Amelie Mauresmo, who is due to give birth in August, joining the team for Wimbledon.
Former world number four Bjorkman, 43, said increasing Murray's aggression would take time and practice.
"It comes from taking a risk in matches but doesn't happen overnight," he said.
Three-time champion Murray beat Fernando Verdasco in straight sets on Thursday to reach the quarter-finals of Queen's.
Bjorkman will stay as part of Murray's coaching set-up at least until the end of the US Open in September.
Bjorkman, who retired in 2008, added: "Amelie and I will try our best to make Andy feel more comfortable and confident to feel more aggressive and come in behind shots.
"He has to get that feeling in practice, to feel comfortable so he can then do it in matches."
Bjorkman joined Murray's team for the BMW Open in Munich in April, where the two-time grand slam champion won his first clay court title.
Murray then went on a 15-match winning streak on clay, which was ended when he lost to Novak Djokovic in the French Open semi-finals.
Bjorkman, a former Wimbledon semi-finalist, says he finds coaching more "nerve-wracking" than playing and insists he will not mind Murray shouting at him during matches.
"I'm OK with that, I did it myself," said Bjorkman. "The player is right in the middle of the action and just wants to win badly.
"I am way more nervous coaching because I cannot control the outcome. It is only Andy and his opponent. It is something I have to get used to."