Andy Murray column: Winning titles & testing Bjorkman

By Andy Murray
World number three
Last updated on .From the section Tennis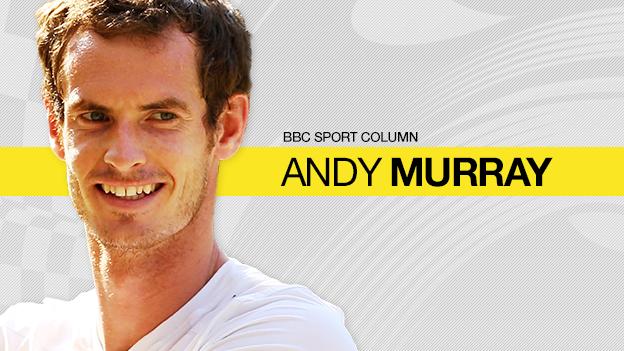 When I was younger I never thought about how many tournaments I would win or compared myself to other players, but at this stage of my career it motivates me more.
It was after I won my 500th match a few months ago that I looked at the list of players who had achieved that, and the others I could catch up and pass, and it really spurred me on.
A few years ago my sole focus was the Grand Slams and maybe I didn't have my eye on the ball for every tournament, and I regret that a bit. I was almost obsessed with winning a Grand Slam and after I did that it was like, 'Right, what's next?'
The Grand Slams are obviously still extremely important to me but I would like to show up at every tournament with the mindset that I'm going to win.
That gives you the best preparation for the following week and builds confidence over the entire year. It is one of the things that motivates me now.
Early alarm call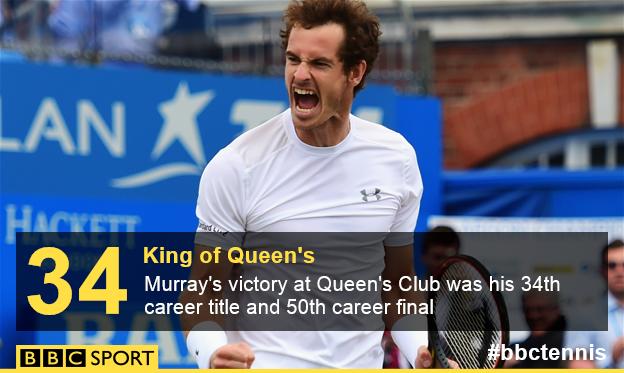 The rain delay on Saturday evening at Queen's Club made for a tight schedule on Sunday morning.
I was due to walk on court and continue my semi-final against Viktor Troicki at 11am, and I wanted to make sure I was as sharp as possible as I had a break point and we were towards the end of the first set.
The preparations started early to make sure I was ready from that first point.
I was up at 7.15am, left home around 7.50am and drove myself to Queen's Club, arrived at about 8.15am and saw my physio for 45 minutes.
I then did a 25-minute warm-up with my physical trainer before hitting with my coach, Jonas Bjorkman, from 9.45am until about 10.20am.
That meant I was hitting a lot closer to the start of a match than is normal for me. I would usually finish my practice about two hours before I go on court so that I can eat and warm up properly for the match.
It was a very significant change to my usual routine but thankfully the plan paid off and I made a good start with a break of serve straight away.
Jonas schooled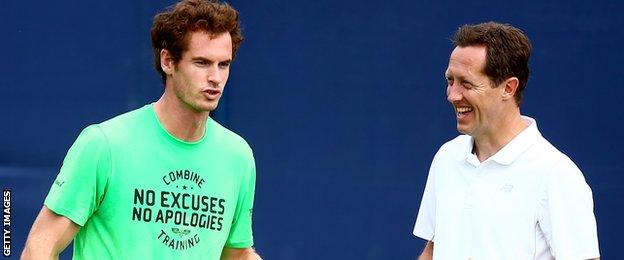 There has been a bit of competition on the practice court already, and it's been pretty ugly for Jonas.
It helps if you can hit with a coach and he still plays very well, doesn't make many mistakes, returns well and gives you good rhythm. His serve is a bit slow though.
We'd been talking about playing a few points because we practised at our first tournament together in Munich, but we were just warming up. He'd been appearing in the dancing show on Swedish TV and he was breathing so hard after just hitting up and down the middle of the court, so I was winding him up about that.
He said, 'Let's play some points,' so the other day I let have him a shot at the title. We just fed the ball out of the hand and played to 11 without serving. As I say, not good for Jonas.
I'm sure he will want a rematch because he's very competitive. He used to be ranked fourth in the world and was a great player, so he's thinking that was the first time he'd played points in a while, maybe next time it will be better.
Well, I can tell him - it won't be.
I've already turned it down to 50% and still won but I will happily play him next week, whenever he wants. I'm not sure he's got enough to prepare me for matches in future though. Sorry, Jonas.
Match tight
Winning in all sports gives you the confidence that when the tight moments come, you've been there and got through it.
It definitely helps to be on a good run going into Wimbledon because you know that you're match tight.
At Queen's, I hadn't played much on the grass but when I was in a very difficult situation in the quarter-final against Gilles Muller, a set down and taken to a tie-break, I was able to find a way.
Queen's and Wimbledon winners in same year

John McEnroe 1981 & 1984

Jimmy Connors 1982

Boris Becker 1985

Pete Sampras 1995 & 1999

Lleyton Hewitt 2002

Rafael Nadal 2008

Andy Murray 2013
If I hadn't won many matches and was a bit low on confidence, maybe I don't get through that match.
I've had a lot of wins over the last few months and hopefully that will serve me well. At the beginning of Wimbledon it will certainly help but by the end you need to do a bunch of things well, and by the second week everyone is feeling comfortable and confident.
Hopefully I will be one of those players - I certainly feel in the kind of form to challenge again.
Andy Murray was speaking to BBC Sport's Piers Newbery