Wimbledon: How Arthur Ashe became only black man to win title
Last updated on .From the section Tennis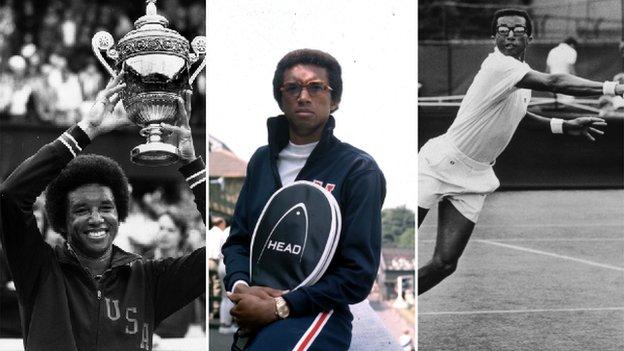 Watch again - Arthur Ashe - More Than a Champion on BBC iPlayer.
Opposites do not attract. Rarely is there admiration between clashing personalities.
Sometimes the animosity and ill will can be all-consuming and sometimes these adversaries will scrap before a watching world. It is then that the rivalry becomes gripping.
"I swear, every time I passed Jimmy Connors in the locker room, it took all my willpower not to punch him in the mouth," recalled Arthur Ashe.
Ashe had plenty of willpower. He was a man in whose footprints others followed. The first black tennis player to win a men's Grand Slam singles title was popular and cerebral, an admired role model. Connors? The then world number one was Ashe's opposite: brash, annoying, arrogant.
By the summer of 1975, the 31-year-old Ashe had never beaten Connors. Three matches had brought three defeats.
Their fourth encounter was to be played on Wimbledon's Centre Court, a men's final that year which captured the attention of millions for the narrative as well as the sport. But Ashe was past his peak. The underdog had the backing of the majority, yet friends feared humiliation.
What unfolded was a match which has been described as the most amazing ever seen because of the manner of Ashe's triumph. Forty years on, family and friends remember the day Ashe became the first black man to win at SW19.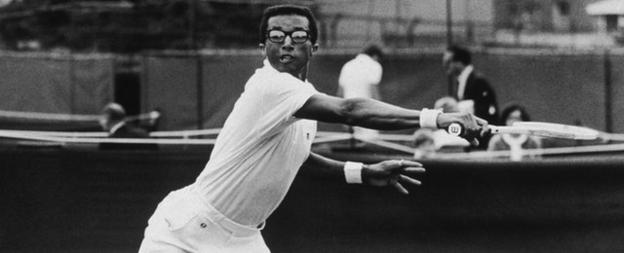 Lawsuits, tension and patriotism
"Connors wore an air of such arrogance he regularly intimidated his opponents before he had hit a ball." Arthur Ashe
By the time Ashe led his twitching compatriot out through the famous green-panelled doors and onto Centre Court on an overcast July day in south-west London, the tension in their strained relationship was at its peak. Controversy swirled.
Earlier in the year, while the United States were losing to Mexico in a Davis Cup tie, Connors - the country's best player - was in Las Vegas winning $100,000 by beating Australian Rod Laver in an exhibition match.
Ashe, the first black player to represent the US in the Davis Cup, said Connors was unpatriotic in repeatedly refusing to play for the team.
Connors, said to be a bombastic angry young man whose mother had taught her son to "be a tiger", could not take those words on the chin and filed for libel days before the Wimbledon final, demanding millions from a man regarded as one of the last gentlemen of the sport.
"He ain't one of the boys," Ashe told Time magazine in 1975. "Right now he's sorely misguided. We hardly say hello."
John McEnroe on Arthur Ashe
"There were things that I did in Davis Cup and individually that I'm not proud of. Even though I failed at times, I think I was a better person ultimately because of the amount of time I did spend with Arthur."
'Vindictive' Connors v 'the choker'
"I would think Ashe was as big an underdog as you can almost be in a Wimbledon final." Former British number one John Lloyd
At 22, Connors was nine years younger than his opponent. The defending champion had lost just four out of 103 matches in 1974, winning three of the four Grand Slams, and was playing with extraordinary power.
The confident favourite had reached the final without dropping a set. So convincing was his semi-final destruction of Roscoe Tanner, the New York Times described the match as a "massacre".
In his memoir Days of Grace, Ashe perfectly described Connors' game. "He proceeded to smack the ball with a force that bordered on vindictiveness," wrote Ashe.
Ashe was a man who could brood and mull over the titles he had let slip in years gone by. He had won the US and Australian Opens. The first, and only, black man to do so. But he could have won more.
"He does not devote enough time to tennis to realise his potential, does not think on the court, and chokes," wrote the Washington Post's Barry Lorge at the time. As the day of the final neared, there were those who feared for Ashe. Sport Illustrated's Frank Deford missed the entire match because he did not want to see his friend embarrassed.
Plotting tactics over blackjack - in a Mayfair club
"We went to the Playboy Club, talked about the match and how Arthur should play Connors." Donald Dell, friend and agent
Ashe, his agent Donald Dell and friend Charlie Pasarell spent the eve of the final at a Mayfair club, eating dinner, playing blackjack and talking tactics.
Pasarell remembered how two years previously Connors had been beaten by Pancho Gonzales, a 43-year-old playing delicate, feather-soft tennis. The trio formulated their strategy.
There was also a plan to deliberately rile Connors through sartorial means. Ashe's red, white and blue sweatbands and his navy Davis Cup tracksuit, USA embossed across the front, would cause the top seed's blood to boil even before a ball had been hit.
"Arthur wanted to send that message, by walking around in his USA jacket which Connors didn't have because he wasn't on the team," says Dell in the BBC documentary Arthur Ashe - More Than a Champion. "We had planned it. We wanted to send that message."
In his autobiography, Connors would later admit Ashe's outfit had annoyed him, even more so than the letter the Virginia native had once left for him in the Wimbledon locker room, outlining his views on Connors' lack of enthusiasm for Davis Cup tennis.
'Mesmerising' subtlety blunts cursing Connors
"Ashe was one of the first people that made you realise that sport wasn't just about how physically good you are." 1976 French Open champion Sue Barker.
Ashe was known as a big hitter, a player who liked to attack and gamble with audacious ground-strokes. But if he was to beat a man deemed unbeatable, he would have to change. He would have to adapt. Hit hard at Connors and the ball would come back harder.
The plan? To chip, slice and dice. To lob, dink and change his serve - swinging to the wings instead of bullets into the ribs.
As Ashe walked out onto Centre Court, Dell handed him a handwritten note: 'Keep the ball low, and mostly on Connors' forehand side; serve him wide to the backhand; use the lob.'
"He played soft shots and varied his game which was effective against Jimmy," says Stan Smith, Ashe's former Davis Cup team-mate. "But it wasn't his style at all so it was a mesmerising match to see him go through a totally different game plan."
The favourite was being flung from side to side; dragged to the net and then beaten by a lob. After 20 minutes, Ashe won the first set 6-1 and with the people's favourite leading 3-0 in the second set, a spectator yelled: "Come on, Connors!"
Connors, having just been on another wild chase beyond the tramlines, could not bite his lip. "I'm trying for Chrissakes, I'm trying," he cursed.
How to repel a comeback? Eyes wide shut
"I asked him 'why is it so hard for you to beat Connors?' He said 'his return, his court coverage and ability to get inside your head'." Ashe's brother, Johnnie.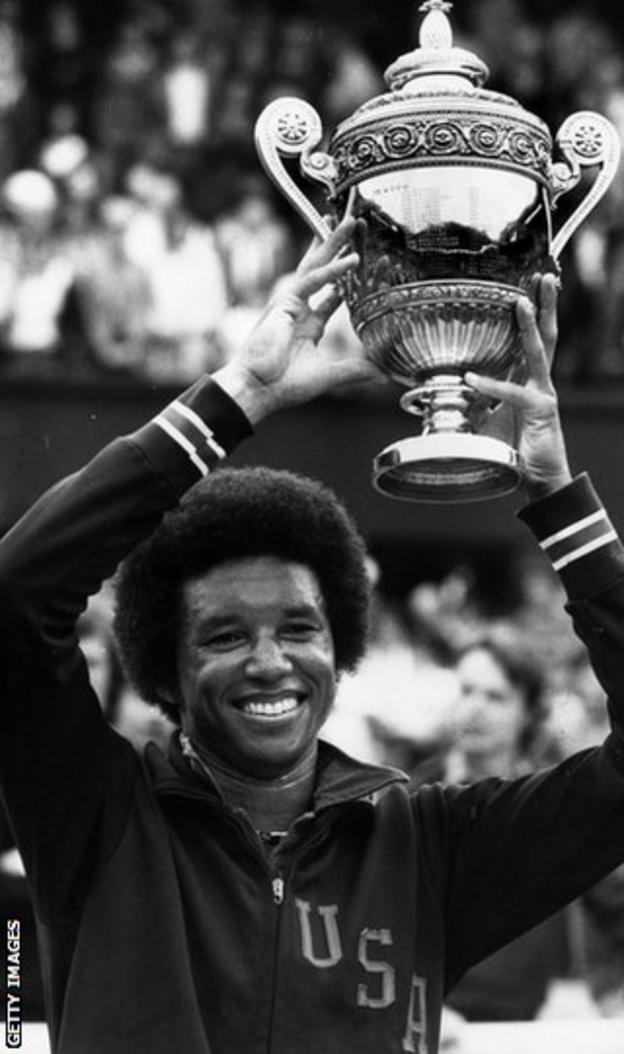 Two sets down, Connors broke Ashe in the 12th game to clinch the third set and then went 3-0 up in the fourth set. A stunning comeback? Or could Ashe remain calm and let the storm blow over?
During each changeover Ashe would close his eyes. Slowly, serenely, he would breathe through his nostrils in search of Zen-like calm.
"The press went crazy," remembers Dell. "Is he meditating? What's he thinking about? It must be a poem! But he was thinking about the things we had talked about, refreshing his memory."
Connors would read a letter given to him by his mum and grandmother, placing it inside his sock for luck. But there was to be no good fortune in their words. Ashe fought back to 4-4 and then, to Connors' surprise, attacked with a series of weighty shots. On match point, the veteran continued with what had served him so well - a menacing serve out wide followed by a well-timed volley.
A week before his 32nd birthday, Ashe had achieved what he believed he had been preparing for all his life. He was the Wimbledon champion. The All England Club's first male black champion. He remains the only black man to prevail there.
Centre Court stunned - 'Ashe chops up Connors'
"Intellectually and strategically it was the most amazing match I have ever seen." The Independent's former tennis writer Richard Evans.
In just over two hours Connors, accustomed to winning everything, was beaten 6-1 6-1 5-7 6-4. The pair shook hands at the net but no words were exchanged. "What could I say?" said Ashe.
"Walking out on court for the biggest match of your career and playing in a way that was totally contrary to your natural style was an amazing sporting feat," wrote Evans. "It was like watching a fast bowler go out and bowl leg spin."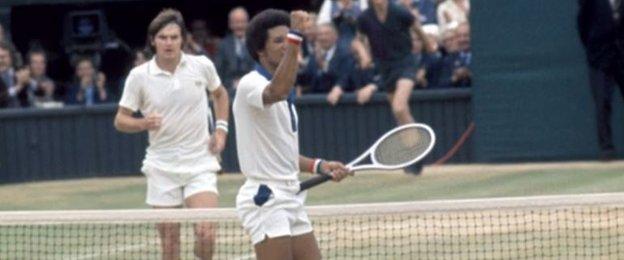 There was no extravagant celebrations from Ashe. No jumping. No whooping. No outpouring of emotion. "That wasn't Arthur," says his brother. The reserved Ashe simply raised a clenched fist, a gesture towards his agent Dell rather than the Black Power salute.
"Shocker at Wimbledon," was the front cover of Sports Illustrated. "Ashe chops up Connors."
"It was a popular win from the players' point of view because Jimmy had put himself in a him-against-the-world situation," said Smith, the 1972 Wimbledon champion.
Success after defeat for Connors
Jimmy Connors enjoyed a record-breaking career, winning 109 titles - the last won aged 37 - including eight Grand Slam titles. He has played in more tournaments (401) and won more matches (1,337) than any other man in the Open era.
Heart attacks, HIV - and a political champion
"Having grown up in a segregated environment in the south I know what it's like to be stepped on, I know what it's like also to see some black hero do well in the face of adversity." Arthur Ashe
Ashe had overcome the odds in south west London, just as he had done throughout his life. The son of a parks policeman, whose mother had died when he was six, he grew up in an era when men and women were refused entry to tennis clubs because of the colour of their skin.
He would never win another Grand Slam, or reach another Wimbledon final. Four years after his finest triumph, Ashe suffered the first of three heart attacks, forcing him to retire. "The stress of life, of being the first, took its toll," says his brother.
In 1988 Ashe was diagnosed as HIV positive. He was believed to have contracted the virus through a blood transfusion during heart surgery five years earlier. A few months before his death - aged 49 - in 1993, of Aids-related pneumonia, he was still fighting, still devoting himself to causes, and was arrested while protesting against the Bush Administration's treatment of Haitian refugees.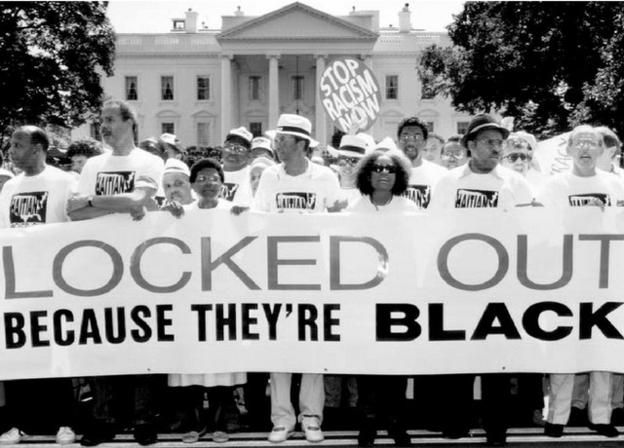 Doug Smith believed his friend could have become the President of the United States. His brother Johnnie says Ashe's life is one for others to follow.
"Arthur would view it as the pinnacle of respect to the way he lived his life that somebody could use his life as an example," he said. "Without him realising it, deep down that's what Arthur's life was about."
In Days of Grace, Ashe wrote: "Quite often people who mean well inquire whether I ever ask myself, in the face of my diseases, 'why me?' I never do. If I ask 'why me?' as I am assaulted by heart disease and Aids, I must ask 'why me?' about my blessings, and question my right to enjoy them. The morning after I won Wimbledon in 1975 I should have asked: 'why me'?"
Watch Arthur Ashe - More Than a Champion on BBC Two on Friday 26 June, from 21:00 BST.