Andy Murray column: Wimbledon 2005, when everything changed

By Andy Murray
World number three
Last updated on .From the section Tennis
Wimbledon 2015
Venue:
All England Club
Dates:
29 June - 12 July
Play:
From 11:30 on outside courts and 13:00 on Centre Court and Court One
BBC coverage:
across BBC TV, radio and online starts on 29 June with 153 hours of tennis scheduled and up to 15 live streams available.
Read more:
BBC coverage bigger than ever
and
TV and radio schedules.
It's tough to say whether I'm at my peak but I do feel like I'm playing extremely well right now.
I feel physically strong, my game is in good shape and, all in all, I'm in a better place than in many years heading into Wimbledon - better than last year for sure.
I could be wrong but I think 41 is the most matches I've ever won up to this point of the year. I've played a lot of tennis matches and I'm extremely match tight.
Judging my form year upon year, and whether this is me at my best or not, is always very difficult but I have a lot of wins and three titles behind me this year, which brings confidence.
I don't think I could have prepared any better for the biggest tournament of the year.
From Andrew to Andy
It's 10 years since I first played in the main draw at Wimbledon and things were certainly very different back then.
In 2005 we stayed in the basement of a house near Wimbledon village. It had two bedrooms; my mum stayed in one and I was in the other.
When I played my first match against George Bastl, no-one recognised me, but after I beat Radek Stepanek in the second round, everything changed.
Murray's decade at Wimbledon

2005: Third round
2010: Semi-final

2006: Fourth round

2011: Semi-final

2007: Absent (wrist injury)
2012: Final

2008: Quarter-final

2013: Winner

2009: Semi-final
2014: Quarter-final
I went out to play mixed doubles later in the day and I was surrounded on my way to the court, the crowds around me were huge.
It was really weird how quickly everything happened. There were people waiting outside the house, photographers and TV crews. I'd never had to deal with anything like that.
Strangely, it's actually more relaxed now. The pressure is different but it's not as hectic as it was back then.
I was so unknown in 2005 that lots of reports still called me Andrew, something only my grandparents still do.
When I was a kid I'd get called Andrew when I was in trouble, but it's been Andy pretty much always.
Drop shots and pilates
The build-up to Wimbledon went smoothly with a quiet week, although it was livened up by a helicopter ride to Canary Wharf for one of my sponsors. I was photographed at the top of the building - it's fortunate I'm not scared of heights!
Everything went well in terms of practice. Sometimes I take a day off at the end of the week before a Grand Slam, sometimes I just have a pretty light day.
On Friday I only hit for 45 minutes and that was it, I didn't do anything else. I did pilates a few times during the week and I've done that for the last couple of years.
I also gave my coach, Jonas Bjorkman, the chance to redeem himself on the practice court after giving him a bit of a lesson at Queen's.
I was serving and if he got the return in, we would play a few shots. He started to get into a bit of a rhythm towards the end, so we decided to play the last point out and I won it with a drop shot.
He then complained that I was drop-shotting a 42-year-old man.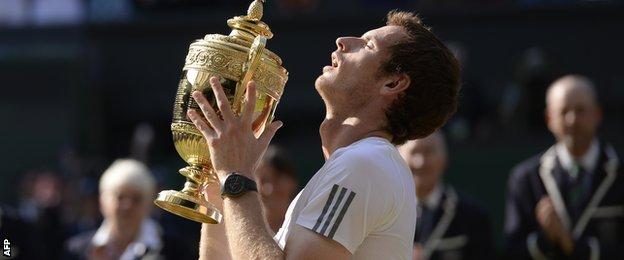 Every player has doubts
I don't fear playing anyone but all the players have doubts and feel pressure at the top of the game.
There are clearly players you'd like to steer clear of in the draw. Any of the top guys you'd be happy to avoid but then there are also players like Ivo Karlovic - it's not fun playing against them.
When I first stepped on court at Wimbledon in 2005, I wasn't expected to win against anybody. Everything was a bonus.
That has obviously changed now, but at the same time I have lots of experience to draw on.
These are the events you train as hard as you can for and that you want to win.
When they come around, naturally there's going to be pressure and doubts and worry, because you really want to do well when you care about something. That's quite normal.
I'm going through this experience for a 10th time though, and as well prepared as ever. Now it's just down to me to perform and I can't wait to get started.
Andy Murray was speaking to BBC Sport's Piers Newbery