One Direction, selfies, 'marry me?' & sun at Wimbledon
Last updated on .From the section Tennis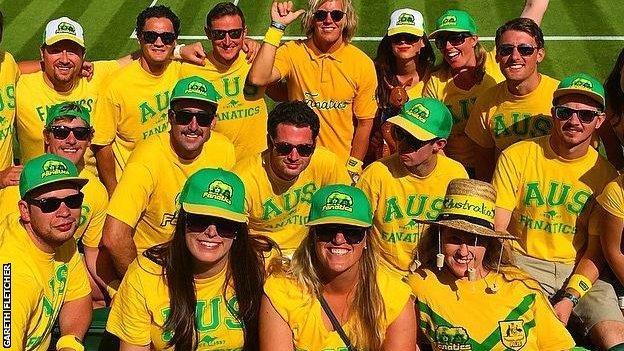 Shameless food selfies, player selfies, marriage proposals and a melting pot of languages - social media captures every ounce of tradition and each new quirk Wimbledon offers.
Those in attendance are so keen to share their experience, it allows the world to sample SW19 virtually through Twitter, Instagram and Facebook.
Never before has an event Britain cherishes been more global in its reach. Even being part of the snaking queue to enter the All England Club is deemed an experience worth sharing, but what else sets this tournament apart?
BBC Sport takes a look.
One place, countless images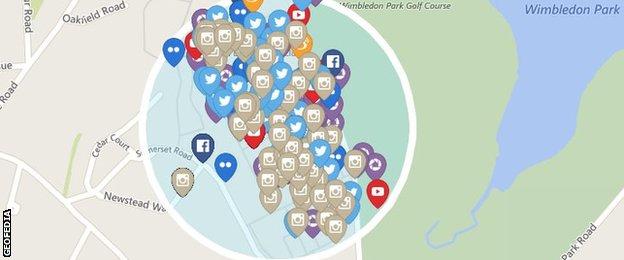 A geographical scour of social media activity at SW19 leads to a thick cloud of Instagram, Twitter and Facebook images over the famous location in south west London.
More than 1,000 tweets in the past 24 hours included #thequeue, used by fans lining up for on-the-day tickets.
And this queue is not the place for rowdy argy-bargy, with a 25-page guide to queueing available online, including a code of conduct.
One item of business clearly stated in the rules is...
No selfie sticks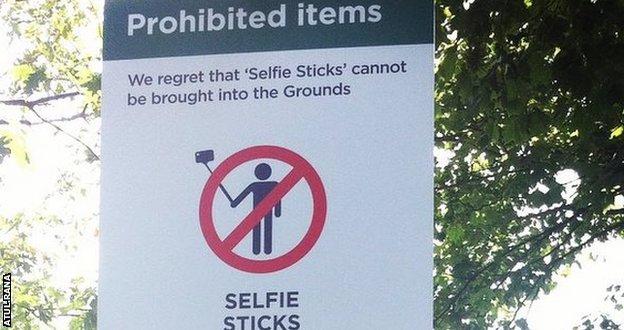 In news that may have annoyed players as much as fans, selfies using selfie sticks will not be happening at Wimbledon in 2015.
Maria Sharapova and Andy Murray have used the devices in the past, but this time only old-school photo gathering will do. It's back to arm's-length snaps or help from passers-by.
We don't need no stick...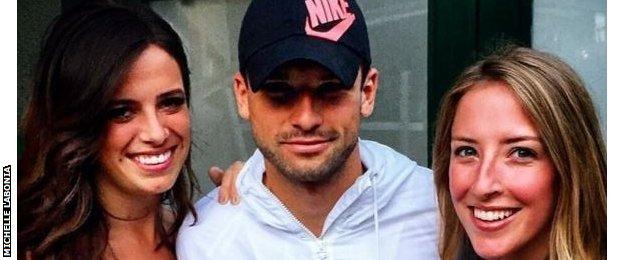 In a letter written to his 16-year-old self this week, seven-time Wimbledon champion Pete Sampras said: "Luckily, you'll be out of the game before these things called Twitter and Facebook come around. Be thankful for that. One day you'll understand what I mean."
What about tweet what you eat?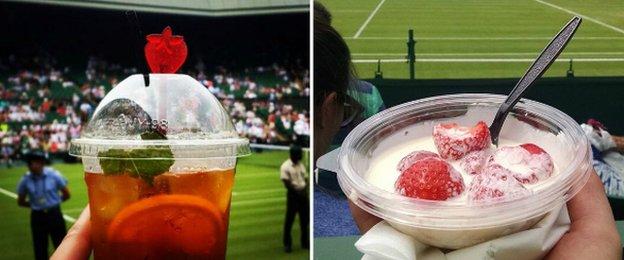 If any player is photographed more than punnets of strawberries or cups of Pimm's in the next fortnight then he or she has probably had a long run in the tournament.
Rarely does the geographical location of a drink and fruit carry so much significance, but the sheer quantity of images of the two items coming from the leafy corner of London is astonishing.
So what is the ultimate Wimbledon selfie? A picture with Djokovic, while standing in the queue eating strawberries and drinking Pimm's?
Can you taste the Pimm's in Peru?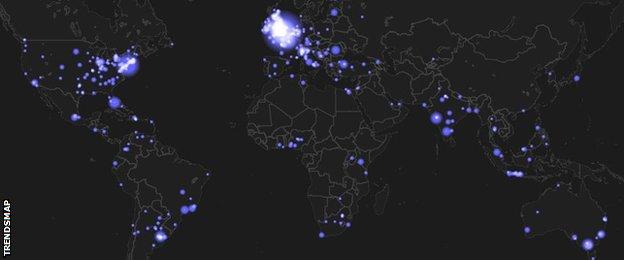 In less than two days since the start of the tournament, #Wimbledon2015 has been the subject of more than 80,000 tweets. The term 'Wimbledon', meanwhile, has been referenced in more than 500,000 tweets.
The presence of One Direction's Niall Horan did no harm in boosting social media interaction as fans of the boy band shared images of him.
An unusual tennis-themed hairstyle also went round social media with the speed of a Nadal serve.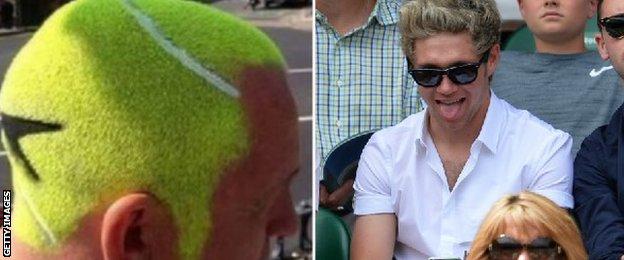 Aussie, Aussie, Aussie, bye, bye, bye
Lleyton Hewitt's band of followers - The Fanatics - were out in force to wave the 34-year-old off as his last Wimbledon singles campaign ended in defeat by Jarkko Nieminen on Monday.
"Thanks for the memories Rusty," wrote Gareth Fletcher - one of those in attendance - on Instagram.
"The transformation of Lleyton Hewitt from teen brat to mature, grandad-like figure was one of the best recent Aussie sports stories," tweeted Sebastian Hassett from New South Wales.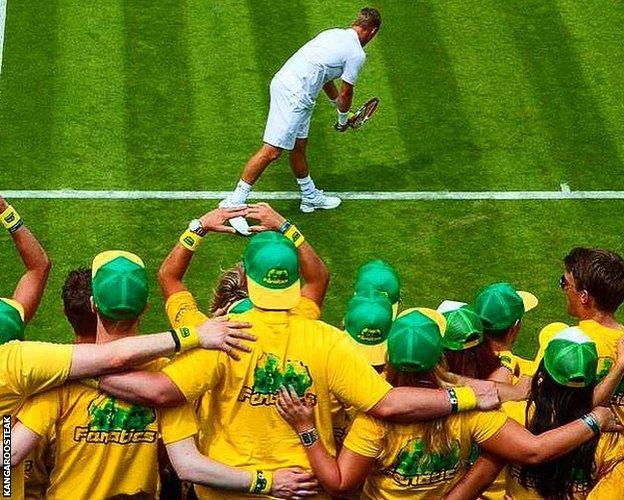 Where better to pop the question?
The smell of freshly cut grass, blue sky and spectators creating a welcoming atmosphere - some just get swept along.
Great Britain's Neal Skupski will play in the men's doubles. But he may have already got the nerve-jangling work for the week out of the way by proposing to girlfriend Cambri Prevost on Monday.
As far as memorable selfies go, his Instagram post looks like a keeper.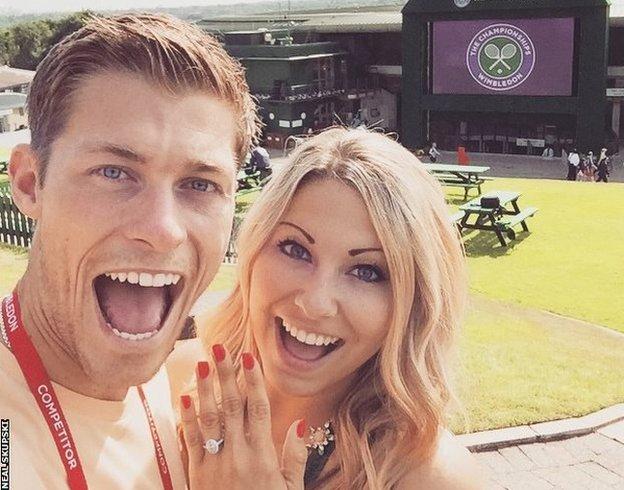 The languages of SW19
While Britons may become used to the annual festivities - perhaps even taking them for granted - the volume of languages visible on tweets coming from the All England Club showcase the allure of the event to a foreign audience.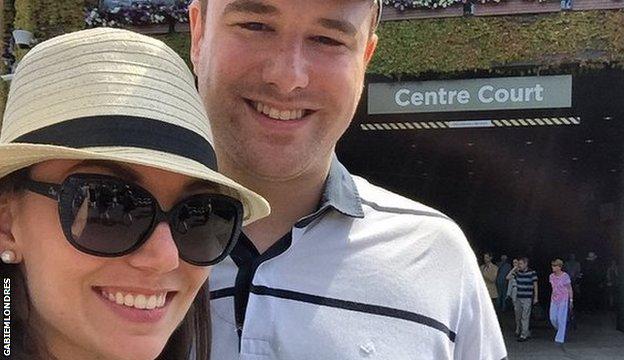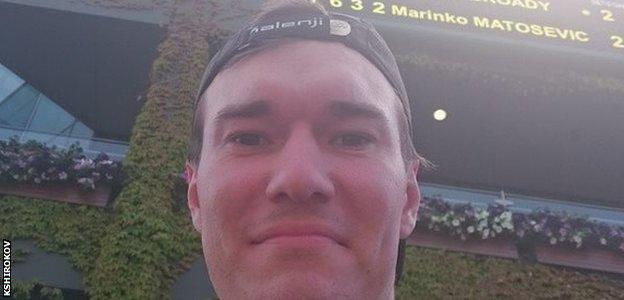 Up to 28,500 spectators are inside the grounds at any time, meaning the total for a scheduled 13 days of play will push 400,000.
And the tournament spills out into the wider community as public transport gets worked that bit harder, as do the hinges on local deckchairs if the sun continues to shine.