Wimbledon 2015: Judy Murray concerned by coaching in Scotland

By Kheredine Idessane
BBC Scotland at Wimbledon
Last updated on .From the section Tennis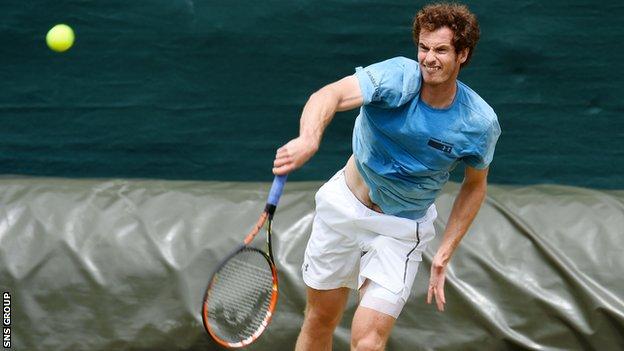 Wimbledon 2015
Venue:
All England Club
Dates:
29 June - 12 July
Play:
From 11:30 on outside courts and 13:00 on Centre Court and Court One
BBC coverage:
across BBC TV, radio and online starts on 29 June with 153 hours of tennis scheduled and up to 15 live streams available.
Read more:
BBC coverage bigger than ever
and
TV and radio schedules.
As Wimbledon gets underway, Judy Murray is warning that more, and better, tennis coaches are needed if there is to be any real legacy from her sons' success.
Britain's Fed Cup captain has two Wimbledon champions in the family, following Andy's famous win two years ago, and Jamie's victory in the mixed doubles with Jelena Jankovic in 2007.
But she is worried that when her boys stop playing, there will be no lasting effect for future generations.
"In Scotland, we need many more people playing the game, kids and adults," she told BBC Scotland.
"But with the children we identify as having a lot of potential, you need to be able to develop them all the way through the pathway. And currently we don't have a big enough or strong enough workforce of coaches to take kids through to a top level.
"So when they get to 14 or 15 , the few that we do get through to international level we usually lose them out of the country."
Her younger son is , of course, a perfect example of this. Andy left home in Dunblane for Barcelona when he was 15 to train at the renowned Sanchez Casal Academy on the outskirts of the famous Spanish city.
The time he spent there, he says, was a crucial part of his development as a player.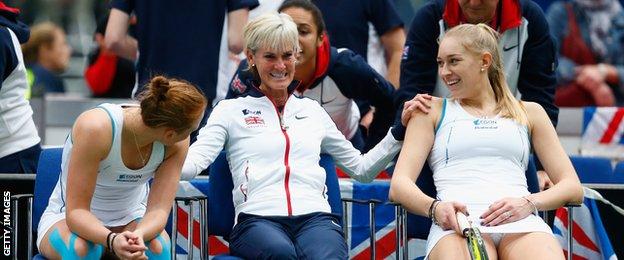 But Judy wants future young stars to be able to hone their skills at home.
"It's something that I would really like to see addressed in years to come," she added. "To create an international-level academy, we need a lot of good players.
"But we also need more coaches delivering the game: at entry level, at that middle stage and at the top level for us to have any chance to really capitalise on the success that Andy and Jamie have given us."
GB Davis Cup captain Leon Smith
"It's important that the knowledge of players like Andy, Jamie, Colin Fleming - and a coach like Judy Murray - is filtered into Scottish tennis as much as possible so we don't lose momentum.
"We don't want to wait until Andy stops playing and say 'we should have done more'.
"There is definitely a will to do more, it's just getting that information to the coaches and making sure we get the right things done at an early stage.
"This should be a special time for Scottish tennis. When will we ever see another Andy Murray?
"We have an icon that can inspire a lot of young kids."
Having produced and coached two elite stars herself, Judy is passionate about getting all youngsters, and girls in particular, into tennis, regardless of their standard.
She currently runs two campaigns to stress the fun you can have with a racquet and ball.
"Your role models are one thing; of course they bring inspiration, excitement and profile to your sport," she explained. "But you really are only as good as your grassroots.
So certainly when it comes to Scotland , there are two initiatives I've set up. Tennis On The Road is basically a van full of equipment and me and another coach and we go to places where there's little or no tennis activity.
"The second initiative is called Miss Hits which is a group of animated characters, all girls, who represent a tennis stroke. And the idea is that we create an all-girl programme, a social group of girls, to move into mini-tennis.
"We try to give them better co-ordination skills, the foundation of any sport, to give them an understanding of what tennis is all about."
If any Scottish girls are looking for another role-model, they may want to keep an eye on 17-year-old Maia Lumsden. The Glaswegian is at the All England Club once again to contest Junior Wimbledon.