Wimbledon 2015: Bernard Tomic & Nick Kyrgios feel heat
Last updated on .From the section Tennis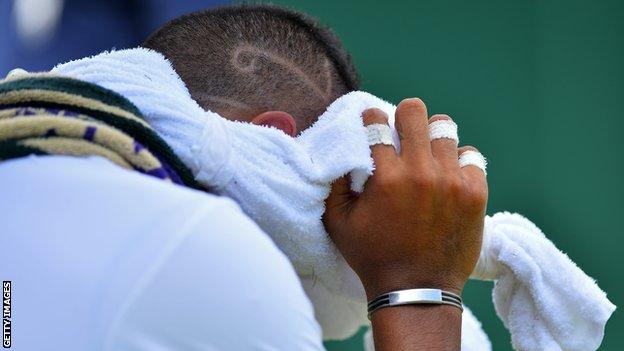 Wimbledon 2015
Venue:
All England Club
Dates:
29 June - 12 July
Play:
Outside courts 11:30 BST; Centre Court and Court One 13:00
BBC coverage:
Across TV, radio and online with up to 15 live streams available.
Read More:
TV and radio schedules
Wimbledon experienced record temperatures which made it hard work for all concerned on another eventful day at the All England Club.
The thermometer hit 41.2C on Centre Court on Wednesday, although it was on court 18 where Australian Bernard Tomic was feeling the heat.
A ball boy also succumbed to the soaring temperatures.
And a fall-out with the officials in his match with Juan Monaco got Nick Kyrgios hot under the collar.
Tomic sleepless in SW19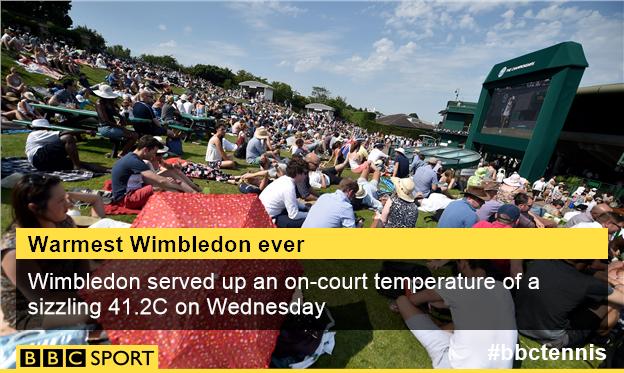 Tomic was one to suffer in the heat, despite seeing off Frenchman Pierre-Hugues Herbert in three sets.
"I was very dizzy out there," said the 22-year-old resident of Australia's Gold Coast.
"I didn't sleep well yesterday and the day before. I'm probably getting three or four hours of sleep. I was fatigued and started to get dizzy out there with the heat hitting me."
The 27th seed was also confused over why the women can call for a heat break after two sets when the temperature rises to a certain point, but the men must play on.
"I was actually talking about that in the locker room," he said. "It's a bit interesting how the women have a different rule applied to them with the heat.
"I think ours is slightly different. I think we are allowed to play in more heat. Is it fair or not? Who am I to say? I don't know. It's a tough one."
Ball boy collapses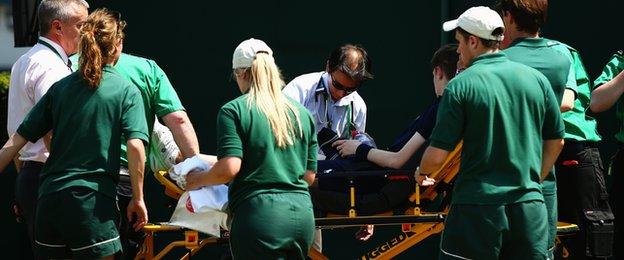 The heat at Wimbledon is not only causing problems for the players.
A ball boy collapsed and was taken off for medical treatment during the match between Matthew Ebden and John Isner on court 17.
The cause of his collapse, which happened shortly before 14:00 BST, has not been confirmed, but Wimbledon tweeted: "The ball boy from court 17 has been treated and is feeling much better. We wish him a speedy recovery."
Naughty Nick
Kyrgios was not punished for shouting "dirty scum" during his first-round win over Diego Schwartzman, but the 20-year-old's demeanour was again in focus after beating Monaco.
After making an unforced error at 6-5 in the opening set, the Australian uttered a string of expletives, which a line judge reported to the umpire.
A heated exchange followed before Kyrgios was heard asking the umpire: "Is that a threat?" He added: "Does it feel good to be up there in that chair? Does it make you feel strong?"
Kyrgios later explained: "I was just asking the umpire what the line judge said. I was just curious. I wasn't causing any drama there."
He added: "I just thought he thought he was top dog in the chair really.
"He was telling me not to speak to him, all that stuff. It doesn't really matter."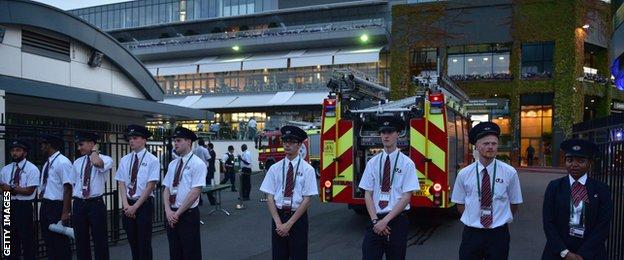 'Everybody out'
The grounds were evacuated after the close of play following a fire alarm.
As the alert interrupted five-time winner Serena Williams's post-match interviews, she said: "Does that mean I'm done with press?".