Andy Murray column: Too much Wonderwall & Taylor Swift
Last updated on .From the section Tennis
Wimbledon 2015
Venue:
All England Club Dates: 29 June - 12 July
Play:
11:30 BST on outside courts and 13:00 on Centre Court and Court One -
Murray
in action around 17:00 on Saturday
BBC coverage:
Across TV, radio and online with up to 15 live streams available.
Read More:
TV and radio schedules.
It's great to have some British company in the third round of Wimbledon and James Ward isn't finished yet - he can compete at this level.
It makes a big difference when all the players are supporting each other and it's not negative or bitchy, and I try to help with that.
Everybody should be backing each other rather than thinking, 'I don't want him to do well because that takes my spot'.
Fortunately we get on well and if we can help each other to do better, that's great.
I've had Wardy, Kyle Edmund, Jamie Baker and Oli Golding out for training blocks with me in Miami and I think it benefits all of us.
It's not about saying I want James to get to 90 in the world; I just want each of them to get to their potential.
Not everyone has the capability to get to 100 or 50 or 20, but if they show they're doing everything they can when I practise with them, that they're going to be disciplined and they want to work hard, then I want to spend time and train with them.
I care about the game and I want as many of them as possible to do well.
'Tim's quite lippy during practice'
I haven't always known the guys that well when they've come out to Florida but I've wanted to try and help some of the younger ones in particular. It's motivation for me.
I remember when I was young and used to practise with Tim Henman or Greg Rusedski, I loved doing that. It was great and I feel as though playing with a younger British guy made them want to show me the right work ethic, the discipline, and how committed you need to be.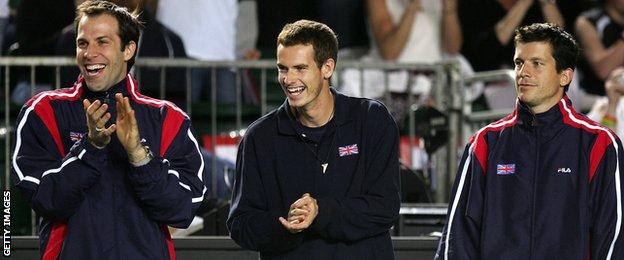 The first time I really would have spent time with Tim and Greg was when I went to Luxembourg with the Davis Cup squad. They are completely different players and personalities - Greg was quite focused on technical things, more set-up drills, while Tim just wanted to play points and different games.
I used to hold my own from quite a young age when I practised with Tim and I think he liked that. He might say otherwise but I think it was a challenge for him.
He's actually quite lippy during practice, he chats quite a lot. I remember answering back to him once in the middle of a practice at Bisham Abbey and when I had my back turned, he fired the ball at me pretty hard!
You wouldn't expect that from Tim, but I think he was just frustrated because I was probably beating him at the time!
'He could play two verses of Wonderwall'
When the guys come out to Miami they normally stay with me and sometimes I'll pick them up from the airport. We work hard and have a good time, although you find out some interesting things about each other.
I didn't know Wardy well two years ago, then when we started spending more time together, got to know each other better, it was just beneficial for both of us I think.
He flew over with me last December for the training block in Miami and his musical taste was interesting. I don't mind Taylor Swift but that was all he was playing.
It's probably not something he would let people know he listens to, but I am happy to reveal that for him.
One year I went to pick up Jamie Baker and he came out of the airport with a guitar over his shoulder. I had no idea he was bringing it and when he showed up I thought: 'What's he done? Why he has done that?'
It turned out he'd just started learning it and could play about two verses of Wonderwall. We spent the whole time just pleading with him to please shut up!
It won't put me off inviting others to train with me in future, I enjoy it. I might just have to lay down a few ground rules first.
Andy Murray was speaking to BBC Sport's Piers Newbery. You can follow Murray on Twitter,Facebook and Instagram.